ISD Germany's work builds on 15 years of ISD research and programming in the heart of European democracy
As the most populous country in Europe, Germany plays a crucial role in combating polarisation and extremism worldwide and in mitigating hybrid threats to democratic liberties and rights. ISD Germany opened its doors in Autumn 2020, but our work in providing strategic advice to state institutions, ministries and civil society organisations (CSOs), dates back over a decade.  
Working under the leadership of Executive Director, Huberta von Voss, the ISD Germany team is made up of experts in their respective fields, working on multi-year projects in the areas of digital regulation, disinformation, extremism and digital civic education. The organisation's aim is to build a clear understanding of the challenges of extremism, hate and disinformation facing the nation and implement relevant responses.
Civil society responses
ISD's work empowering German civil society began in 2018 with the Online Civil Courage Initiative (OCCI), a joint partnership with Facebook. The OCCI was launched to up-skill and upscale civic response at a European level toward online hate and extremism. As the first strategic non-governmental effort of its kind, the OCCI combined expertise from technology, communications, marketing and academia in the counter-speech community in Germany, France and the UK. The project culminated in the publication of the report Hate Speech and Radicalisation Online /Hassrede und Radikalisierung im Netz, which provided interdisciplinary insights into the current developments of extremist activities online. The analysis considered the psychological, political, anthropological and technological aspects of online hate speech and radicalisation in order to provide a set of recommendations for political leaders, social media platforms as well as NGOs and activists.
ISD Germany now pioneers civil society responses to online hate and extremism within its own borders through adult education. The Business Council for Democracy (BC4D) is ​​an innovative education programme which provides adults in Germany with training on digital civic culture through their workplace. The course aims to teach participants how to recognise online harms and recognise their individual responsibility in helping to foster a tolerant, open and safe environment online. ISD Germany's work through the BC4D has gained the support of the Confederation of German Employers' Associations (Bundesvereinigung der Deutschen Arbeitgeberverbände e.V, BDA) and has been praised by Ursula von der Leyen, President of the European Commission.
Improving policy-making in Germany
ISD has spearheaded intergovernmental initiatives in counter-extremism since 2008, first through the Policy Planners Network on Countering Radicalisation and Extremism (PPN) which ran until 2019. During this time, the PPN delivered 19 international events which worked to upgrade and coordinate the strategies of its 12 governmental members through sharing of information and best practice for designing and implementing policies in countering extremism. 
This work has been followed by the Digital Policy Lab, established in 2020 in Germany. This inter-governmental working group focuses on charting the regulatory and policy path forward to prevent and counter disinformation, hate speech, extremism and terrorism online. Convening officials from eleven countries and the EU, the DPL provides policymakers with access to sector-leading expertise and research, and is helping to build an international community of policy practice around key regulatory challenges in the digital policy space. In 2021, ISD Germany published the Digital Policy Lab Companion Papers in English and German, which are a series of policy briefings and discussion papers that accompanied DPL events.
Sector-leading research on extremism and disinformation
ISD's work mapping the nature and subsequent rise of the far-right in Germany has been extensive. In 2018, ISD published Hate at the push of a button/Hass Auf Knopfdruck, surveying far-right hate speech in Germany.  The research findings strongly suggested that far-right trolls use sophisticated media strategies to spread hate campaigns online, enabling a small but well-coordinated network of far-right accounts to mainstream their ideas.
Complementing and expanding on this report was The Online Ecosystem of the German Far-Right/Das Online-Ökosystem Rechtsextremer Akteure, which provides one of the most comprehensive overviews of the alternative online-ecosystem of the far-right in Germany to date. Drawing together ISD's digital ethnographic work with machine learning and natural language processing, the report provides an overview of the size and nature of far-right communities on various online platforms; outlines the motivations for those participating in these communities; and assesses whether banning far-right groups from mainstream platforms leads to the displacement of their followers to 'alternative' platforms. 
Prompted by the COVID-19 pandemic, ISD Germany expanded its work in mapping and monitoring the German far-right further in order to understand how lockdowns and ensuing restrictions affected German-speaking extremist communities in Austria, Switzerland and Germany online. In 2021, the team published Crisis and Loss of Control: German-Language Digital Extremism in the Context of the COVID-19 Pandemic/Krise und Kontrollverlust: Digitaler Extremismus im Kontext der Corona-Pandemie. The research analysed the networks and narratives of right-wing, left-wing and Islamist extremist actors. 
ISD Germany continues to work at the forefront of a rapidly evolving extremism landscape. ISD Germany analysts are currently researching the far-right ecosystem of alternative platforms and media channels and their interaction with mainstream online social media platforms, the findings of which will help decision-makers in state institutions, civil society and the social media industry better understand the complex far-right digital ecosystem.
In 2017, ISD investigated Kremlin and other foreign attempts to influence the 2017 German elections, publishing, "Make Germany Great Again" – Kremlin, Alt-Right and International Influences in the 2017 German Elections/ "MAKE GERMANY GREAT AGAIN" Der Kreml, die Alt-Right und die internationale Einflussnahme auf die Bundestagswahlen 2017. The report uncovered the tactics and narratives employed by Kremlin-sponsored media, pro-Kremlin social media networks and the international alt-right to distort political discourse during the election campaign period. ISD's work tracking electoral disinformation continues in 2021, as the team is working to monitor mis- and disinformation in the lead up to the German Federal Election. 
As contested COVID-19-related public health measures became increasingly incorporated into the narratives of conspiracy theorists and far-right extremists, ISD Germany published Disinformation Overdose: A study of the Crisis of Trust among Vaccine Sceptics and Anti-Vaxxers/Überdosis Desinformation: Die Vertrauenskrise – Impfskepsis und Impfgegnerschaft in der COVID-19-Pandemie, which provides the most comprehensive insight to date of the online anti-vaccination community in Germany,  as well as the narratives and tactics they use to spread antivaxx disinformation.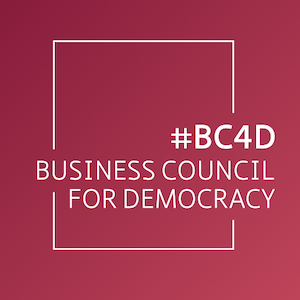 Training gegen Fake News und Hate Speech