Digital Policy Lab '20 – Begleitpapiere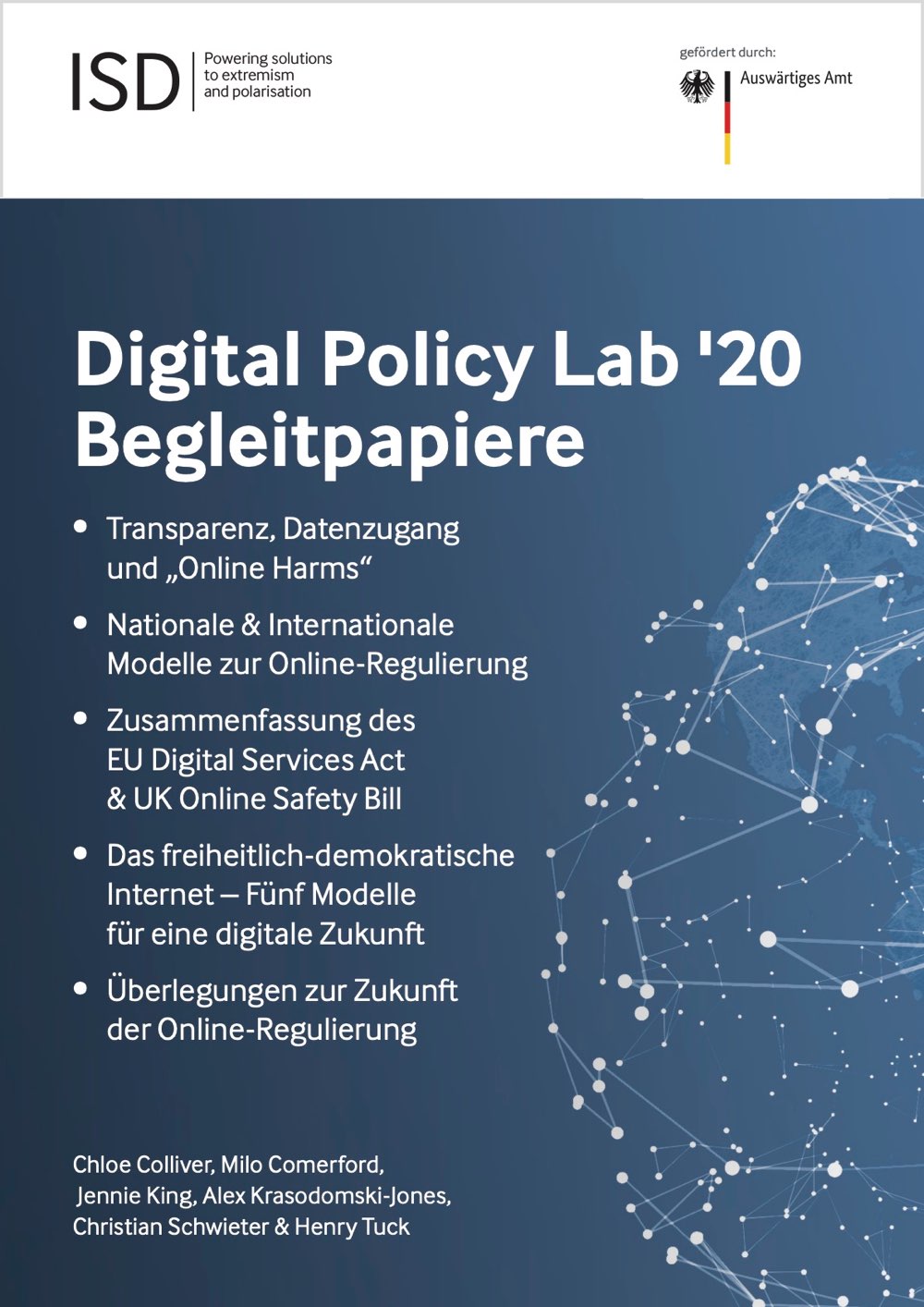 Authors: Chloe Colliver, Milo Comerford, Jennie King, Alex-Krasodomski-Jones, Henry Tuck, Christian Schwieter
Published: 13 April 2021
Von September 2020 bis Januar 2021 fanden die ersten Sitzungen des Digital Policy Lab (DPL) statt. Diese Sitzungen wurden von einer Reihe von Briefings und Diskussionspapieren begleitet, die fünf Schlüsselbereiche der Debatte abdeckten:
Transparenz, Datenzugang und "Online Harms"
Nationale & Internationale Modelle zur Online-Regulierung
Zusammenfassung des EU Digital Services Act & UK Online Safety Bill
Das freiheitlich-demokratische Internet – Fünf Modelle für eine digitale Zukunft
Überlegungen zur Zukunft der Online-Regulierung
Die geäußerten Ansichten sind die der Autoren und spiegeln nicht unbedingt die Ansichten der Teilnehmer oder Förderer des DPL wider. Die herausgeberische Verantwortung hat Huberta von Voss-Wittig, Executive Director ISD Germany.
Über das Digital Policy Lab
Das Digital Policy Lab (DPL) ist eine von dem Institute for Strategic Dialogue (London/Berlin) organisierte Initiative zur transatlantischen Koordinierung digitalpolitischer Regulierungsanstrengungen. Das DPL ist als eine zwischenstaatliche Arbeitsgruppe konzipiert, die sich darauf konzentriert, den regulatorischen und politischen Weg zur Bekämpfung von Desinformation, Hassrede, Extremismus und Terrorismus im Internet aufzuzeigen. Sie besteht aus einer Kerngruppe hochrangiger Vertreter der zuständigen Ministerien und Regulierungsbehörden ausgewählter liberal-demokratischer Länder.
Gefördert wird das Projekt vom Auswärtigen Amt.
The English version of this report can be found here.
Download Report