Disinformation Overdose: A study of the Crisis of Trust among Vaccine Sceptics and Anti-Vaxxers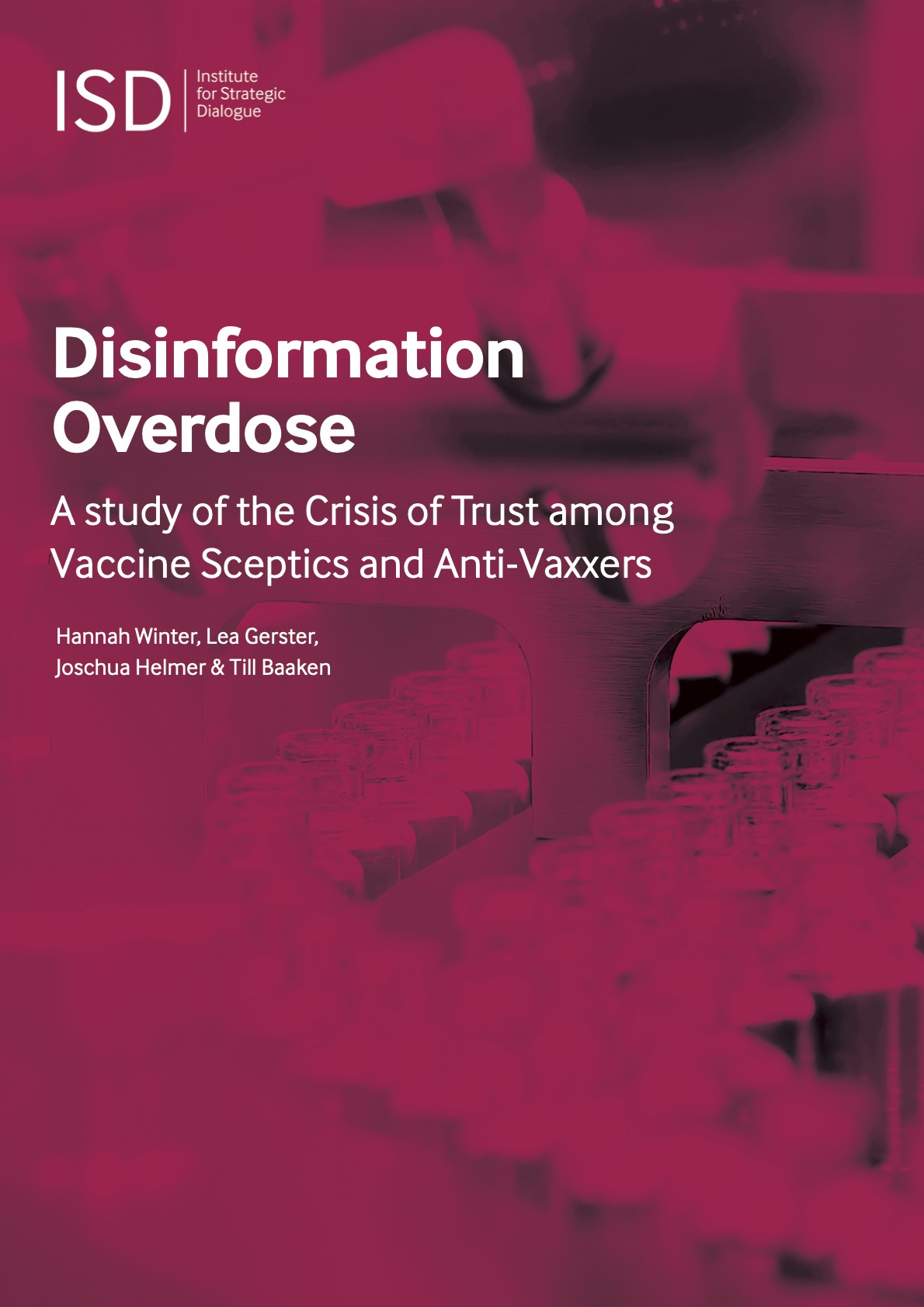 Authors: Hannah Winter, Lea Gerster, Joschua Helmer & Till Baaken
Published: 6 July 2021

The issue of public health measures has become a gateway and incubator for conspiracy theorists, far-right extremists and anti-vaxxers. This report by ISD Germany provides for the first time a comprehensive insight into the online networks of the vaccine-sceptic scene in Germany. Over 400,000 posts from more than 1,000 users on Facebook, Twitter, Instagram and Telegram were collected in the period from 21 December 2020 to 5 April 2021. In addition, 14 experts from the health sector as well as from science, education and public communication were interviewed on the topic of vaccination scepticism and vaccine-related disinformation. The key insight is clear: the targeted influencing of the public vaccination debate is successful in parts of the population. The positions of anti-vaxxers, which are often based on disinformation, are increasingly normalised.
On Telegram, the readership of various channels increased by up to 471%. Relevant Facebook pages also saw an average growth of 21% to a total of over 4.5 million followers between April 2020 and April 2021; a development that could also be observed on other platforms. This growth goes hand in hand with the constant networking of the leading heads of the scenes, from "Querdenker" (eng. "lateral thinkers") to far-right extremists, who reference each other on their platforms and thus create an illusion of scientificity. While ideological diversity exists within this network, the boundaries to general conspiracy myths and extremist ideologies are fluid. In terms of content, clearly distinguishable narratives emerge. They are used to achieve the greatest possible loss of trust in vaccines and health policies. Particularly prevalent are narratives on "vaccine deaths", "vaccine health damage", on the vaccine by AstraZeneca, on "compulsory vaccination", on discrediting experts and on conspiracy myths. In the medium term, disinformation and mistrust endanger both political decision-making and rational decision-making. In the short term, vaccination efforts and further measures to combat the pandemic are made considerably more difficult.
This report was first published in German. The German version is available here.
Hannah Winter works as an analyst at ISD in the field of digital research and investigates the emergence and spread of disinformation, conspiracy myths and extremist ideologies in social networks. As part of the ISD Election Monitoring Unit, she researches online political communication, disinformation campaigns and efforts to influence elections. She is co-author of the ISD research report "Battle for Bavaria".
Lea Gerster is an analyst at ISD. She focuses on the spread of extremist ideologies, disinformation and conspiracy myths in German and English-speaking countries. Previously, she worked for two years in the field of countering online extremism at think tanks and consultancies in London. She is co-author of the ISD research reports  "Crisis and loss of control" and "The Rise of Antisemitism Online During the Pandemic".
Joschua Helmer is a consultant for ISD and a researcher in the group "Politics of Digitalization" at the Berlin Social Science Center . He works there on the topic of digitalisation, democracy and political conflict. In knowledge transfer, he cooperates with think tanks, foundations and other civil society actors.
Till Baaken is a project manager at ISD. He deals with far-right extremism and Islamism as well as disinformation and conspiracy myths in German and English-speaking countries. He has written articles for the Journal for Deradicalisation and International Journal of Conflict and Violence, among others, and contributed to several books and handbooks on radicalisation and deradicalisation. Previously, he worked in the field of counter-extremism and deradicalisation in Germany.
Editorial responsibility: Huberta von Voss, Executive Director ISD Germany
Download Report