Business Council for Democracy (#BC4D)
The Business Council for Democracy gives the private sector a role in building resilience and protecting democracy
Liberal democracy is under pressure. Strengthening it and making it more resilient is a task for all parts of society, including businesses. For many entrepreneurs and managers, this is an important matter.
The Business Council for Democracy (BC4D) – a joint initiative of the non-profit Hertie Stiftung, the Robert Bosch Stiftung and the Institute for Strategic Dialogue in Germany – is an innovative opportunity for adults, who rarely receive the chance to take courses on digital civic culture. Here, employees can learn more about the spread of hate speech, targeted disinformation and conspiracy theories and discover what they can do to counter such harms and how they can protect others around them.
As a new alliance for the protection of democracy in the digital age, BC4D tests and develops courses that provide team members with the essential knowledge and skills to recognise digital harms. The aim is to strengthen personal responsibility and resilience against polarising and radicalising content. The courses are voluntary and open to all, regardless of their age or level of professional training.
Why do we need the BC4D?
The COVID-19 pandemic has highlighted increasing social polarisation in Germany. The internet has become even more important for everyday life, but the knowledge and skills necessary for a healthy online debate culture and confident handling of information are often lacking. At the same time, we are seeing an exponential increase in hateful, polarising and violent content.
Until now, the majority of existing training programs have only reached younger people. BC4D's training courses are therefore deliberately situated in the workplace and thus in a setting where social interaction is practiced by adults of all ages. Many employers also enjoy great credibility with their employees. For them to act as representatives of a vital and fair democratic culture is one of BC4D's goals.
As a new alliance for the protection of democracy, BC4D offers companies and other employers, as well as trade unions and business associations a great opportunity. It has the support of the Confederation of German Employers' Associations (Bundesvereinigung der Deutschen Arbeitgeberverbände e.V, BDA). After all, basic democratic values, social cohesion and political culture should also be part of work culture.
Through this initiative, BC4D looks to strengthen liberal democracy at a time when hate and false news are becoming increasingly normalized and are being spread both online and offline.
What do we want to achieve?
The conditions under which democracy takes place have changed significantly in the digital age. BC4D aims to empower people with the knowledge and skills of digital civic culture that are relevant for this. The project connects civil society, businesses, and citizens so that they can jointly contribute to maintaining social cohesion in the digital age.
In BC4D courses, employees from different companies can learn and practice how to recognize and challenge hate speech, disinformation and conspiracy theories. As a result, participants gain a deeper understanding of the role the internet plays in regard to the social polarization of democratic societies. Among other things, they are provided with strategies to show courage online, so that the internet can continue to function as an important space for necessary debates and to ensure that diversity, tolerance and respect are maintained.
How does the BC4D work?
With the input of renowned experts, we have developed a digital curriculum on the topics of hate speech, disinformation and conspiracy theories. In the pilot phase from March to May 2021, BC4D courses are being trialed in six companies. The Alba Group, Evonik Industries, the Kion Group, Nomos-Glashütte, UFA and Volkswagen AG are participating as pilot partners. In groups of 15 to 20, employees of these companies are receiving training from professional trainers on digital citizenship.
The courses take place online, are interactive and utilize concrete examples and exercises. The overarching questions include: What can I do if I am subjected to hate speech myself? How does digital counter-speech work? What advice and legal options are there for those affected? How can I recognize conspiracy theories and suspicious sources? What makes people vulnerable to digital manipulation? and What consequences does digital polarization have for our society? 
The courses take place in eight weekly sessions, after which the pilot phase will be evaluated. From fall 2021 on, the training courses will be made available to a significantly larger number of companies and their employees.
"Hate and incitement have no place in our ranks. That's why the Business Council for Democracy is important to me. We want to promote civic engagement among our employees and open up new perspectives for good cooperation. That is more important than ever." – Hiltrud Werner, Member of the Board of Management for Integrity and Legal Affairs, Volkswagen AG
"New approaches are needed to strengthen democracy – at BC4D, civil society and businesses are leading the way together, strengthening knowledge about how to deal with hate speech, conspiracy theories and disinformation" – Claudia Rolf, Team Leader, Robert Bosch Stiftung
"Under what conditions does democracy take place in the digital age? We want to provide the necessary knowledge and skills for people to better protect themselves and others against manipulation and polarization online." – Huberta von Voss-Wittig, Executive Director, Institute for Strategic Dialogue (ISD Germany)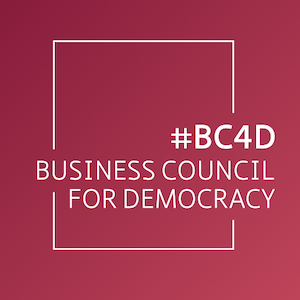 As an employer, we consider it our responsibility to strengthen social cohesion. That's why we support the BC4D democracy initiative.Steffen Kampeter, Chief Executive, Confederation of German Employers' Associations (BDA)
ISD's BC4D team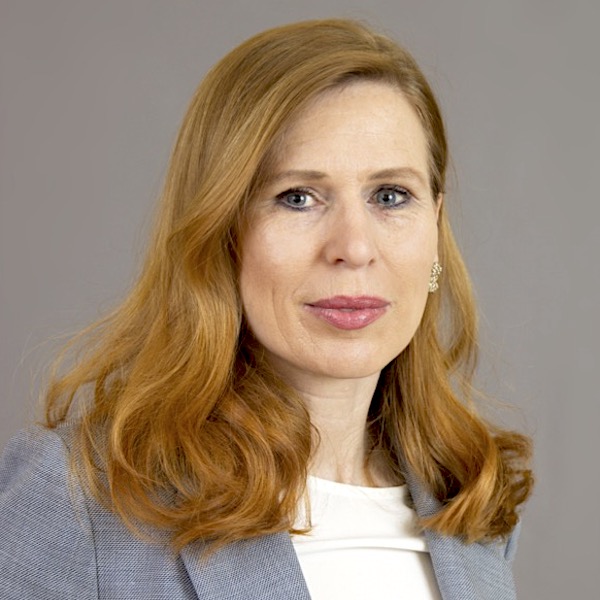 Read Bio
Huberta von Voss-Wittig
Executive Director, ISD Germany
×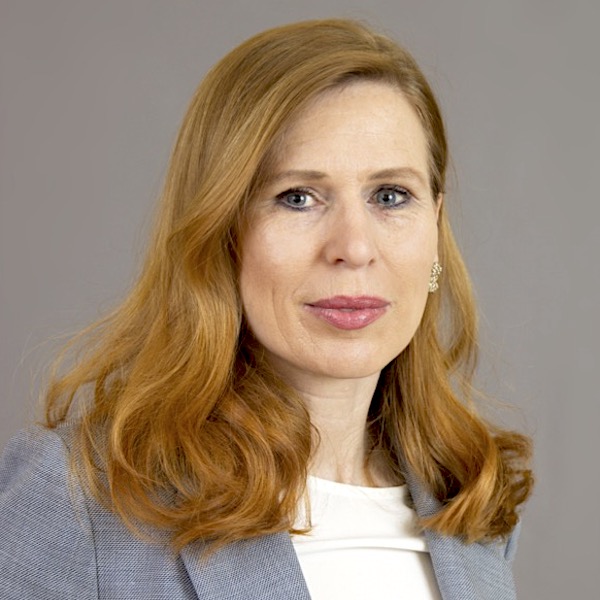 Huberta von Voss is Executive Director at ISD Germany, where she has led the expansion of ISD's German office since 2019. She has previously been part of the leadership team of the New York based NGO Seeds of Peace. Her efforts as Director for Public Affairs and Communications led to steep digital growth, new media engagement, a Podcast series as well as a series of high level events in New York and Washington, D.C. Huberta is the author of "Portraits of Hope: The Armenians in the contemporary world" (Berghahn Books) as well as "Arme Kinder, reiches Land" (Rowohlt) on child poverty in post-reunification Germany. She has appeared on various German and international TV shows and is fluent in English and French. She serves on several boards, among them United Ways Germany, to foster social cohesion. Huberta was awarded the Leo Baeck Medal (2018) and the BGA Medal of Honor by the British-German Association. She is a member of the Young Leader network of the BMW Foundation and an alumni of the Friedrich-Ebert-Stiftung.