Understanding the New Zealand Online Extremist Ecosystem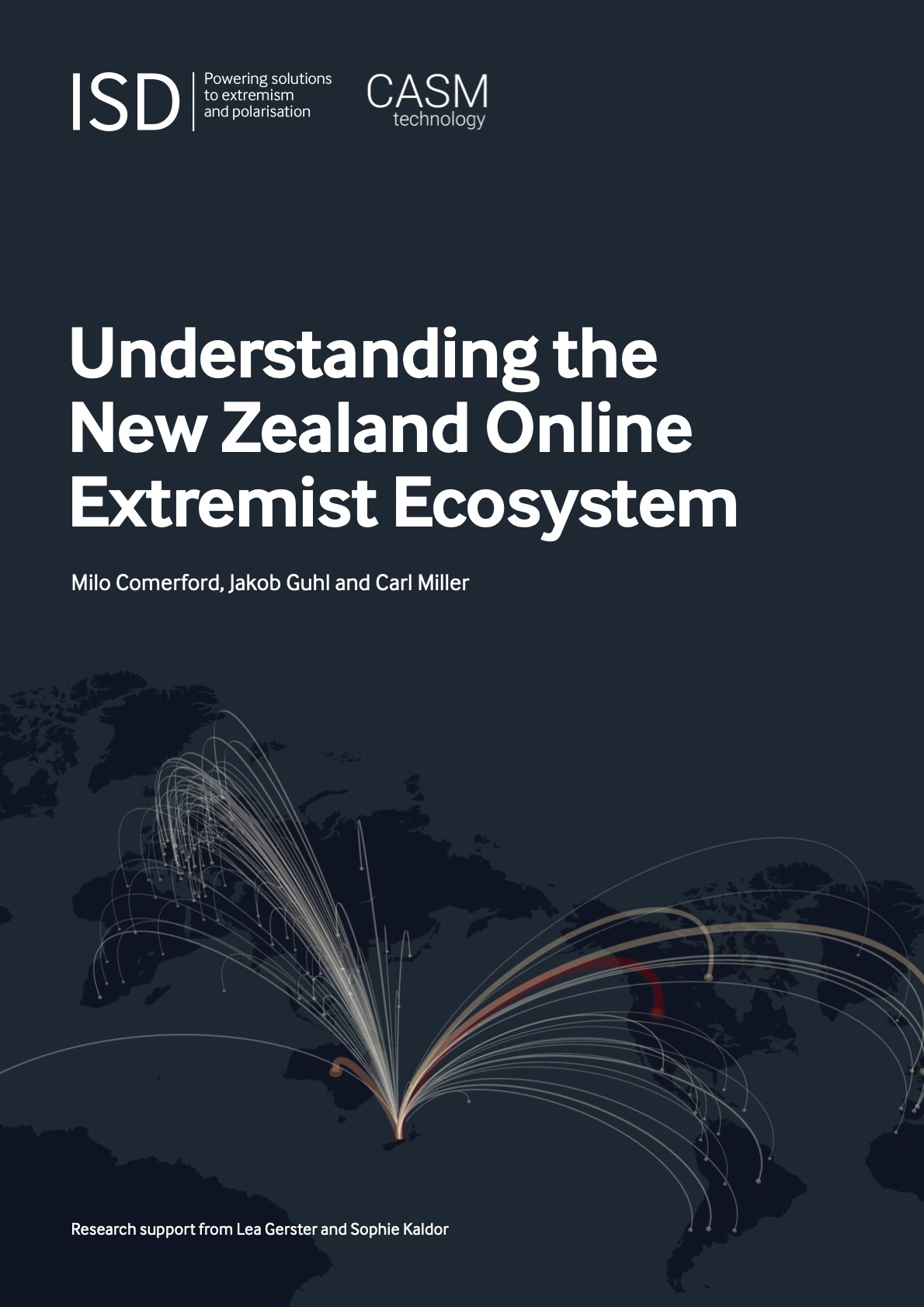 Published: 8 June 2021
Authors: Milo Comerford, Jakob Guhl and Carl Miller
Two years ago on March 15th 2019 the Christchurch attack highlighted the profound impact of online extremism in New Zealand. The subsequent Royal Commission of Inquiry on the attack painted a clear picture of a terrorist embedded within an international online extremist ecosystem, inspired and instructed by YouTube videos, and using extreme right-wing discussion boards, including 4chan and 8chan (now 8kun).
In this report, the Institute for Strategic Dialogue and CASM Technology provide a data-driven snapshot of the online activities of extremists with a demonstrable link to New Zealand, as well as the digital platforms connecting New Zealand to an international extremist ecosystem.
Exploring far-right, Islamist and far-left extremism as well as the growing grey area between conspiracy theories and extremism online, the research draws on data from social media sites including Facebook, YouTube and Twitter, a range of 'alt tech' platforms, including Parler, Gab and Telegram, alongside data from stand-alone extremist websites and forums, with over 600,000 posts collected from over 300 extremist accounts from New Zealand.
Our research sheds light on how extremism manifests online in New Zealand, the platforms where it spreads and key differences in how each are used. We look at the scale of mobilisation in both absolute terms – compared to mainstream social media use – and in contrast to extremism in other contexts around the world. We analyse how the Internet allows New Zealand extremists to be influenced in ways that are profoundly international, whilst remaining rooted in domestic contexts. We also show how extremism online relates to phenomena such as hate speech, disinformation and conspiracy theories. Focusing on data gathered from 2020, our research also looks at how offline events impact online extremist activity, from the captive audiences provided by Covid-19 lockdowns to increased polarisation around elections in New Zealand and the United States.
Underpinning this data snapshot is a bespoke research architecture drawing together a range of technologies and research methods, including machine learning-based approaches to content analysis, embedded 'ethnographic' research within online extremist communities, as well as geolocating references to specific places. In an accompanying methodological paper, we discuss in greater detail the research approaches used to generate this snapshot of the state of the New Zealand online extremist ecosystem.
Overall, our research shows that New Zealand is not an exception to broader international extremism trends. A concentrated but engaged core of online activists in New Zealand are intimately plugged into international extremist subcultures which draw New Zealanders away from the protective factors around them – such as a long history of liberal values and strong institutions – and surround them with the polarising grievances raging on the other side of the world. To a lesser extent, international extremist subcultures are also plugged into New Zealand and discuss the people, places and issues of the country at some volume, especially the Christchurch attack itself.
Delivered with support from the New Zealand Government's Department of Internal Affairs, this report forms part of the response to the Royal Commission of Inquiry into the 2019 Christchurch terrorist attacks, providing evidence around the challenge New Zealand faces from online extremism, and informing effective policy responses.
This report is also available from the New Zealand Government's Department of Internal Affairs web site.