The Terror Times: The Depth and Breadth of the Islamic State Alternative News Outlet Ecosystem Online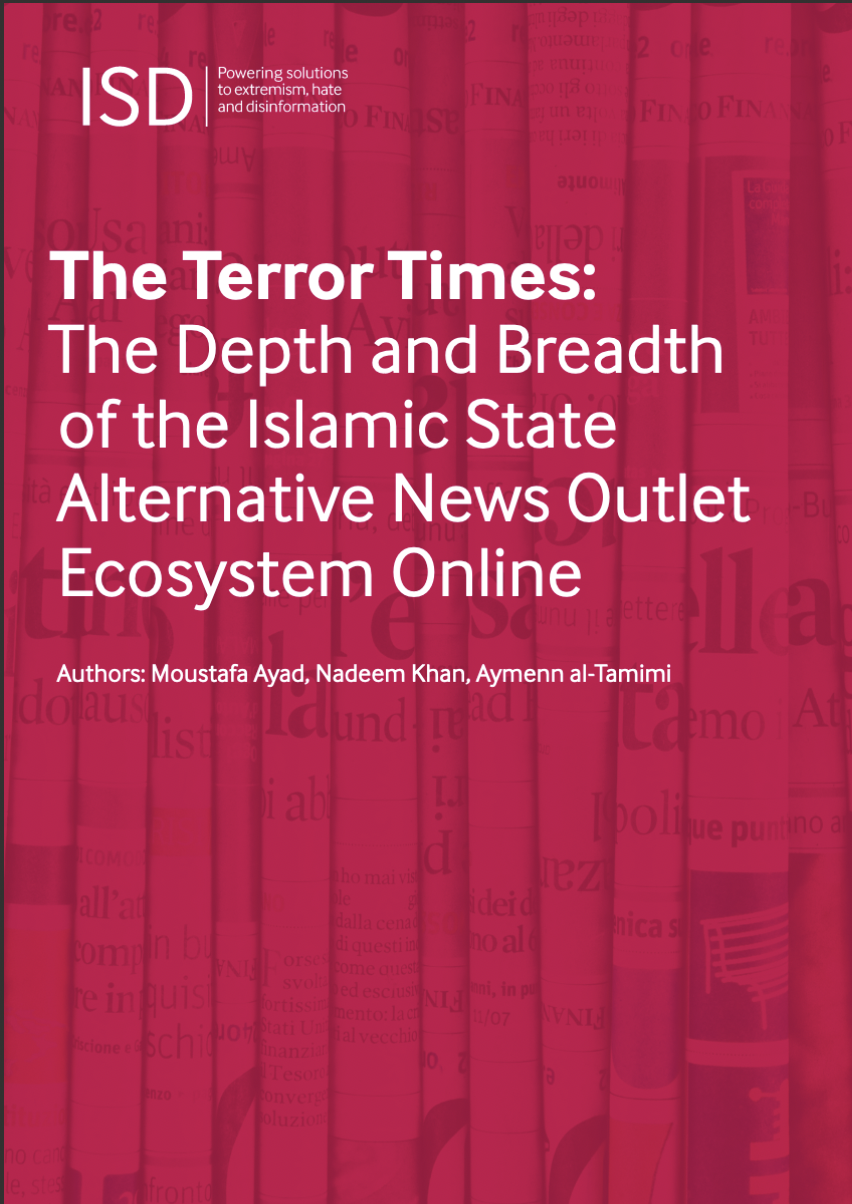 Authors: Moustafa Ayad, Nadeem Khan and Aymenn al-Tamimi
Published: 7 September 2022
This report highlights the networks, supporters, and the platforms of Islamic State disinformation disseminators, focusing on popular social media platforms as well as encrypted messaging applications. These disinformation networks are creating self-branded media outlets with followers in the tens of thousands, and often with innocuous names like "Global Happenings," "DRIL" and "Media Center," to evade moderation and takedowns. These same networks use coded language and a codebook of emojis to spread Islamic State "news" to other networks of supporters, who similarly evade moderation. These 'alternative news outlets' are trying to outcompete narratives publicized by government officials as well as independent mainstream media and individual journalists – groups that were also heavily targeted by Islamic State.
Moustafa Ayad is the Executive Director for Africa, the Middle East, and Asia at ISD, overseeing multiple programmes globally, and has more than a decade's worth of experience designing, developing, and deploying multi-faceted conflict mitigation, elections, and gender projects in conflict and post-conflict environments across the Middle East, Africa and Asia. He has experience in Iraq, Afghanistan, Yemen, Syria, Lebanon, Jordan, Kenya, Senegal, as well the United States, with a range of government and non-governmental partners on violent extremism, conflict resolution and strategic communications. Moustafa's research on the use of social media platforms by extremist groups and their supporters has been featured in the BBC, The Times, VICE, CNN, NPR, Wired and The Daily Beast.
Nadeem Elias Khan is a PhD candidate in Medieval History at Münster University. He has been specializing in Revivialist Sunni Islamism, including Salafi-Jihadism and offers consultant services in this field. He currently works as a project coordinator at the Center for Religious Studies, Bochum University.
Aymenn Jawad Al-Tamimi is an independent analyst and a doctoral candidate at Swansea University, where he focuses on the role of historical narratives in Islamic State propaganda. His public media work focuses primarily on the Islamic State, Iraq, and Syria, and he has been cited in numerous outlets for his insights, including the New York Times, Washington Post, Agence France-Presse and the Associated Press.
Download Report