Cartographie de la Haine en Ligne Tour d'horizon du discours haineux en France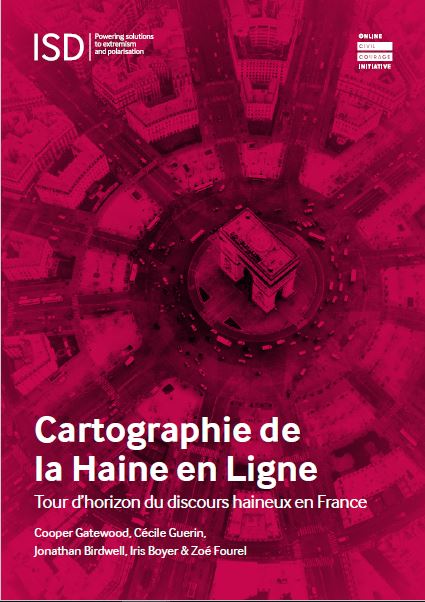 À propos de ce rapport
Ce rapport présente les résultats d'un projet de recherche sur l'envergure et la nature des discours haineux en ligne en France. Il examine différentes catégories de discours haineux, couvrant l'origine ethnique et raciale, le sexe, l'orientation sexuelle, la religion et le handicap. À l'aide d'outils d'analyse de données sur les réseaux sociaux qui combinent l'apprentissage machine et le traitement du langage naturel à une analyse qualitative, le rapport fournit une analyse détaillée de la dynamique des types de discours haineux les plus répandus sur les plateformes de réseaux sociaux en France. Ce rapport émet également des recommandations à l'égard des entreprises technologiques, du gouvernement et des organisations de la société civile en matière de mesures pour contrer les discours haineux en ligne. Établi dans le cadre de l'OCCI (Initiative pour le Courage Civique en Ligne), un partenariat stratégique entre l'Institut pour le Dialogue Stratégique (ISD) et Facebook, ce rapport aspire à donner à la société civile et aux décideurs politiques des moyens pour contrer la haine en ligne.
Les auteurs
Cooper Gatewood
Titulaire d'une maîtrise en affaires internationales de l'Université de Columbia et d'une maîtrise en sécurité internationale de Sciences Po, Cooper travaille dans l'unité de recherche numérique de l'ISD. Il y est responsable de la recherche quantitative sur la diffusion de discours haineux et clivants en ligne et sur la façon dont ils sont exploités par des acteurs extrémistes. Cooper élabore par ailleurs des cadres de suivi et d'évaluation pour mesurer l'impact d'un grand nombre de projets d'intervention de l'ISD. Il contribue actuellement aux recherches de l'ISD sur les campagnes de désinformation, en particulier celles qui visent à influencer et à perturber les processus électoraux. Enfin, il est responsable de l'OCCI en France, coordonnant les activités visant à soutenir la réponse de la société civile à la haine et à l'extrémisme en ligne, et gère l'évaluation quantitative de nombre de programmes de l'ISD, notamment Be Internet Citizens et Young Digital Leaders.

Cécile Guerin
Titulaire d'une maîtrise en histoire internationale de la London School of Economics et d'une maîtrise en anglais de l'École normale supérieure en France, Cécile contribue à de nombreuses publications dont The Guardian, Prospect et The Independent. Elle est coordinatrice à l'ISD et soutient le travail de développement et d'analyse de l'organisation en Europe. Elle travaille sur l'OCCI, un projet financé par Facebook qui vise à intensifier les efforts de la société civile pour lutter contre les discours haineux et l'extrémisme en ligne. Elle contribue également aux travaux de recherche et d'élaboration de politiques de l'ISD, en accordant la priorité à l'analyse des réseaux sociaux et à la cartographie des réseaux liés au discours haineux, à l'extrémisme et à la désinformation en ligne.
Iris Boyer
Titulaire du diplôme en sciences sociales et humaines décerné par Sciences Po Toulouse et d'une maîtrise internationale en affaires publiques de la Higher School of Economics de Moscou et de la London Metropolitan University, Iris est responsable adjointe de la division Technologie, Communications et Éducation de l'ISD. Elle supervise nombre de programmes visant à soutenir et amplifier les efforts de la société civile en matière de lutte contre l'extrémisme par le biais de partenariats stratégiques avec des entreprises technologiques et des organisations de terrain. Elle coordonne également des réseaux multisectoriels regroupant représentants du gouvernement, du monde universitaire, des médias et d´organisations non gouvernementales (ONG). Elle conseille régulièrement ces différents acteurs sur les dernières tendances de l'extrémisme et les approches les plus efficaces et les plus novatrices pour endiguer sa normalisation. Elle œuvre également à l'expansion régionale de l'ISD, en particulier en France où elle dirige les activités liées à son développement et son leadership d'opinion.
Zoé Fourel
Titulaire du diplôme en affaires internationales (comprenant des études à la School of Oriental and African Studies à Londres et à Georgetown University à Washington, DC) décerné par Sciences Po Lyon, Zoé est Associée à l'ISD. En plus d'avoir directement contribué à ce projet de recherche, elle participe activement à à la coordination des activités de l'OCCI en France. De surcroit, elle contribue aux programmes de l'ISD axés sur les réponses de la société civile pour lutter contre la haine et l'extrémisme.