COVID-19 Disinformation Briefing No.3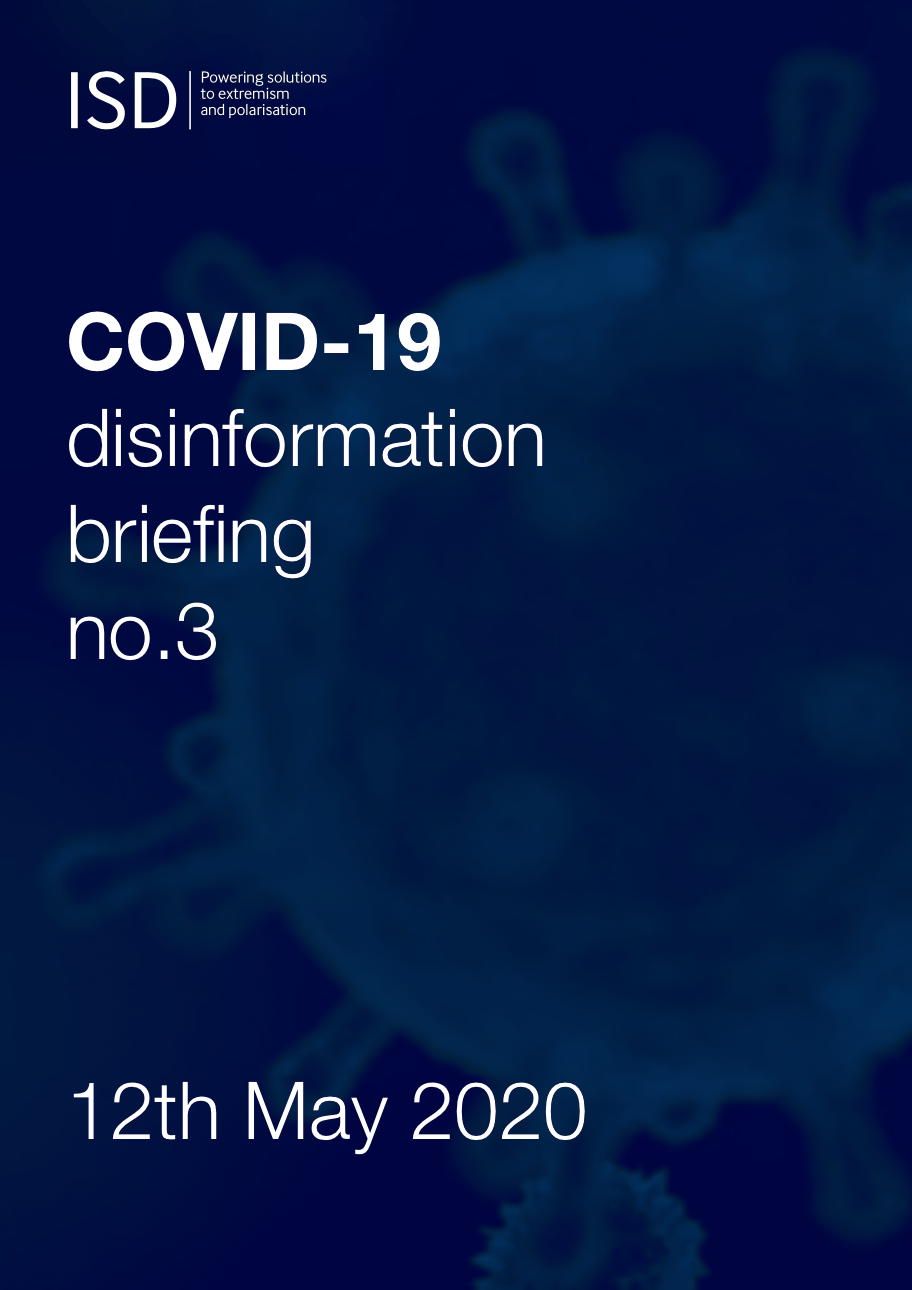 COVID-19 Disinformation Briefing No.3 – 12th May 2020
ISD released a pioneering investigation with BBC Click, mapping the scale and nature of online disinformation around COVID-19 in the US, as well as its co-option by far right actors. The investigation was featured on BBC World's Click programme, as well as on the BBC News website.
ISD researchers found that 34 known disinformation-hosting websites gathered the staggeringly high volume of 80 million interactions on public Facebook between January and April, 2020. For context, in the same time period, posts linking to the WHO's website received 6.2 million interactions, with the website of the US Center for Disease Control (CDC) receiving 6.4 million interactions through posts on public Facebook.
Our analysis – which revealed hundreds of thousands of far right posts around COVID-19 and millions of engagements with known disinformation sites – provides an important evidence base for understanding how extremist groups, disinformation actors and fringe medical communities are working to exploit the pandemic online, and highlights a marked increase in conversations within far right circles about so-called 'elites' including Bill Gates, George Soros, the Rothschilds and Jeff Bezos and false information about their role in the creation or spread of the virus. The conversations monitored by ISD researchers referenced the virus as a tool of social control, a purposeful plot to kill off certain populations, or a means to make money for these individuals and their institutions, all of which are unfounded claims.
ISD's Digital Analysis Unit is working on an ongoing basis to expose and analyse hateful disinformation campaigns around COVID-19 and more broadly in the run up to the US 2020 election, informing grassroots and policy responses. Our research will continue to track how disinformation and weaponised hate is being used during the election to marginalise communities, push divisive narratives and undermine democracy, using a mix of data analytics, OSINT research and policy analysis.
Summarised in this briefing paper are the methodologies utilised by ISD researchers for this investigation, and the key findings of the research.