Uniting mayors, municipal-level policy makers and practitioners to build social cohesion and resilience to counter violent extremism in all its forms
ISD recognises that cities are uniquely placed to safeguard their citizens from polarisation and radicalisation to create stronger and safer communities.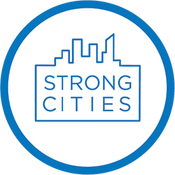 Launched at the United Nations General Assembly in September 2015, ISD's Strong Cities Network (SCN) is the first ever global network of mayors, policy-makers, and practitioners, united in building social cohesion and community resilience to counter violent extremism in all its forms.
The SCN comprises more than 100 member cities from every major global region, each with specific lessons, practice or challenges surrounding violent extremism. It serves as a platform for communities, CVE professionals and local political leaders to connect with their counterparts around the world to learn from one another's experience to inform and develop their own local practice.
---
The Strong Cities Network is made up of
Global cities
---
We also work closely with civil society groups and partner organisations to support our cities in establishing inclusive, welcoming communities, safeguarding respect for human rights to prevent violence and the hate, division and polarisation which engenders violent extremism. Our programming spans training, research, and online and offline activities and resources aimed at enriching understanding of – and enabling more effective local responses to – the challenge of violent extremism at the local level and on a global scale.