30 Jan 2019London, UK
Google Innovation Fund Showcase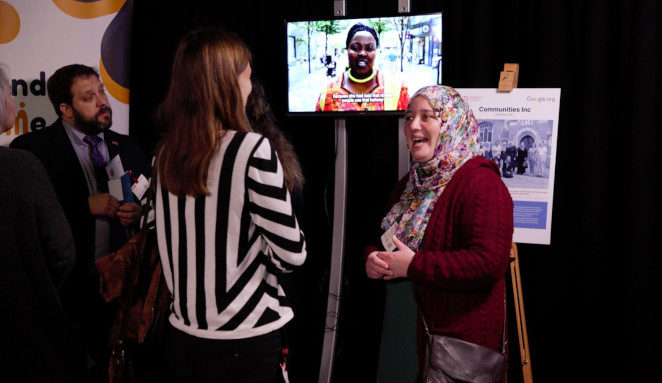 ISD and Google.org teamed up to host a showcase event featuring projects supported by their £1 million innovation fund to combat hate and extremism in the UK.
Guests at the event heard from many of the 22 projects funded through the Innovation Fund, which include pioneering approaches such as:
KO Racism by Limehouse Boxing Academy, where young people are brought together in boxing workshops with a twist – each session includes an open discussion about racism and prejudice supplemented with impactful videos.
On the Surface by The Challenge, which helps teach young people the importance of empathy and understanding of others from different social or ethnic backgrounds through a gaming app available on Google Play and the App Store.
Virtual Inclusion by Open University, a cutting-edge approach to tackling hate and extremism through the use of virtual and augmented reality, a set of high-quality 360-degree videos depicting a day in the life of a socially-discriminated young person.
ISD Founder & CEO Sasha Havlicek said: "ISD is proud to have partnered with Google.org to support these incredible projects whose innovative approaches seek to disrupt, undermine, counter, or provide positive alternatives to exclusion and division.  The Innovation Fund has demonstrated the positive impact we can have, laying the foundations for a more effective, innovative, and cohesive civil society response to hate and extremism in the future."
Google's Managing Director in the UK, Ronan Harris said: "We know that people worry about what they might see or stumble across online, that's why we've put our best people and technology to the task of fighting the abuse of platforms and we now have 10,000 people tackling harmful content.  We also understand our responsibility to think beyond our products and work together to make progress. We created this fund to help support the broader community response and work together to fight hate."
Paula Sherriff MP, Labour's Shadow Minister for Mental Health and Social Care and Chair of the APPG on Hate Crime, said: "In this age of austerity, many of the local council projects that were designed to promote community cohesion, help disaffected youths and support people who have been victims of hate have closed due to lack of funds. This is why we now have to rely on the big companies to take their corporate responsibility seriously. The many projects that are being supported here are brilliant examples of that."
MP Paula Sherriff spoke at the event about her personal experience with social media abuse in a personal speech, covered here by ITV News.
The Financial Times wrote about the showcase in an article highlighting real world solutions to online abuse and featuring comment from ISD.