Two years later: Changes in the domestic extremist threat landscape post-January 6th
By: Katherine Keneally and Laurie Wood
7 February 2023
This Dispatch is part of ISD's series marking the anniversary of the January 6th insurrection. Over the next few weeks we'll be exploring themes including accountability for big tech, extremists' digital footprints, and the landscape of election denialism going forward. 
_________________________________________________________________________________
The US threat landscape is rapidly evolving. Since January 6, extremists have broadened their focus from US elections and COVID-19 measures to include other single-issue topics, such as trans and LGBTQ+ rights, while also targeting institutions and marginalized groups at the local level. The ability to adapt to a post-January 6th threat environment – in which election conspiracies are no longer mobilizing as many people to action and can be perceived as more hostile to extremists – has aided extremist movements in their ability to attract support from an increasing number of Americans who believe violence is an acceptable response to policies and beliefs they disagree with.  
Overview
On January 6, 2021, thousands of Americans stormed the US Capitol in an attempt to prevent the peaceful transfer of presidential power – largely driven by the belief that no political solution would fix the "corrupt" government that "stole" the election. Two years later, despite the arrests of more than 950 individuals involved in the insurrection and the significant efforts devoted to understanding how and why it happened, the same narratives used by insurrectionists continue to be used to justify extremist actions today – though this time, many of their tactics and targets have changed. 
In some ways, the landscape looks similar. For example, social media still plays a major role in the spread of extremist beliefs and conspiracies online that shape the threat landscape, though notably, the deplatforming of many extremists post-January 6th has made alt-tech platforms dominant in the space. Additionally, as was observed during the insurrection, extremist groups continue to work together under single-issue umbrellas, while lone actors continue to attack marginalized communities – something we saw pre-J6 that continues today.  
While hateful and violent rhetoric online continues to manifest into real-world harm, rather than attacking the nation's Capitol, extremists are targeting local democratic institutions, marginalized groups, government officials, law enforcement, and infrastructure (to name a few). This does not mean extremists will not target elections in the future (they tried in 2022 through efforts such as drop box monitoring, but most of those efforts failed). Instead, the tactics they are now using seek to dismantle democracy from the ground up – and doing so is resulting in loss of life, intimidation and fear within marginalized communities, and damage to existing institutions. 
Extremists have diversified their tactic of single-issue mobilization – and in some cases, it's working 
In the lead up to J6, a range of far-right extremists and conspiracy theorists mobilized around perceived "election fraud." While this strategy of single-issue mobilization persists, they are primarily focusing their efforts on local officials, institutions, communities, and events, rather than the federal government. Most recently, extremists have weaponized an increase in online hate surrounding the LGBTQ+ community, especially trans people and drag events. Under the guise of "protecting children," they have sought to to recruit and mobilize others to disrupt drag queen story hours while possibly armed, harass members of the LGBTQ+ community, and issue threats to LGBTQ+ school board members and officials supportive of LGBTQ+ issues. Some of these tactics have been successful – for example, in December 2022, a drag story event in Ohio was canceled following a joint effort by approximately 50-70 members of the Proud Boys and Patriot Front.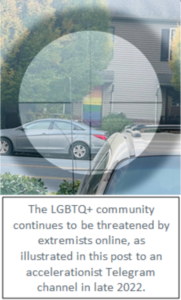 Unfortunately, anti-LGBTQ+ rhetoric is transforming into actual violence. According to the Armed Conflict Location & Event Data Project (ACLED), between January 7, 2021 (day after J6) and January 6, 2023, there were at least nine incidents of violence committed against an LGBTQ+ person, likely due to their membership in that community, resulting in six fatalities. This includes the November 2022 attack at an LGBTQ+ establishment in Colorado that left five dead, which occurred after researchers had observed an increase "in violent rhetoric, hate speech, threats, and hostile fixation targeting LGBTQ+ communities in the US and around the world" in the months leading up to the attack. These fatalities do not include all hate crimes against the LGBTQ+ community, which are assessed to be both on the rise and underreported. 
While extremists are heavily focused on amplifying LGBTQ+ hate, they also continue to mobilize around issues they have deemed important since before January 6th: COVID-19 measures such as lockdowns, vaccines, and masking; the teaching of critical race theory in schools; and election fraud. The ability of extremists to mobilize around other issues post-J6 represents continuity in their tactics, while also suggesting they are capable of pivoting to other issues as needed.  
There is an increase in the number of Americans who believe violence is an acceptable solution – and this makes credible threats more difficult to detect
Many of the January 6th  rioters were not your stereotypical extremist – they did not wear skull masks, bear swastika tattoos, or boast Proud Boys paraphernalia – rather, they could be perceived as average, middle-class Americans. Yet "everyday" Americans felt compelled to storm the Capitol and use violence to pursue a policy change. Unfortunately, this trend has not only continued, but both researchers and polls suggest that it has worsened, as an increasing number of Americans believe that violence can be an acceptable response to the policies and beliefs they disagree with. 
This trend is mirrored by many of the attacks we have seen in the last two years. In just the second half of 2022, we observed a number of incidents of politically-motivated violence, such as the attack at the FBI office in Ohio, the violence committed against Paul Pelosi, and the shootings at Democrat officials' homes in New Mexico. In each incident, the attacker was motivated by political beliefs and was likely not affiliated with any extremist group. In the case of the Ohio attack, the attacker was motivated by a combination of election conspiracies and the belief that former President Donald Trump was being unfairly targeted during the "raid" at Mar-a-Lago in August 2022. Similarly, in New Mexico, a former candidate was behind the series of shootings, similarly motivated by election conspiracies and his election loss.  
Unfortunately, this trend makes it more difficult to detect credible threats. ISD analysts regularly find comments on social media or hyper-partisan media sites calling for "hanging" officials, mentions of "civil war," or vague threats to individuals or groups. Violent rhetoric is commonplace on social media, and as a result, it is becoming more difficult for researchers and law enforcement alike to identify those who are actually planning to harm others.  
The true impact of extremist threats is difficult to measure – but they are increasingly pervasive
We know Americans are being physically harmed by extremists, but the total number of victims remains uncertain. Between January 7, 2021 and January 6, 2023, there were more than 70 incidents of violence targeting civilians [1]. While the motivation for many of the attacks is unknown, at least five of the attacks were committed by white nationalists (19 fatalities); 11 targeted members of the Black community (16 fatalities); and three targeted members of the Jewish community. However, this data only begins to scratch the surface. According to the FBI, in 2021 there were 9,024 victims of hate crimes in the US, with over 1,000 individuals targeted for their religious beliefs. The number of victims is likely much higher overall, as hate crimes are not only underreported by law enforcement (reporting is voluntary), but the number of reporting agencies decreased by approximately 20% between 2020 and 2021.  
In addition to physical harm, the mental, emotional, and even financial impacts of the current threat landscape are difficult to fully measure. Victims are experiencing fear for their personal safety; infrastructure has been damaged; vaccine hesitancy has increased; election officials and public servants across the country are quitting their jobs; and elected officials are resigning. Additionally, public trust in our democratic system continues to erode, not only due to a rise in the anti-government conspiracy theories that fueled J6, but due to the infiltration of our institutions by extremists who hold elected positions or work in law enforcement.  
Recommendations
Since January 6, we have observed extremists shift their focus to single-issue topics and target local institutions, while also witnessing an increase in the number of ordinary Americans who view violence as acceptable. Central to these trends is the recognition that words matter. The mainstreaming of hate targeting marginalized communities not only aids in extremist recruitment, but mobilizes individuals to violent action. Additionally, the increased use of violent rhetoric online not only reinforces supremacist beliefs, but also makes it difficult to detect credible threats. We are currently facing a volatile threat environment that is both harming marginalized communities and threatening our democracy.  
Beyond recognizing that words matter, there are several categories of response where action is urgently required to combat the rapidly evolving landscape, including improvements in incident data tracking, social media enforcement of hate-driven disinformation narratives and threats, and mitigation efforts that focus on individuals and loose networks, rather than formal groups and organizations.  
As previously noted, the full impact of extremist threats is difficult to measure, but improvements in incident data, such as the hate crime statistics reporting, can help researchers better understand the threat landscape and what is required to counter it.   
Additionally, evidence gathered for the January 6th inquiry showed how social media platforms have struggled to deal with the increasingly amorphous set of online threat actors contributing to risks of violent incitement and hate speech. Not only is the rise of violent rhetoric on social media making it difficult for analysts to identify imminent and credible threats, but the spread of hate-driven disinformation narratives, such as those targeting the trans and LGBTQ+ community, are influencing real-world harm targeting these groups. These trends demonstrate the need for network-based responses which account for the constantly shifting nature of conspiracy movements, where risks of violence and other offline harms can originate from a broad spectrum. 
Lastly, future harm mitigation strategies require recognition that the threat landscape is not defined by groups. As discussed in Jared Holt and Eric Levai's previous Dispatch in this series, efforts to mitigate harm must take into consideration that individuals perceived as ordinary Americans play a major role in shaping the landscape. 
[1] (2023) "Armed Conflict Location & Event Data Project (ACLED), Attacks Against Civilians, 07 January 2021 to 06 January 2023," retrieved 23 January 2023, https://acleddata.com/data-export-tool/. Note: the data used does not include police involved violence.