Detours and Diversions Online Strategies for the Dissemination of Right-Wing Extremist Content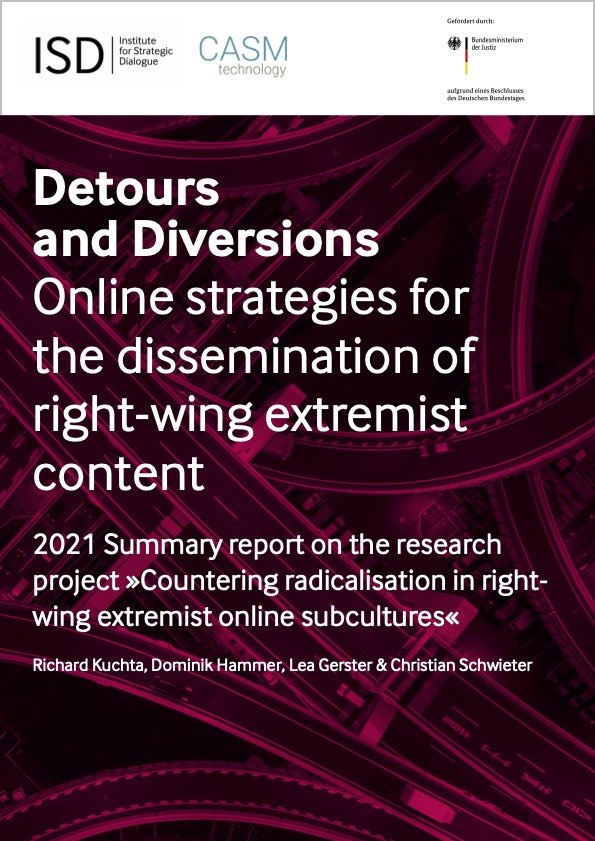 Authors: Richard Kuchta, Dominik Hammer, Lea Gerster & Christian Schwieter
Published: 24 October 2022
Since the beginning of 2021, ISD Germany has been researching right-wing extremist actors on alternative platforms on the internet. Three reports were published as part of the German Federal Ministry for Justice (BMJ)-funded project "Countering radicalisation in right-wing extremist online subcultures". The last report in 2021, "Detours and Diversions – Online Strategies for the Dissemination of Right-Wing Extremist Content", provides a summary of the projects central findings and presents them in a comparative manner.
This report thus combines the methodological and theoretical groundwork of the report "Wegweiser" with the results of the empirical research of the reports "Fluchtwege" and "Stützpfeiler Telegram", and puts them into context. The report presents a comparison of data from established platforms and Telegram, and thus helps to gain a better understanding of the behaviour of far-right actors on the selected platforms. It also includes a comparative analysis of the strategies and linkages of far-right and radical right actors on established and alternative platforms.    This research is based on the empirical data collected by the platforms. Given, that data collection is different for each platform, and given that this project also explores alternative platforms, it also furthers the exploration of data collection options, which are described in more detail in this report.
Richard Kuchta is an Analyst at ISD. His research focuses on elections, online political communication, extremism and disinformation. His work at ISD focuses on online extremism in various countries, including Slovakia, the Czech Republic and German-speaking countries. Previously, Richard worked at Globsec's Democracy & Resilience Programme as a project coordinator, where he was involved in projects on foreign influence and election monitoring. He is co-author of the ISD research report Telegram as a Buttress.
Dominik Hammer is a Research Manager at ISD Germany. He is involved in the analysis of radical right-wing and extreme right-wing online activities. His areas of interest include democratic theory, the strengthening of democratic practice and the analysis of anti-democratic movements. Before joining ISD, his experience included university research and teaching, as well as adult education. He is co-author of the ISD research reports Escape Routes, Signposts, Telegram as a Buttress and Auf Odysee, as well as the conference report In the Blind Spot.
Lea Gerster is an Analyst at the ISD. She focuses on the spread of extremist ideologies, disinformation and conspiracy myths in German and English-speaking countries. Previously, she worked for two years in the field of digital counter-extremism at think tanks and consultancies in London. She is the co-author of the ISD research reports Escape routes, Telegram as a Buttress, Crisis and Loss of Control, Disinformation Overdose: A Study of the Crisis of Trust among Vaccine Sceptics and Anti-Vaxxers and The Rise of Antisemitism Online During the Pandemic: A Study of French and German Content.
Christian Schwieter is a Project Manager at ISD Germany, leading the German-language research project on far-right activity on alternative and emerging online platforms. At ISD, Christian also co-led the pilot phase of the Digital Policy Lab, a new intergovernmental working group focused on charting the online policy path forward to prevent and counter disinformation, hate speech and extremism. Previously, Christian worked as a researcher for the Computational Propaganda Project at the Oxford Internet Institute, where he co-authored reports on state-backed information operations relating to the Covid-19 pandemic. In 2019, Christian was the Specialist Adviser on Disinformation Matters for the UK Digital, Culture, Media and Sports Select Committee at the House of Commons. Christian holds an MSc in Social Science of the Internet from the University of Oxford and a BA from Leiden University College The Hague. He is co-author of the ISD research reports Deutschland und der angebliche Klimalockdown, Telegram as a Buttress, and Auf Odysee, as well as the conference report In the Blind Spot.
Editorial responsibility: Huberta von Voss, Executive Director ISD Germany
This report was produced as part of the project "Countering radicalisation in right-wing extremist online subcultures" funded by the Federal Ministry of Justice and Consumer Protection (BMJV). The responsibility for the content lies exclusively with ISD Germany.
"Detours and Diversions" was first published in German as "Um- und Abwege. Online-Strategien zur Verbreitung rechtsextremer Inhalte Jahresbericht zum Forschungsprojekt 'Radikalisierung in Rechtsextremen Online-Subkulturen entgegentreten' für das Jahr 2021" on 21 December 2021.
DOWNLOAD THE REPORT