Resurrecting the legacy of Osama bin Laden: Algorithms and ambivalence
15 November 2023
By: Moustafa Ayad and Isabelle Frances-Wright
---
Social media platforms have breathed new life into the legacy of Osama bin Laden. Dead for almost 13 years, bin Laden, the former al-Qaeda figurehead whose image is probably the most linked to the Global War on Terror, is trending in the wake of the Israel-Hamas conflict because of his "Letter to America," a 2002 screed that justified al-Qaeda's 9/11 attacks on the United States.
Just how did we get here is a question all onto itself.
While the focus has been on Generation Z TikTok users who began reading the letter aloud in the wake of the subsequent removal of the letter from The Guardian website, there were simultaneous, similar campaigns on X [formerly Twitter], as well as on Facebook.  Over the course of November 14 to November 16, references to bin Laden on X jumped more than 4,300%, from just over 5,000 to more than 230,000 references, similarly references to "Letter to America," jumped more than 1,800%, from just over 4,800 to 100,000, with 719 million impressions across the platform.
On TikTok, ISD researchers found 41 "Letter to America" videos with more than 6.9 million views (available to minors as well as adults). While TikTok has now blocked "Letter to America" within search, videos referencing "Letter to America" are still easily accessible under the search term "Bin Laden."
On YouTube, searches for bin Laden jumped 400% between November 14 and November 16, according to Google Trends. Instagram's auto-suggest function within search assisted users in finding "Letter to America", listing it as a "popular search."
Those supportive of bin Laden on social media platforms welcomed the newfound interest with glee, as X users used this moment to claim, "like Christ, bin Laden willingly and wholly detached himself from all worldly and material pleasures, pursuits, and concerns." Users on Facebook posted the full text of the letter in Arabic, memes using Pedro Pascal and Nicholas Cage were deployed with Cage noting "America is attacking Hamas trying to turn global opinion against it," and Pascal firing back "the American people will see that bin Laden was right." Platforms such as TikTok began reacting to the trend by blocking search terms such as "Letter to America," fueling responses that the censorship was part of a coordinated conspiracy. However, ISD researchers found that the content would still appear on TikTok through a simple search for "Osama bin Laden." The trend similarly unleashed new content focused on 9/11 trutherism, which posits that the attacks on the United States were perpetrated by the government or a cabal of Jews.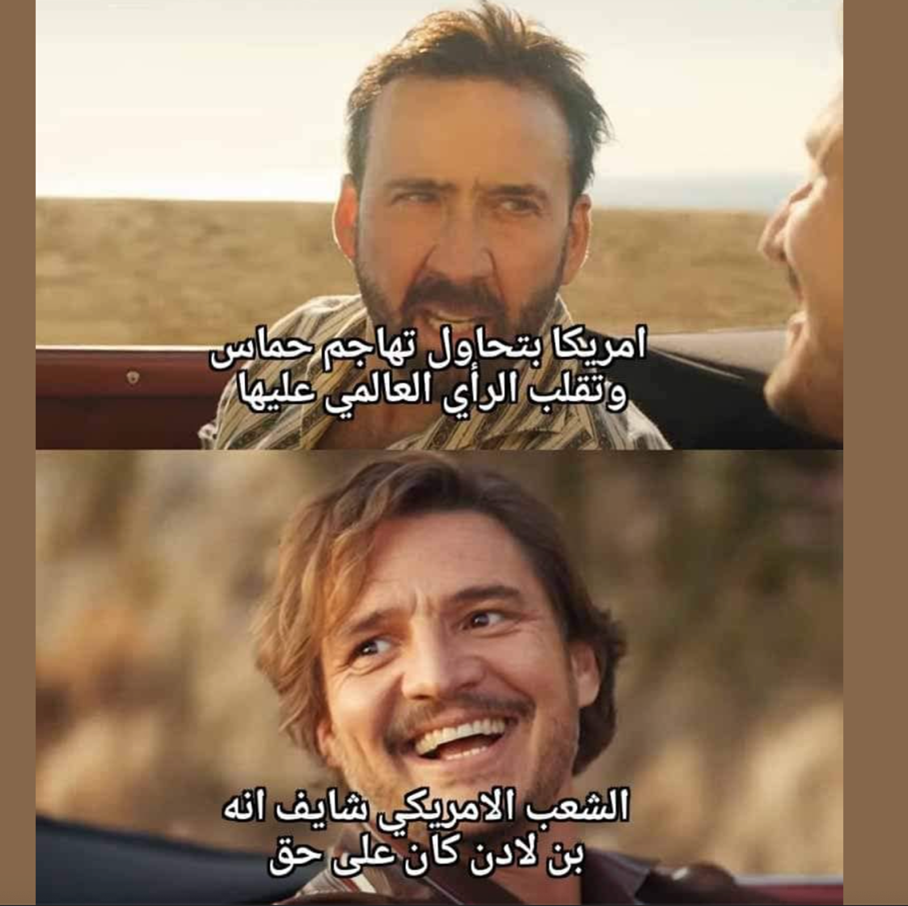 Branded al-Qaeda videos and posters, as well as of bin Laden speeches, similarly began receiving attention, ISD researchers found 33 videos on X posted between November 14 and November 16, that venerated bin Laden's legacy and were not linked to the "Letter of America" that garnered more than 352,000 views in that time. Some of the accounts were posting the bin Laden content into famous people's replies, such as Taylor Swift.
On Telegram, channels linked to neo-Nazis archived the "Letter to America" and began sharing the links to it in the wake of the trend. Telegram channels supportive of Iran believed the trend to be an "op," indicating that it was meant to take away from the world seeing "Zionist entity's relentless barbarism in Gaza." Pro-Kremlin channels on Telegram noted the trend was "a definitive sign of just how bad the political decay has become, and how deeply detached America's rulers are from its citizen."
While pundits and analysts have placed the onus of much of the resurgence of bin Laden's legacy squarely at the feet of Generation Z, there has been little discussion of the platform's inability to enforce their terms and conditions, since the veneration of bin Laden and other designated terrorists is prohibited by their own rules. Instead, researchers found the full text of the speech in English and Arabic evading moderation across X, Facebook and TikTok. Just as in the initial days of the October 7 Hamas attacks on Israel, researchers found that the platforms were ill equipped to deal with a surge of content violating their own policies.
Whether this is indicative of convenient amnesia by a younger generation or not, what is abundantly clear is that cross-platform responses to content violative of the policies put in place by technology companies are insufficient and content can readily evade moderators, and ultimately, trend. Whether the companies can and will enforce their own stated policies, especially during the ongoing conflict during which antisemitism and anti-Muslim sentiment has exponentially shot up, is another question all together. The case of "Letter to America" signifies a societal failure in many regards, but the platforms are as much to account for its spread as the users.
Editor's note: this article previously described those celebrating the return of bin Laden's content to social media as 'Salafi-jihadists'. This sentence has been edited to clarify that not all of these accounts are necessarily Salafi-jihadists.