Hate of the Nation: A Landscape Mapping of Observable, Plausibly Hateful Speech on Social Media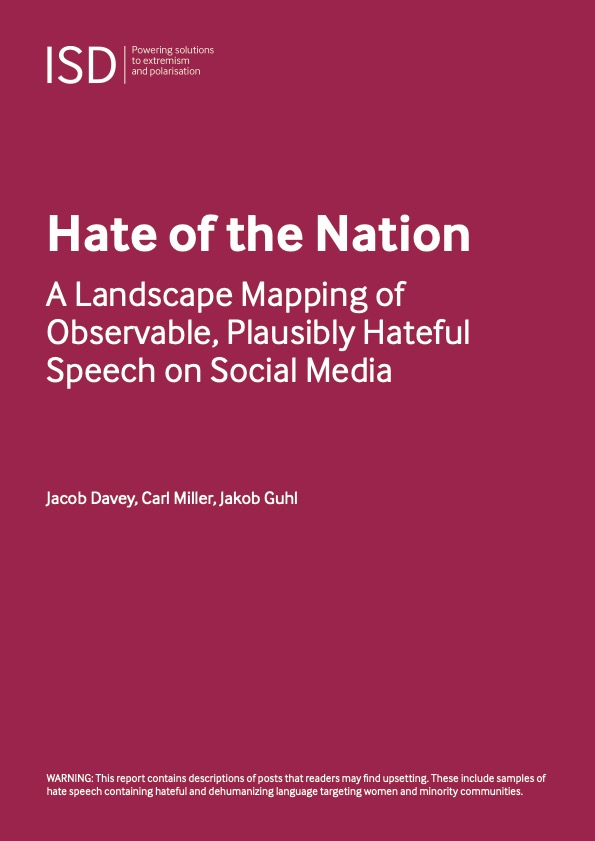 Published: 19 September 2023
Authors: Jacob Davey, Jakob Guhl and Carl Miller
As Ofcom prepared for its duties as the UK's incoming social media regulator, they commissioned ISD to produce two reports to better understand the risk of UK users encountering online terrorist, incitement to violence and hate content across a range of digital services.
This report provides an overview of public English-language messages collected from Facebook, Instagram, Twitter, Reddit and 4chan across the month of August 2022 which we class as 'plausibly hateful'. This is where at least one of the reasonable interpretations of the message is that it seeks to dehumanise, demonise, express contempt or disgust for, exclude, harass, threaten, or incite violence against an individual or community based on a protected characteristic. Protected characteristics are understood to be race, national origin, disability, religious affiliation, sexual orientation, sex, or gender identity.
You can find Ofcom's foreword to the report, as well as its accompanying paper on the online landscape of terrorism, extremism and hate speech related to the United Kingdom, on their website.
Download Report