Fostering Civic Responses to Online Harms: Learnings from the Online Civil Courage Initiative and the Online Civic Fund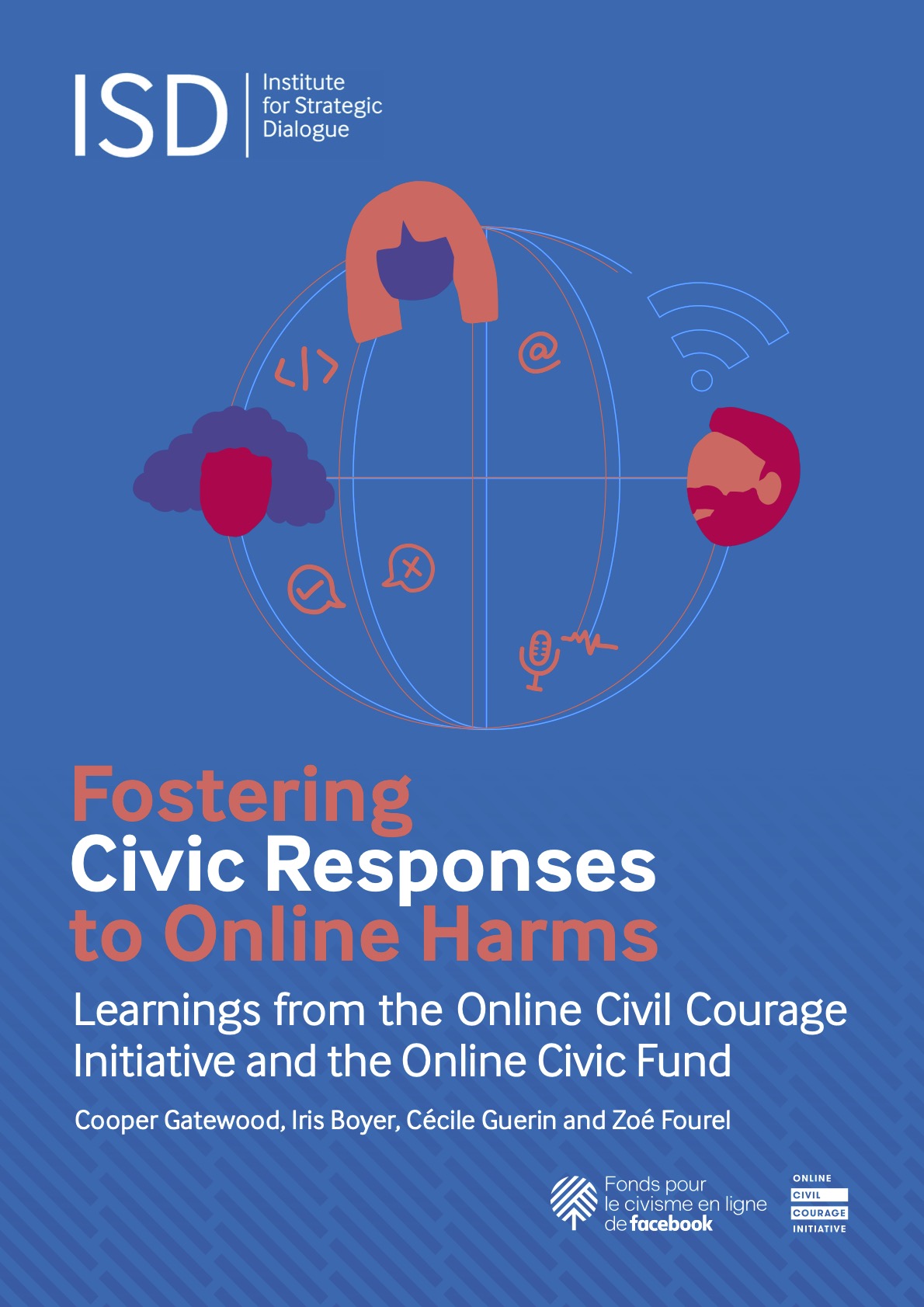 Published: 18th December, 2020
Authors: Cooper Gatewood, Iris Boyer, Cécile Guerin and Zoé Fourel
This report reviews the impact of the Online Courage Civic Initiative and Online Civic Fund in 2019, demonstrating how effective civil society actors can be when provided with the necessary resources and platform. Our overview shows the significant impact that civil society can have in countering hate online and offline, providing key learnings, inspiring similar initiatives and demonstrating the ways the civil sector can co-ordinate long term.
Iris Boyer:
Iris is Deputy Head of Technology, Communications and Education, overseeing a number of programmes supporting and amplifying civil society's efforts against extremism through scaled partnerships with tech companies and grassroots organisations. Iris also co-ordinates multi-sectorial networks spanning government, academia, the media and the nongovernment organisation (NGO) sector, and regularly advises them with ISD's insights on the latest trends in extremism and the most effective and innovative approaches to tackle its mainstreaming. She is also working on ISD's regional expansion, and particularly leading on thought leadership and development in France. Iris holds a French five-year diploma in social
sciences and humanities from Sciences Po, as well as an international Master's degree in public affairs from the Higher School of Economics in Moscow and the London Metropolitan University.
Cooper Gatewood:
Cooper is a manager within ISD's Digital Research Unit, focusing on quantitative research into the spread of hateful and polarising narratives online, and how they are leveraged by extremist actors. Cooper also develops monitoring and evaluation frameworks to measure the impact of a number of ISD's intervention projects. Cooper is currently contributing to ISD's research on disinformation campaigns, particularly those aimed to influence and disrupt election processes. He also manages the OCCI in France, co-ordinating activities to support civil society's response to hate and extremism online. In addition, Cooper conducts ongoing evaluation of a number of ISD's programmes, including Be Internet Citizens and Young Digital Leaders. Cooper holds a Master of International Affairs from Columbia University and a Master in International Security from Sciences Po.
Cécile Guerin:
Cécile Guerin is a co-ordinator at ISD, supporting the organisation's European development and analysis work. She works on the OCCI, a Facebook-funded project which aims to upscale civil society efforts against hate speech and extremism online. Cécile also contributes to ISD's research and policy work, with a focus on social media analysis and network mapping related to hate speech, extremism and disinformation online. She has written for a range of publications, including the Guardian, Prospect and the Independent. Cécile holds an MSc in International History from the London School of Economics and an MA in English from the École Normale Supérieure in France.
Zoé Fourel:
Zoé is an associate at ISD, working predominantly on the OCCI in France. In addition to contributing to ISD's research, Zoé helps co-ordinate the activities of the OCCI in France. Zoé also contributes to other ISD programmes focusing on empowering civil society-led responses to hate and extremism. Zoé holds a five-year diploma from Sciences Po Lyon in International Affairs, which included studies at the School of Oriental and African Studies in London and Georgetown University in Washington, DC.
See also:
Seconde vague et désinformation : Aperçu des tendances sur les réseaux sociaux – ISD (isdglobal.org)
Voices of Pakistani Youth: Lessons for Civil Society in the Development of Effective Counter-Narrative Campaigns – ISD (isdglobal.org)
Developing a Civil Society Response to Online Manipulation – ISD (isdglobal.org)
Download Report