Effectiveness of the Sanctions on Russian State-Affiliated Media in the EU – An investigation into website traffic & possible circumvention methods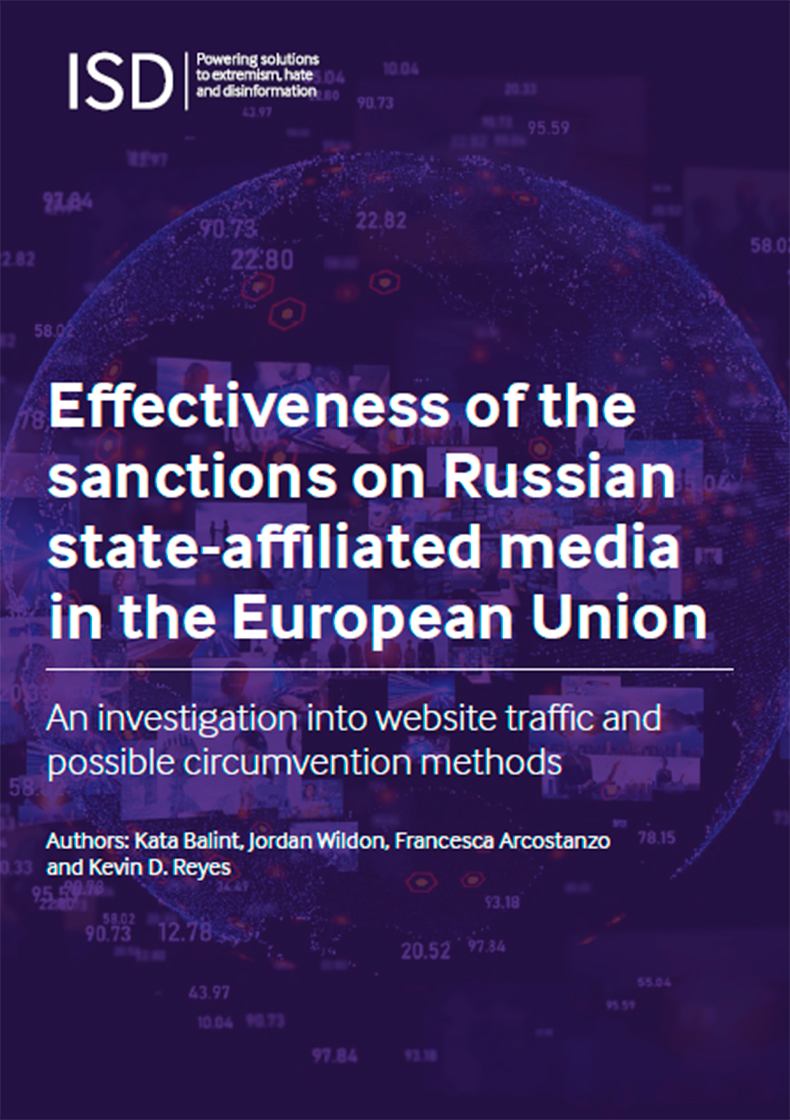 Authors: Kata Balint, Jordan Wildon, Francesca Arcostanzo and Kevin D. Reyes
Published: 6 October 2022
The purpose of this research is two-fold: first, to assess the effectiveness of the restrictions placed on Russian state-affiliated media by the European Union after the start of the Russian invasion of Ukraine; and second, to unearth potential circumvention methods and their success in enabling pro-Kremlin content to reach European audiences.
This report breaks down into two parts: firstly, an analysis of traffic from global and European audiences to all RT websites, as well as websites associated with Rossiya Segodnya, a media group affiliated with the Kremlin that operates various outlets, including Sputnik. For this, analysts conducted website forensics and collected website traffic data to identify all RT and Rossiya Segodnya domains and to understand who is still accessing their content and how they are doing so. The second study explored how RT articles that negatively depict Ukrainians seeking refuge in Europe and elsewhere were made available through various means across the EU.
Kata Balint is an Analyst on ISD's Digital Analysis Unit, where she supports research on malign influence operations, disinformation, conspiracy theories and hate speech online. She has been involved in research around the world, using a range of data analysis tools and open-source intelligence methods. Kata previously worked as an Analyst in the Radicalisation and Extremism Programme of Political Capital, an independent research institute based in Hungary, where she co-authored a number of research papers on far-right radicalisation and extremism, as well as political attitudes and behaviour, and was involved in radicalisation prevention activities.
Jordan Wildon is a Senior Digital Methods Manager at ISD, working to develop and implement the latest tools for digital investigations and analysis. He has extensive experience using open-source intelligence and ethnographic research methods to monitor public health mis- and disinformation, conspiracy networks and far-right movements online. This has included creating open-source tools for researching Telegram. Jordan has a Master's degree in Multimedia Journalism, and has published written and audio-visual content in various media outlets.
Francesca Arcostanzo is a Senior Research Manager – Digital Methods Lead within ISD's Digital Research Unit, working across a variety of research projects to ensure consistency in methods, training and approaches to digital analysis, and leading the ISD-CASM shared strategy for technological development. She has 7+ years of experience in digital research, with a focus on issue politicization, digital polarization and election campaigns. Her main areas of expertise are social media research methods, including content, text, network and statistical analysis of large-scale datasets. She holds a PhD in public opinion, political communication and electoral behaviour from the University of Milan, a MA in Government and Public communication, and a MSc in Intelligence & ICT.
Kevin D. Reyes is a Senior OSINT Specialist in ISD's Digital Analysis Unit, where he leads open-source investigations methods and researches online hate, extremism and disinformation. He previously worked as the director of research and intelligence at a consulting firm, and conducted open-source investigations for law enforcement and Fortune 500 clients. Prior to intelligence consulting, Reyes worked in law library management at several law schools, and in international criminal law research at Robert F. Kennedy Human Rights in Washington DC and at the Human Rights Center at UC Berkeley School of Law. While at the Human Rights Center in 2016, he helped launch its Human Rights Investigations Lab, the first university-based, open-source investigations lab of its kind to discover and verify human rights violations and potential war crimes. Reyes received his bachelor's from the University of California, Berkeley.
Download Report