An imprecise science: Assessing interventions for the prevention, disengagement and de-radicalisation of left and right-wing extremists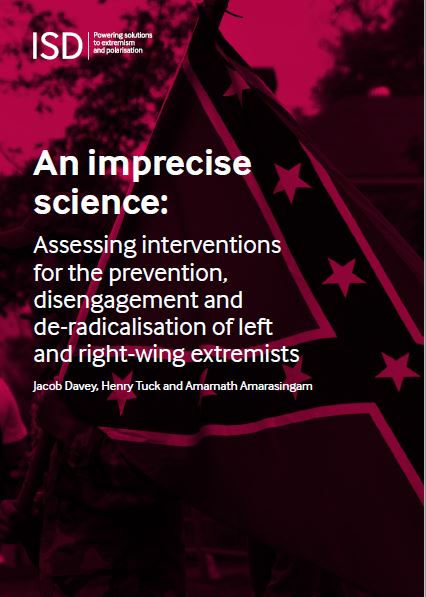 About this report
This report examines intervention approaches currently being used to challenge political extremism globally, drawing on 19 interviews with practitioners based in Belgium, Canada, Germany, France, Sweden, the UK and USA. In particular, it looks at the approaches which are being used to de-radicalise and disengage right wing extremists, as well as current strategies being employed to tackle radicalisation and extremism online. It highlights a wide range of different approaches to this work, some key structural challenges facing practitioners seeking to deliver interventions, as well as a number of discrepancies in the scale and sophistication of interventions initiatives globally.
Acknowledgements
This report would not have been possible without the funding support from Jigsaw, research assistance from Charlotte Moeyens, Jakob Ghul and Cecile Guerin, and the time, insights and expertise of our fantastic interviewees.
About the Authors
Jacob Davey, Senior Research Manager at ISD
Jacob Davey leads on research into far-right extremism and hate crime. His work focusses on mapping the global far-right and the development of new methodologies for tracking far-right extremism. In this role Jacob has advised national and local policy makers on right wing extremism. Jacob's reports include tracking the internationalisation and mainstreaming of right-wing extremism, and online interventions for countering extremism.
Henry Tuck, Head of Policy & Research at ISD
Henry Tuck manages ISD's research programme and leads ISD's policy-focused work to counter online harms in collaboration with a range of key stakeholders, advising leading governments, international organisations and major private sector tech companies. Since starting at ISD in 2013, he has led a series of ISD's education and counter-narrative programmes and conducted research on foreign fighters, deradicalisation and the far-right.
Dr Amarnath Amarasingam, Senior Research Fellow at ISD
Dr Amarnath Amarasingam is the author of Pain, Pride, and Politics: Social Movement Activism and the Sri Lankan Tamil Diaspora in Canada (2015). He is the editor of Sri Lanka: The Struggle for Peace in the Aftermath of War (2016), The Stewart/Colbert Effect: Essays on the Real Impacts of Fake News (2011) and Religion and the New Atheism: A Critical Appraisal (2010). Amarasingam is an experienced field researcher, having conducted hundreds of interviews on social movement activism, organisational dynamics, and youth identity in the Sri Lankan Tamil diaspora. He has also conducted interviews with former fighters throughout the former war zones of Sri Lanka in 2012 and 2013 and at the Turkey-Syria border as well as former and current activists of the Syrian revolution. He has also conducted field research in Somalia, Lebanon, Israel/Palestine, and amongst different ethnic and religious groups in North America and Europe.