Online Reactions of the Far-Right to the Far-Left
10th November, 2020
By Jakob Guhl
On 31 May 2020, amid the George Floyd protests across multiple U.S. cities –  some of which led to thousands of arrests and multiple deaths – President Donald Trump tweeted that the far-left network Antifa would be designated a "Terrorist Organization."
Following Trump's announcement, the volume of social media posts discussing Antifa drastically spiked.
ISD researchers monitored the reactions to Trump's tweet by far-right actors online as part of a long-term analysis of social media conversations around Antifa. The analysis focused on 14 million social media posts from January 2019 onwards – more than 7 million of which were made in the three weeks after the killing of George Floyd. The aim was to understand how far-right actors respond to such events.
 _________________________________________________________________________
Who are Antifa?
The origins of Antifa lie in "Antifaschistische Aktion", a militant anti-fascist group founded by the German Communist Party (KPD) in 1932. By the 1970s, the Antifa movement had established itself in the US, but gained a renewed prominence there following the 2017 white supremacist Unite the Right rally in Charlottesville, Virginia. While Antifa is more accurately viewed as a loose network of groups or even an ideology, within which there are significant disagreements, many Antifa activists have expressed a willingness to use violence against the far-right.
Online reactions to Trump's tweet by the far-right
ISD researchers found that the reaction to Trump's tweet by the far-right cited a number of well-known narratives and tropes:
Soros funding
A recurrent right-wing and far-right narrative used to delegitimise protestors over the past few years has been the claim that they are funded by the liberal financier and philanthropist George Soros. Throughout the George Floyd protests that took hold of the US in 2020, the narrative that Soros was funding Antifa to create chaos was pervasive, with 520k tweets between 25 May 2020 and 17 June 2020 (4% of all tweets) mentioning Soros. Seven out of the ten tweets with the biggest reach accused Soros of funding Antifa.
Interestingly, however, various online white supremacist groups and key white nationalist influencers such as "Groyper" movement leader Nicolas J. Fuentes contested the claim. This was not to defend Soros; what concerned them was the assumption that the riots were merely the result of a single man. Rather, they viewed the violence as the inevitable outcome of a multi-ethnic society – clear evidence that people of different races and ethnicities cannot live together.

Fake Antifa Account calling for violence
On the 2nd June, NBC News revealed that a fake Antifa account calling for violence during the protests was in fact linked to the now-defunct white nationalist group Identity Evropa. Patrick Casey, the leader of the American Identity Movement (previously Identity Evropa) denied any involvement.
Unsubstantiated & contested claims around Antifa
Several far-right channels alleged that Antifa organised the riots by, for example, leaving crates of bricks for protestors to throw or attempting to instigate a race war.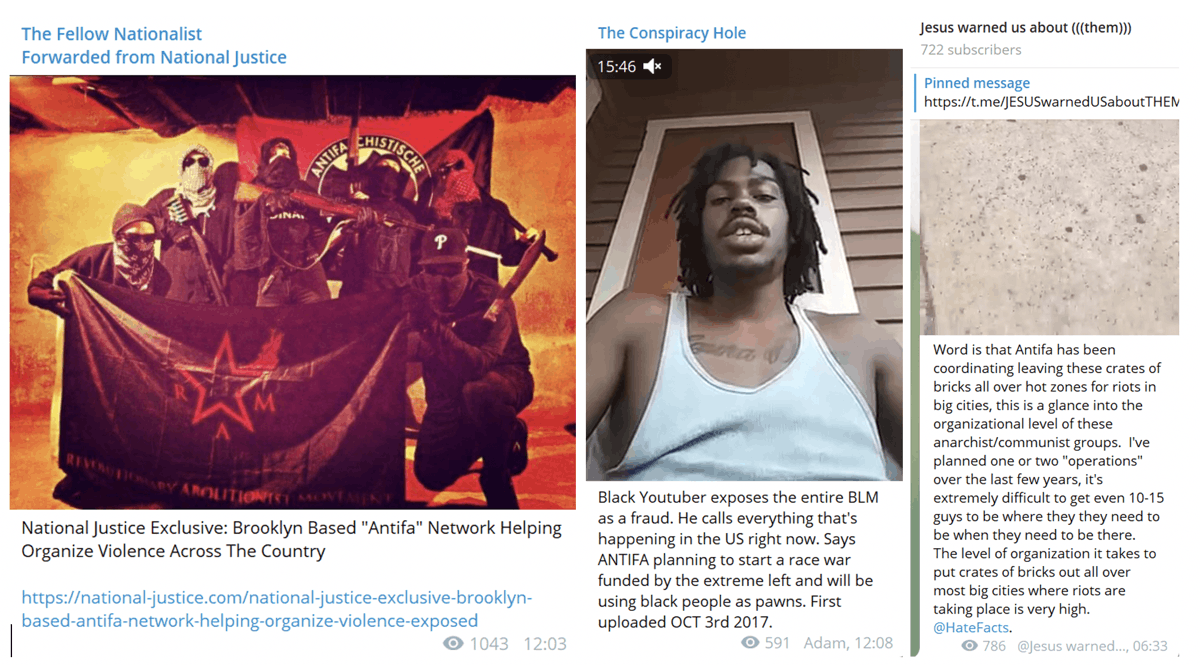 The extent to which Antifa-groups have been involved in the protests, or have been responsible for violence and rioting, has been questioned. While Canadian far-right media outlet Rebel Media claimed that "Peaceful D.C. protests turned violent AFTER Antifa showed up",  a reporter from the left wing The Nation Ken Klippenstein published a story citing an FBI dossier arguing there was no indication of Antifa involvement in the violence that occurred at the protests.
Despite this lack of clarity, claims that the group was responsible for violent incidents continued. Disinformation outlet Infowars accused "Antifa rioters" of setting the mattress of a homeless man on fire. While the incident was later confirmed to actually have taken place, it is unclear what evidence Infowars based their claim of Antifa involvement on.
4chan "leaks"
On 4chan, users claiming to have infiltrated Antifa "leaked" sensitive information allegedly proving it organised riots across the US. The leak listed links to different far-left organisations, and lawyers supposedly representing arrested Antifa activists, though this could not be verified via the lawyers' websites.
Claims of political elite involvement with Antifa
ISD researchers identified numerous claims regarding politicians allegedly connected to Antifa. For example, a post in a Facebook Trump supporters group (with 5.7k members), claiming that Joe Biden received donations from Antifa, received 91 likes and 84 shares Similarly, there were some 15k tweets that alleged Biden's campaign was donating 'bail money' to arrested Antifa protestors. Users in another Facebook group called 'MAGA Militia', suggested that Attorney General Anthony Barr had knowledge of the involvement of "Politicians & Elitists" supporting Antifa's instigation of the riots (see below image).

QAnon-related conspiracies around Antifa
Within the QAnon movement, claims emerged that Q – the supposed insider from the Trump administration leaking classified information online – and military intelligence units had been preparing for an Antifa rebellion for a long time. QAnon groups on Facebook and Telegram supported these claims by linking to a Fox News story suggesting that the crackdown on Antifa was a long-time coming. Federal and local agencies, it was alleged, were preparing for the arrest of high-ranking Antifa leaders, thereby framing these groups as much more hierarchically organised than many claim they are.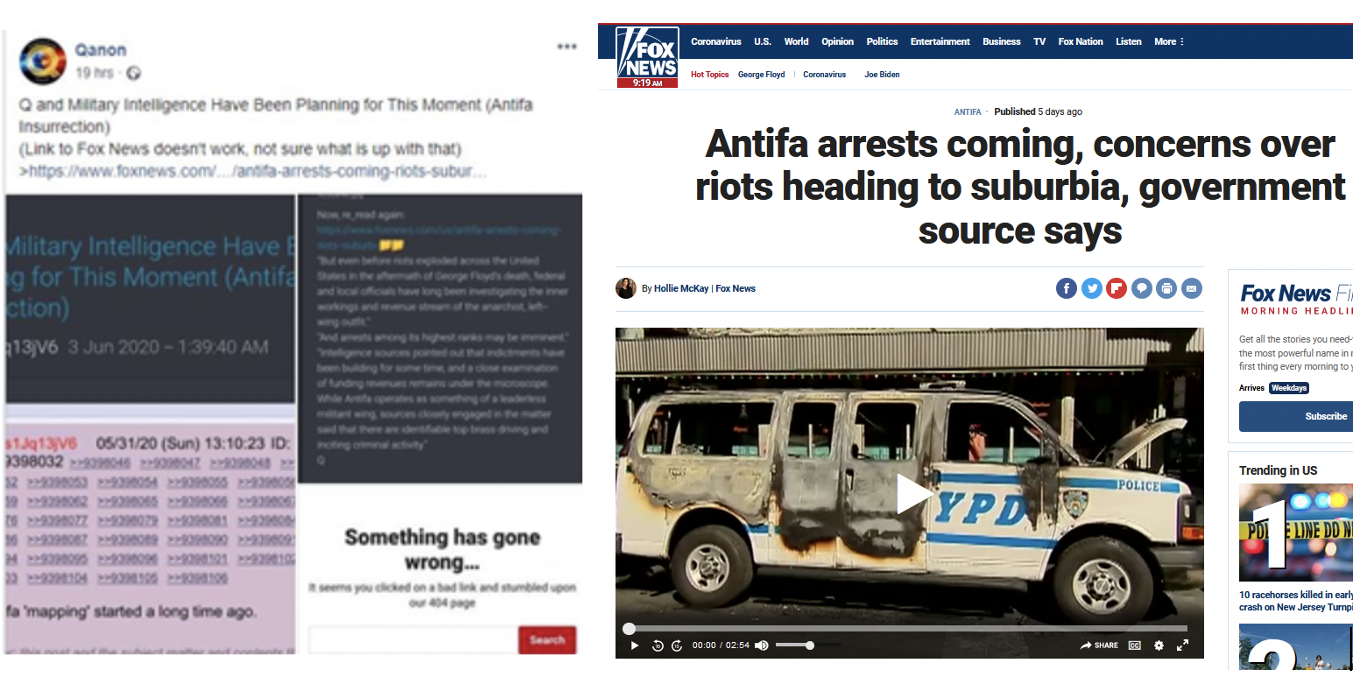 Claims about Antifa being a coherent organisation
The lack of Antifa's organisational coherence was one of the major criticisms levelled at President Trump after his Antifa statement. However, researchers did see substantial amounts of content refuting this (see QAnon section above), and claiming that a great degree of organisational cohesiveness does in fact exist.
Under the hashtag #ExposeAntifa, (which gathered some 197k tweets) the disinformation outlet Project Veritas published a short video of one of their 'undercover journalists' (who the video claims "retired" from Antifa) participating in meetings held by the "Rose City Antifa" group in Portland. The video alleges that "Rose City Antifa" is "much more structured, almost like a company, like a business" and suggests it is supported by "outside funding, influence or resources".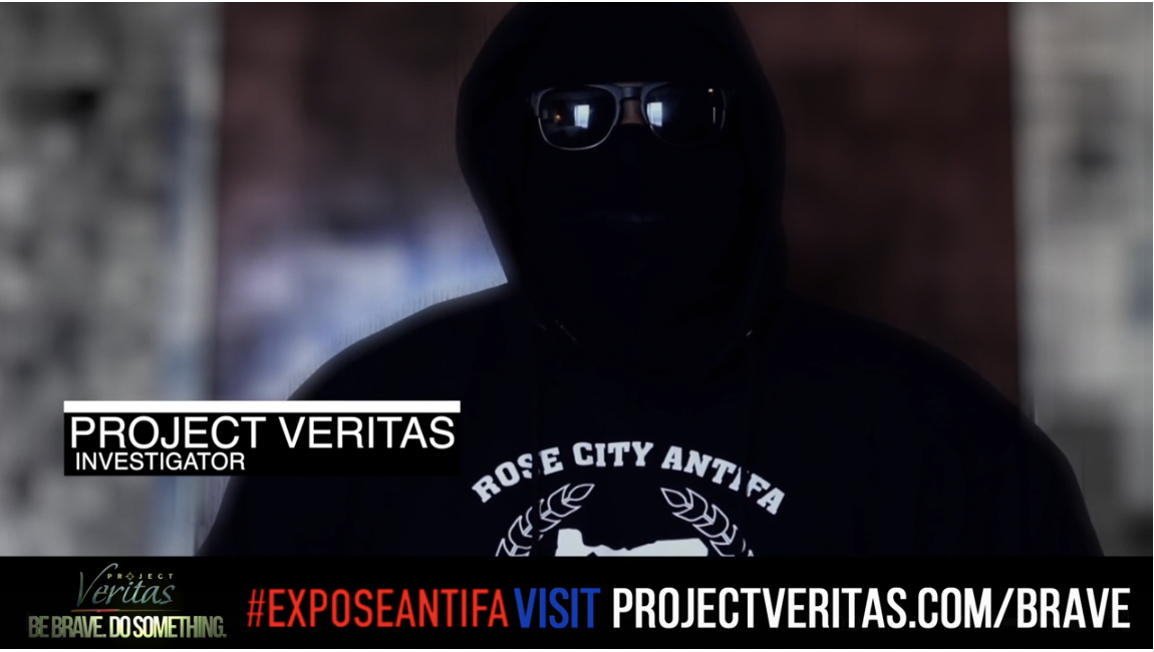 Antifa should be viewed as a loose network of groups, some of which are indeed open to using violence against the far-right. However, by branding Antifa as a "terrorist organisation", and claiming that it is funded by George Soros, the far-right is trying to delegitimise the grassroots anti-racist protest movement that emerged following George Floyd's death. It is crucial, therefore, to accurately assess the threat of violence posed by groups operating under the Antifa label, while at the same debunking false and exaggerated claims by the far-right that seek to distract from legitimate calls for social justice and institutional reform.
Jakob Guhl is a Coordinator at ISD, where he mostly works within the Digital Research Unit. Jakob has co-authored research reports on the alternative online-ecosystem of the far-right, reciprocal radicalisation between far-right extremists and Islamists, coordinated trolling campaigns, hate speech and disinformation campaigns targeting elections. He is a frequent commentator on German radio and broadcast, including Deutschlandfunk, Tagesthemen and Radio Eins.