She Drops: How QAnon Conspiracy Theories Legitimize Coordinated and Targeted Gender Based Violence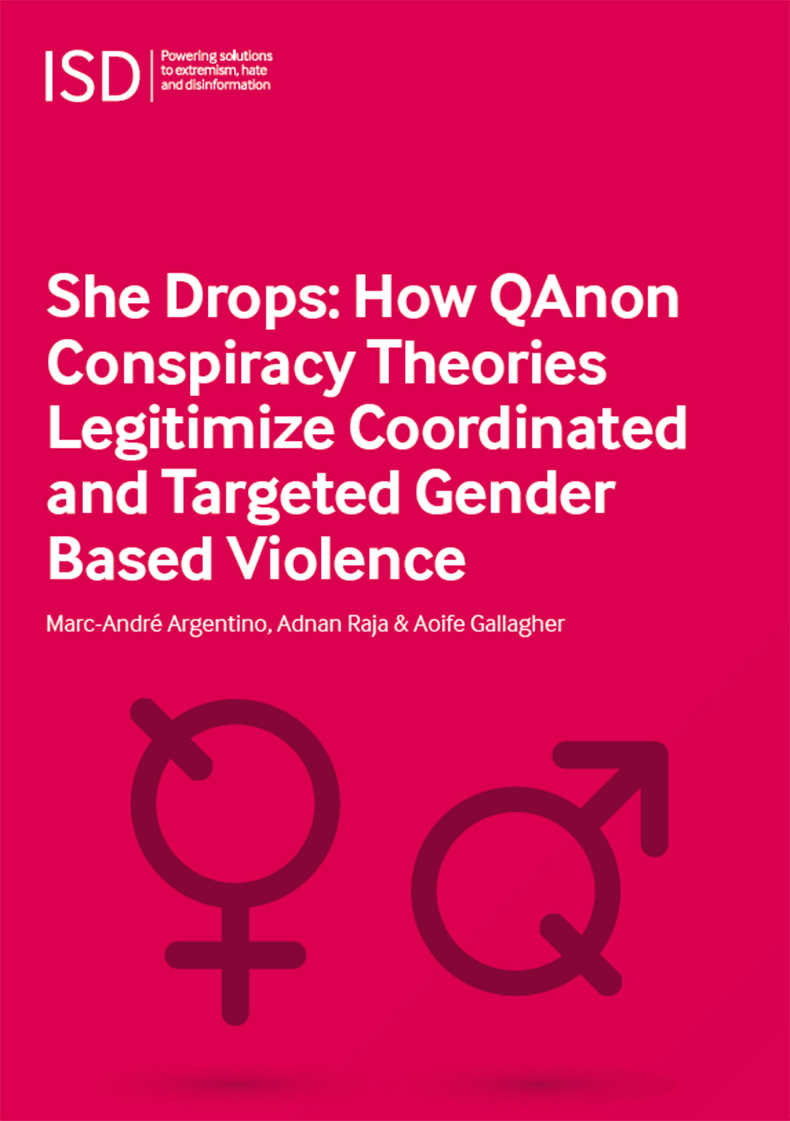 Authors: Marc-André Argentino, Adnan Raja & Aoife Gallagher
Published: 10 October 2022
Since QAnon's rise to prominence, several high-profile celebrities have found themselves at the centre of the movement's conspiratorial narratives, and therefore, the focus of coordinated harassment campaigns, brigading, dogpilling, slander and hate. This has led researchers who examine the digital information ecosystem to ask whether QAnon-coordinated harassment operates like other forms of targeted hate and harassment online, and specifically, whether vulnerable identity groups are faced with particularly egregious experiences. In this report, based on analysis conducted in early 2021, and examining upwards of 9 million posts and mentions across Facebook, Instagram and Twitter, we examine the role of gender-based violence against celebrities who were of particular significance to the QAnon community's conspiracy theories in late 2019 and into the end of 2020: Chrissy Teigen, Tom Hanks, Ellen DeGeneres, Anderson Cooper, Jussie Smollett and Oprah Winfrey. The resulting analysis confirmed the suspicion that the most prominent type of harassment came in the form of brigading individual targets with accusations and slanderous mentions of paedophilia, often with graphic and disturbing language in their accusations.
Marc-André Argentino is a PhD candidate at Concordia University, Montreal, in the Individualized program where he is supervised by professors in the departments of Theological Studies, the Centre for Engineering in Society and the Institute of Information System Engineering. He is a fellow at the International Centre for the Study of Radicalization and is also a fellow at the the Accelerationist Research Consortium.
Adnan Raja is a PhD researcher at Concordia University's Centre for Engineering in Society, in Montreal, Canada. Adnan's research examines the digital infrastructures and discourses (mainstream and alternative) that allow extremist, misogynistic, racist and conspiratorial communities to emerge and coalesce, as well as the technical/policy interventions and frameworks can be used to identify, understand and mitigate hate, harassment and other forms of violence online. The critical exploration, development, evaluation and testing of digital methods and tools are a central part of Adnan's current research. Adnan is an associate fellow at the Global Network on Extremism & Technology (GNET).
Aoife Gallagher is an Analyst on ISD's Digital Analysis Unit, focusing on the intersection between far-right extremism, disinformation and conspiracy theories and using a mixture of data analysis, open-source intelligence and investigative techniques to understand the online ecosystem where these ideas flourish and spread. Previously, Aoife was a journalist with the online news agency, Storyful.
DOWNLOAD THE REPORT