Monitoring Disinformation and Influence Campaigns in the 2022 French Elections: Lessons Learnt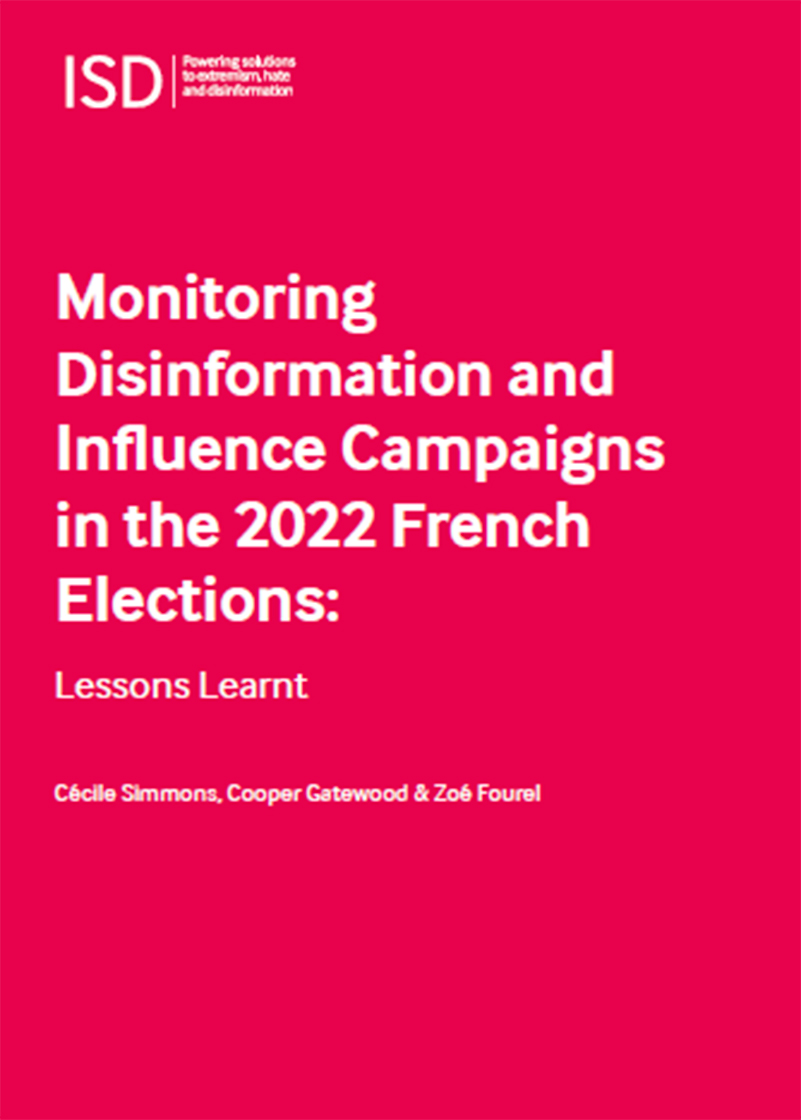 Authors: Cécile Simmons, Cooper Gatewood and Zoé Fourel
Published: 15 December 2022
ISD monitored disinformation, misinformation and influence operations on social media in the run-up to and during the 2022 French presidential and legislative elections. This paper offers an overview of the key findings of ISD's research carried out between October 2021 and June 2022. It highlights the tactics and actors involved in spreading disinformation and divisive narratives in the run-up to the vote. During the election campaign, ISD used a mixed methods approach to identify and analyse disinformation, misinformation and influence operations through social media analysis, ethnographic monitoring and policy analysis. Our research has found that despite social media platforms' commitment to addressing harmful content and threats to electoral integrity, malign actors leveraged social media platforms during the French elections to advance their agendas, with long-term implications for social polarisation in the country. Tactics and behaviours identified by ISD included the cross-platform sharing and monetisation of health disinformation, coordinated inauthentic and astroturfing campaigns, abuse of candidates online, and the use of platform functionalities to promote disinformation, misinformation and divisive narratives. ISD's monitoring also highlighted the hybrid nature of threats targeting French democracy, with disinformation and extremist or fringe discourse frequently coalescing in broad anti-establishment narratives that seek to undermine trust in institutions and democratic processes.
Cécile Simmons is a Research Manager at ISD, specialising in malign influence operations targeting elections, public health and climate disinformation, far-right extremism and conspiracy theories. Her research includes social media network mapping, data analysis and ethnographic monitoring of closed online spaces. Her writing and commentary has been featured by the BBC, The Guardian, Washington Post, Los Angeles Times and Wired, among others. She previously worked in publishing and journalism, and holds an MSc in International History from the London School of Economics.
Cooper Gatewood is a Senior Manager within ISD's Digital Analysis Unit, focusing on quantitative research into the spread of hateful and polarising narratives online, and how they are leveraged by extremist actors. Cooper also develops monitoring and evaluation frameworks to measure the impact of many of ISD's intervention projects. Cooper is currently contributing to ISD's research on disinformation campaigns, particularly those aimed to influence and disrupt election processes. Cooper holds a Masters of International Affairs from Columbia University and a Masters of International Security from Sciences Po and is fluent in Spanish and French, as well as speaking proficient Japanese.
Zoé Fourel is a Research Coordinator at ISD. She is interested in social network analysis and the mapping of online networks related to extremism, disinformation and hate speech. Zoé has been involved in ISD's work on the dissemination of disinformation and hate speech in the context of various electoral processes. She mainly focuses in ISD's French activity, contributing to research work analysing the French online ecosystem. She holds a degree in International Affairs from Sciences Po Lyon (including studies at the School of Oriental and African Studies in London and Georgetown University in Washington DC).
DOWNLOAD THE REPORT