La campagne de l'intimidation : étude de cas des violences numériques envers les candidats aux élections de 2022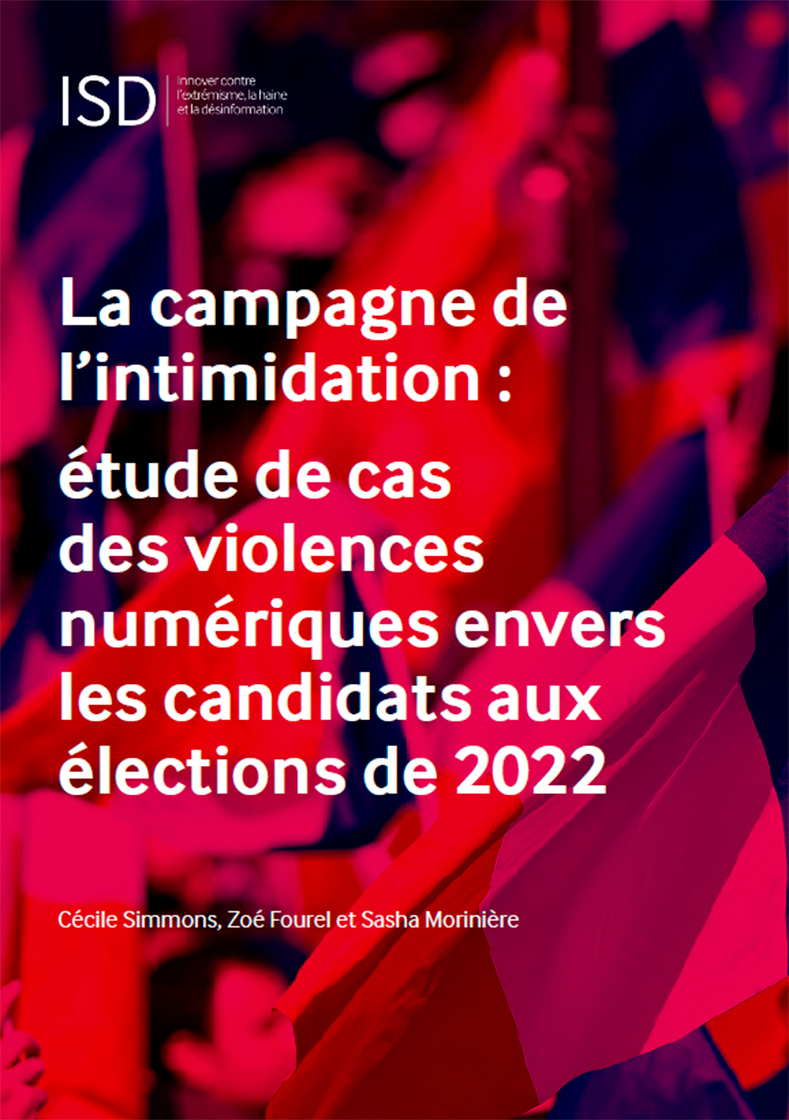 Authors: Cecile Simmons, Zoé Fourel, Sasha Morinière
Published: 16 August 2022
Les violences numériques envers les personnalités politiques, candidats et élus et leur impact sur le débat démocratique en période électorale ont font l'objet d'une attention croissante au cours des dernières années. Les attaques en ligne et violences numériques à l'encontre de candidats, journalistes et personnalités publiques posent un enjeu de représentation démocratique et peuvent décourager la participation à la vie politique, notamment de catégories de la population sous représentées en politique et ainsi conduire à des phénomènes d'autocensure en ligne. Ces attaques sont particulièrement prononcées à l'encontre des femmes et des personnalités issues de minorités ethniques ou aux identités intersectionnelles.
En France, la question du harcèlement des élus, candidats et personnalités politiques a reçu une attention croissante au cours de la pandémie de COVID-19 et de la période électorale en 2021 et 2022, notamment après une augmentation rapportée des menaces de mort envers les députés de la majorité présidentielle au moment du vote sur la loi sur le pass vaccinal au début de l'année 2022 ainsi que plusieurs cas d'agression pendant les campagnes présidentielles et législatives.
Les recherches de l'ISD ont souligné l'intersection entre certains événements en ligne et la montée de discours haineux. Si plusieurs faits divers ont fait état d'agression envers des candidats et élus, l'ISD a cherché à comprendre l'intersection entre événements hors ligne et violence en ligne à partir de plusieurs études de cas tirées de deux séquences électorales présidentielles et législatives et une analyse d'un échantillon de commentaires sur Facebook (premier réseau social en France en nombre d'utilisateurs) en lien avec ces événements. Les études de cas sélectionnées recouvrent des agressions hors ligne, controverses et nominations médiatisées.
Cécile Simmons est chargée de recherche à l'ISD et travaille au sein de l'équipe de recherches numériques et politiques publiques. Elle est co-auteur de nombreux rapports sur l'extrémisme, la désinformation et les violences numériques. Ses recherches sont régulièrement couvertes par les médias, dont la BBC, le Guardian, Politico, le Washington Post ou encore Le Monde. Ancienne élève de l'Ecole Normale Supérieure de Lyon et titulaire d'une agrégation d'anglais, elle est également diplomée de la London School of Economics.
Zoé Fourel est coordinatrice de recherche à l'ISD. Elle fait partie de l'unité de recherche numérique, et s'intéresse à l'analyse des réseaux sociaux et la cartographie de réseaux en ligne liés à l'extrémisme, la désinformation et le discours de haine. Zoé a notamment participé aux travaux de l'ISD portant sur la diffusion de désinformation et discours de haine dans le cadre de divers processus électoraux. Elle est particulièrement investie dans l'activité française de l'ISD, contribuant aux travaux de recherche analysant l'écosystème en ligne français. Elle est titulaire d'un master en affaires internationales (comprenant des études à la School of Oriental and African Studies à Londres et à Georgetown University à Washington, DC) décerné par Sciences Po Lyon.
Sasha Morinière est analyste à l'ISD. Elle contribue actuellement aux recherches de l'ISD sur les campagnes de désinformation, notamment celles visant à influencer et perturber les élections de 2022 en France. Sasha a précédemment travaillé à Moonshot et a récemment contribué au rapport remis au président français Emmanuel Macron sur la désinformation en ligne et son impact sur nos démocraties. Elle est titulaire d'un master en relations internationales de la London School of Economics and Political Science. Sasha a mené divers projets de recherche sur l'extrême droite et sur les communautés salafistes françaises et a organisé d'importants événements politiques dans le cadre de ses expériences
DOWNLOAD THE REPORT