13 Sep 2023 - 14 Sep 2023Berlin
ISD Digital Policy Summit 2023 convenes international network to discuss democratic approaches to counter hate, disinfo and extremism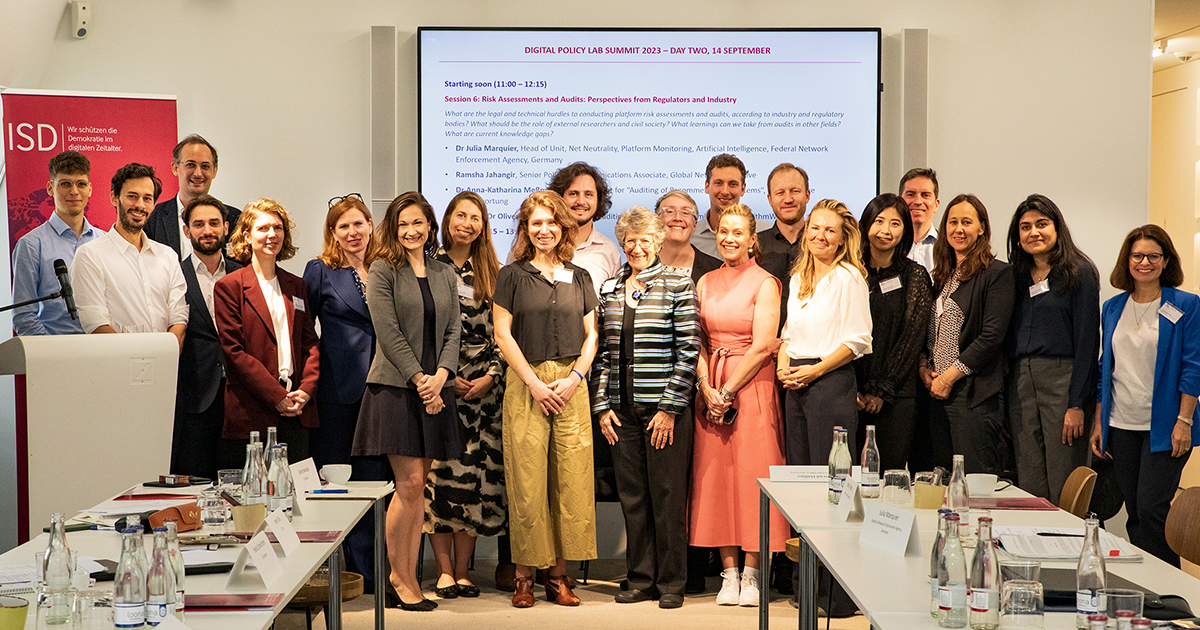 In mid-September, ISD held its first in-person Digital Policy Lab Summit since the pandemic, bringing together high-level representatives from North American, European and Pacific government ministries and regulators – including Australia's eSafety Commissioner, Denmark's Tech Ambassador, Germany's Federal Network Agency, the European Commission, the UK's Department for Science, Innovation and Technology (DSIT), Ofcom and the White House – for a deep-dive exchange on rights-respecting policies and regulation to counter targeted hate, disinformation and extremism online.
DPL members discussed approaches to the implementation and enforcement of new, as well as existing digital regulatory frameworks, such as the European Digital Services Act, the UK's Online Safety Bill and Australia's Online Safety Act. Key topics, included data access and legal protection for researchers, the assessment and mitigation of risks stemming from algorithmic systems, safety-by-design approaches, and the regulation of smaller platforms and emerging technologies.
These sessions built on DPL Working Group recommendations and papers including the two papers launched at the event on online-gender based violence (OGBV) as a pathway to radicalisation, and an overview threats and policy implications posed by emerging platforms and technologies respectively, as well as those published previously on access to social media data for public interest research, algorithmic ranking systems, and online crisis protocols.
The Summit was made possible by the generous support of the German Federal Foreign Office and the Alfred Landecker Stiftung, with the British Embassy in Berlin kindly hosting an evening reception for participants. In the years ahead, the challenges of effectively implementing new regulatory frameworks, as well as voluntary commitments, will remain a core issue for the growing DPL community, and we look forward to facilitating the ongoing exchange among liberal democratic states.