Access to Social Media Data for Public Interest Research: Lessons Learnt & Recommendations for Strengthening Initiatives in the EU and Beyond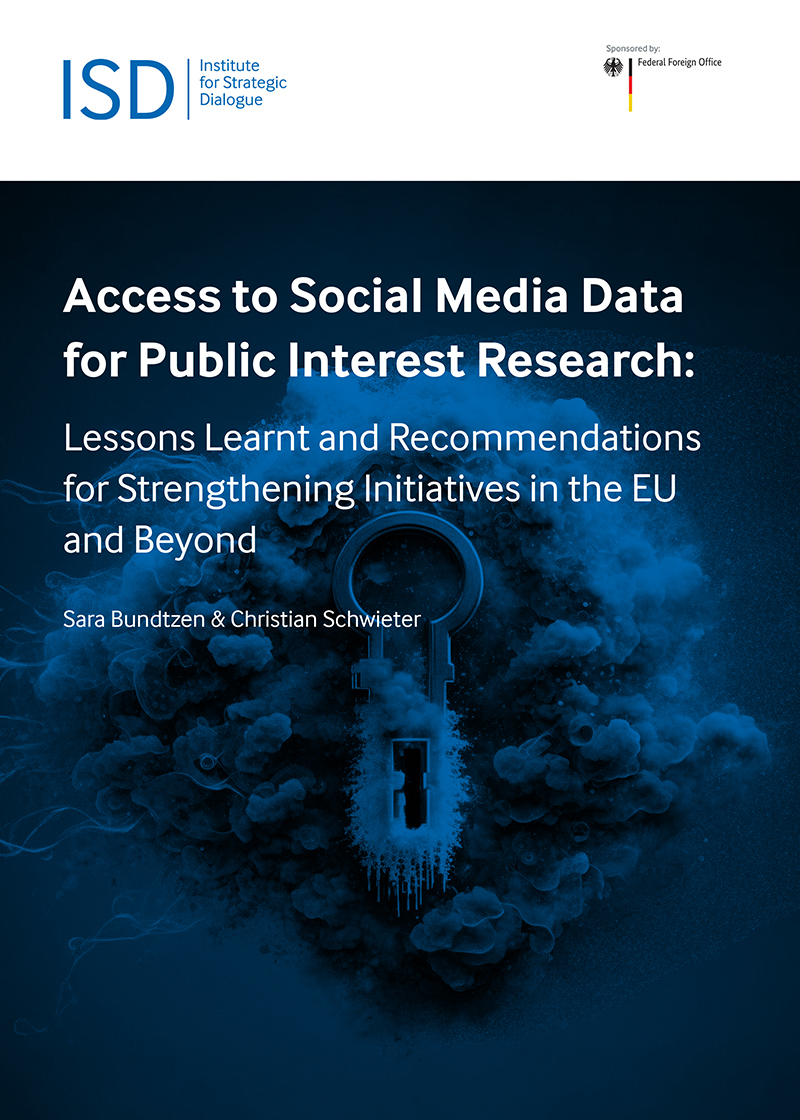 Authors: Sara Bundtzen, Christian Schwieter
Published: 3 May 2023
This Policy Paper was produced as part of the project Digital Policy Lab (DPL), funded by the German Federal Foreign Office. The responsibility for the content lies exclusively with ISD Germany. The DPL is an inter-governmental working group focused on charting the policy path forward to prevent and counter the spread of disinformation, hate speech, extremist and terrorist content online. It is comprised of representatives of relevant ministries and regulatory bodies from liberal democracies.
As part of the DPL, ISD organised several working group meetings on the topic of data access between October and November 2022. The working group consisted of DPL members representing national ministries and regulators from Canada, France, Ireland, Slovakia, Switzerland, the US and the UK. Participants also included representatives from civil society, academia and wider industries. While participants contributed to this publication, the views expressed in this report do not necessarily reflect the views of all participants or any governments involved in this project.
Meaningful access to social media data for public interest research must serve as the foundation of any evidence-based digital policy initiative that aims to create a safer and more open online environment. However, the relationship between tech companies, governments, researchers and the public, remains defined by an information asymmetry due to a lack of sufficient data access regimes and infrastructure.
Emerging data access regimes in the EU and beyond should help to overcome this asymmetry, first and foremost by allowing public interest researchers to gain a better macro-understanding of the types of content and user behaviour on social media platforms.
The purpose of this policy paper is:
To review key lessons learnt from industry-academia partnerships and other types of existing voluntary initiatives.
To explore potential future avenues for international collaboration among liberal-democratic governments, especially in the transatlantic partnership, with an emphasis on regulatory and co-regulatory frameworks emerging at the EU level.
To provide targeted recommendations applicable across government initiatives to support the alignment of approaches in theory and practice.
This publication is also available in German. 
Sara Bundtzen is an Analyst at ISD, where she studies the spread of information manipulation by state and non-state political actors in multilingual online environments. As part of the Digital Policy Lab (DPL), Sara informs ISD's advisory work and analyses proposed pathways toward countering disinformation, influence campaigns, hate speech, and extremist content.
Christian Schwieter is a Fellow at ISD and a PhD candidate at the Department of Media Studies at Stockholm University, where he investigates the impact of European platform governance efforts on far-right activity on social media. Until 2023, he was a Project Manager at ISD Germany, leading the multiannual German-language research project "Countering Radicalisation in Right-wing Extremist Online Subcultures", funded by the German Ministry of Justice. He also co-led the pilot phase of the Digital Policy Lab at ISD.
DOWNLOAD THE REPORT