Anti-drag Mobilization Efforts Targeting LGBTQ+ People in the US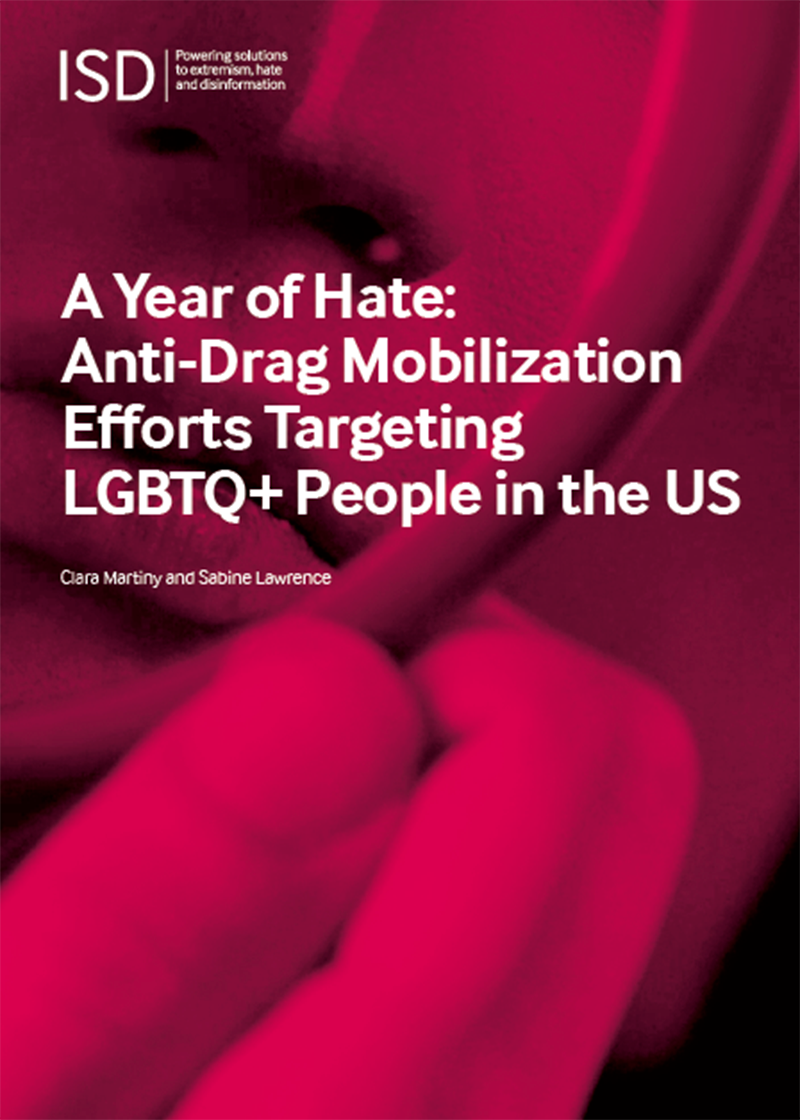 Authors: Clara Martiny and Sabine Lawrence
Published: 22 June 2023
This is one of the country profiles of a series looking at anti-LGBTQ+ mobilization in the US, UK, France and Australia. 
The Executive Summary is available here. 
This country profile provides an analysis of on- and offline anti-drag mobilization in the United States; key tactics used by groups and individuals protesting drag events; and principal narratives deployed against drag performers. Through ethnographic monitoring of relevant US-based Telegram channels, Twitter profiles, Facebook groups, and use of external resources such as the Armed Conflict Location and Event Data Project (ACLED), Crowd Counting Consortium, and previous reports on anti-drag activity by groups such as GLAAD and the Southern Poverty Law Center (SPLC), ISD analysts compiled, categorized and analyzed anti-drag protests or online threats against drag events from June 1, 2022 to May 20, 2023.
The findings of this research reveal that the first five months of 2023 have seen more incidents of anti-drag protests, online and offline threats, and violence (97 in total; average of 19.4 per month) than in the last seven months of 2022 (106 in total; average of 15.1 per month).1 Notably, ISD analysts find that the actors behind anti-drag activity are not just traditional anti-LGBTQ+ groups but include growing numbers of assorted other actors, from local extremists and white supremacists through to parents' rights activists, members of anti-vaxxer groups, and Christian nationalists. ISD also finds an increasing number of incidents where online hate speech has manifested in offline activity – for example, a popular online slur being found spray painted on a location hosting a drag event. This report also shows the concerning upward trend of anti-drag mobilization across the US, and shows how it harms the LGBTQ+ community, small business, parents, and poses serious risks to community security throughout the nation. And, while public debate about what is appropriate entertainment for children, and at what ages, is absolutely legitimate and deserves fair hearing, the identified tactics only serve to undermine that discussion, with chilling consequences for free expression, and create fertile ground for a potential uptick in violence.
DOWNLOAD THE REPORT