Together for Safety: 21 Ways Forward 2021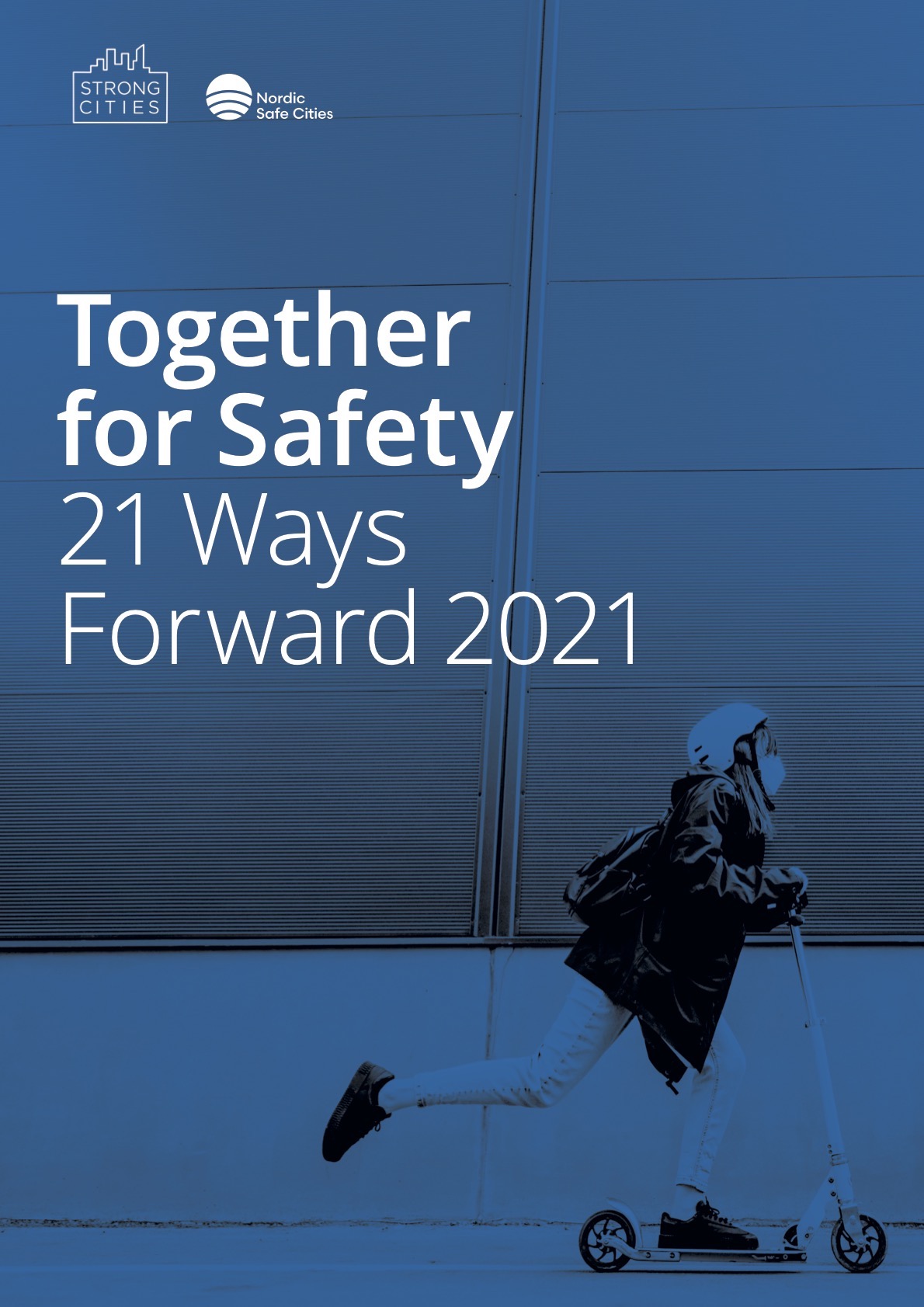 Published: 14th April, 2021
Authors: Jeppe Albers, Joe Downy, Cianna Flyger, Marta Lopes, Gustav Plantin
The Together for Safety webinars were launched in January 2021 as a joint venture between the Strong Cities Network, led by the Institute for Strategic Dialogue, and Nordic Safe Cities. As a series of online talks to tackle pressing urban safety and security challenges with a key focus on addressing hate, polarisation and extremism across the Nordics and in cities around the world, they spotlighted mayors and city leaders, policymakers, practitioners, youth, civil society and subject matter experts who presented ways that we can work together for a safer, more resilient future for our cities and communities.
This summary condenses some of the key findings and recommendations from more than 40 speakers into 21 succinct 'ways forward' for our global audience of city leaders, policymakers, practitioners, youth workers and other stakeholders.
Jeppe Albers is Founder and Executive Director of the Nordic Safe Cities Alliance. Jeppe has led the alliance since its inception in 2016 with the Nordic Council of Ministers. Nordic Safe Cities is a non-profit organization with member cities from Norway, Finland, Denmark, Sweden and Iceland working together to prevent extremist violence and hate and build safe and resilient cities in the Nordics. He has previously been a partner and director at a Copenhagen based social entrepreneur agency and has worked in the Danish Foreign Ministry and the Danish Arts Council. He holds an M.Sc. in Sociology and Political Science from studies at the University of Copenhagen, Sciences Po Paris and Yale University.
Joe Downy is a Project Coordinator at ISD for the Strong Cities Network (SCN) working across programmes in MENA and South-East Asia. Joe graduated with distinction from the University of Sussex with an MA in Conflict, Security and Development. Prior to joining ISD, he was a Research and Communications Assistant for Children on the Edge, with voluntary experience with NGOs in the UK, Lebanon and Turkey.
Cianna Flyger is a Project Coordinator at the Nordic Safe Cities Alliance. Cianna is responsible for analysing Nordic tendencies and news in the field of P/CVE. She leads the work around the bi-monthly member city briefings, and coordinates projects and events to support the members in Nordic Safe Cities. She has a background within sociology and global politics and has research and analysis experience from the International Institute for Counter-Terrorism (Israel) and the Danish Centre for Social Sciences Research. Cianna holds a BSc in Sociology and a MSc in Global Studies from Lund University, University of Otago and of Copenhagen.
Marta Lopes is a Manager at ISD, working across Strong Cities Network's (SCN) projects. In addition to delivering analysis and advise on local P/CVE policies and practices through city consultations, she leads on the SCN's post-incident response and public-private partnerships work. Marta also supports the delivery of SCN programming in East Africa and the strategic development of the wider network through member engagement and research. Prior to joining ISD in July 2018, Marta worked at the Swiss Federal Department of Foreign Affairs in the humanitarian policy team.
Gustav Plantin is a Project Manager at the Nordic Safe Cities Alliance. Gustav is mainly responsible for developing the organisations' youth initiatives. He currently leads the Nordic Pioneer Prize, while also coordinating projects and events to support the members in Nordic Safe Cities. Gustav has a background working within sports where he has been addressing key social responsibility issues. He has been awarded H.M the King Carl XVI Gustaf's award for Youth Leadership in Sweden. Gustav holds a BSc in International Business & Politics from Copenhagen Business School, while also conducting studies at University of British Columbia and Lund University
Download The Report