Anti-Drag Mobilisation Efforts Targeting LGBTQ+ People in the UK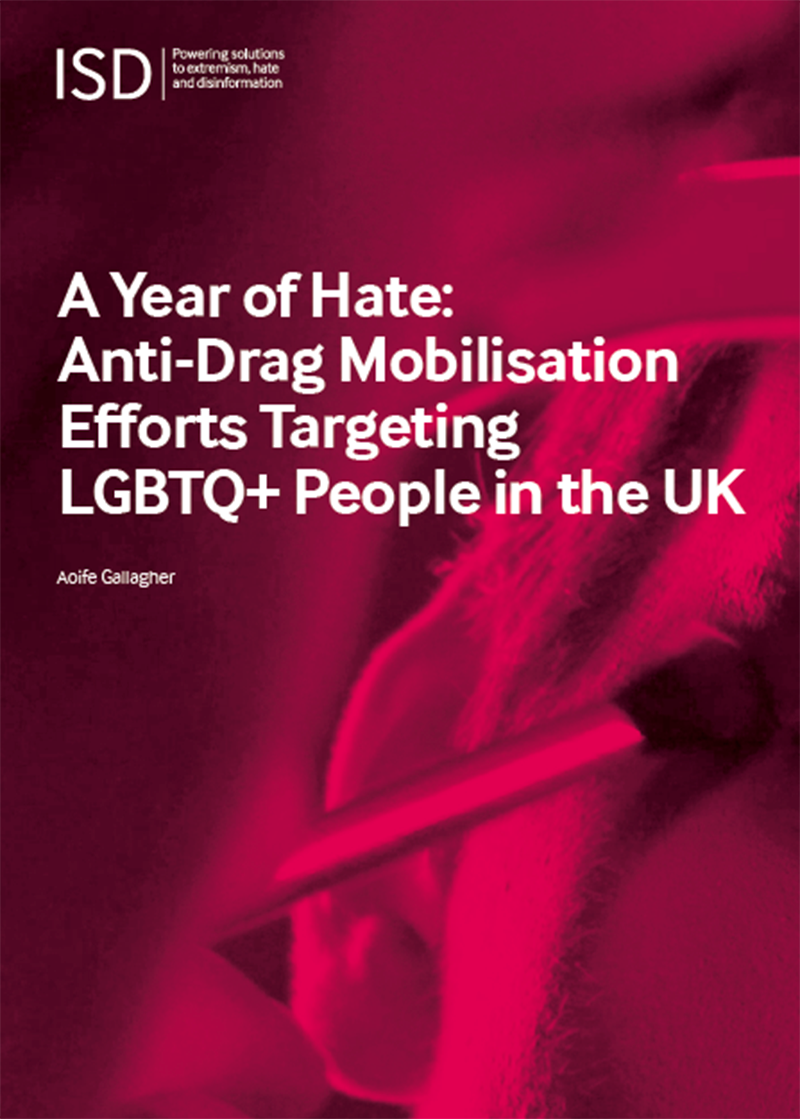 Authors: Aoife Gallagher
Published: 22 June 2023
This is one of the country profiles of a series looking at anti-LGBTQ+ mobilisation in the US, UK, France and Australia. 
The Executive Summary is available here.
Research by the Institute for Strategic Dialogue (ISD) has found that in the year since June 2022, anti-drag mobilisation in the UK has become a key focus for a variety of groups and actors. Anti-vaxxers, white nationalist groups, influential conspiracy theorists and "child protection" advocates have at times formed an uneasy – even fractious – coalition of groups opposing all-ages drag events. The driving force behind these protests is a mix of far-right groups and COVID-19 conspiracists.
While public debate about what is appropriate entertainment for children, and at what ages, is absolutely legitimate and deserves fair hearing, the identified tactics used by these actors only serve to undermine that discussion with chilling consequences for free expression, and create fertile ground for a potential uptick in violence. Furthermore, our analysis has found evidence that the UK is importing anti-LGBTQ+ rhetoric and strategies from similar movements in the US, with the "groomer" slur – used to frame LGBTQ+ people as a danger to children – becoming commonplace among anti-LGBTQ+ campaigners. Even though UK activity has not reached the level of violence seen in the US, abuse and harassment of hosts, performers and attendees at such events is a regular occurrence, and multiple events have been cancelled due to safety concerns.
This report documents anti-drag activity in the UK by searching news reports, Twitter mentions and messages shared in relevant UK Telegram channels and groups. It outlines the actors involved, the tactics used and the impact of such activity between June 1, 2022 and May 27, 2023.
DOWNLOAD THE REPORT