YouthCAN: The Many States of Activism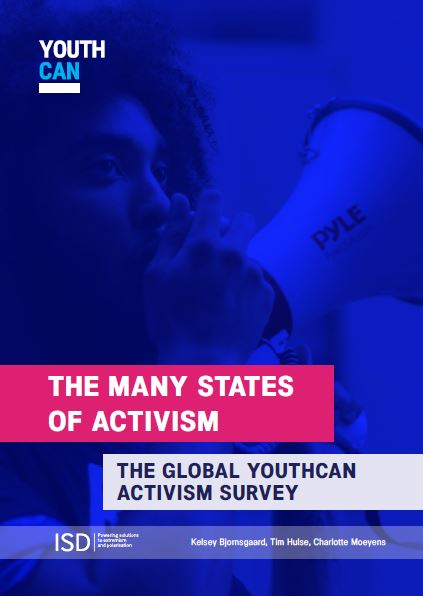 Over the past four years, the Institute for Strategic Dialogue (ISD) has supported young activists around the globe to respond to hate, polarisation and extremism. Built on principles of 'networked activism',1 the Youth Civil Activism Network (YouthCAN) has been supporting, enhancing and co-ordinating the efforts of a young cohort of activists preventing and countering violent extremism (P/CVE) globally. YouthCAN's model has evolved over the years, iteratively adapting to the rapid development of technology, while honing its efforts on supporting and leveraging the localised responses of young activists, and connecting them to a larger, global network.
Harnessing the collective agency of youth to address hate, polarisation and extremism – in what is traditionally referred to as P/CVE programming2 – is a relatively new practice for international non-governmental organisations (NGOs), local civil society organisations (CSOs) and, more recently, national governments. However, in that short amount of time, the imperative to involve young people has propelled youth P/CVE programming well beyond the research that supports it. As a result, it has become a 'cottage industry'3 with, at times, more form than function. Scholars and development practitioners have long called for a robust evidence base for youth programming, as there is a considerable risk that without it programmes and resources intended to support and include young, aspiring P/CVE activists could be at odds with the needs of the audiences they are meant to represent.
This gap threatens the well-being of young people operating in dangerous environments while simultaneously undermining their inclusion as stakeholders in peacebuilding processes. Ultimately, insights into the experience of young P/CVE activists cannot be understood without the voices of these young people themselves. To help address the need for a more robust and youth-inclusive evidence base, ISD conducted a survey that was completed by 728 young activists globally to find out which barriers and opportunities had been most significant to their activism journey, as well as which skills they valued most. To complement the findings of the survey, ISD led 12 in-depth interviews with young activists living and working in different contexts around the world. The survey was available online in English and French and was disseminated