The impact of the Russia-Ukraine war on French-speaking fringe communities online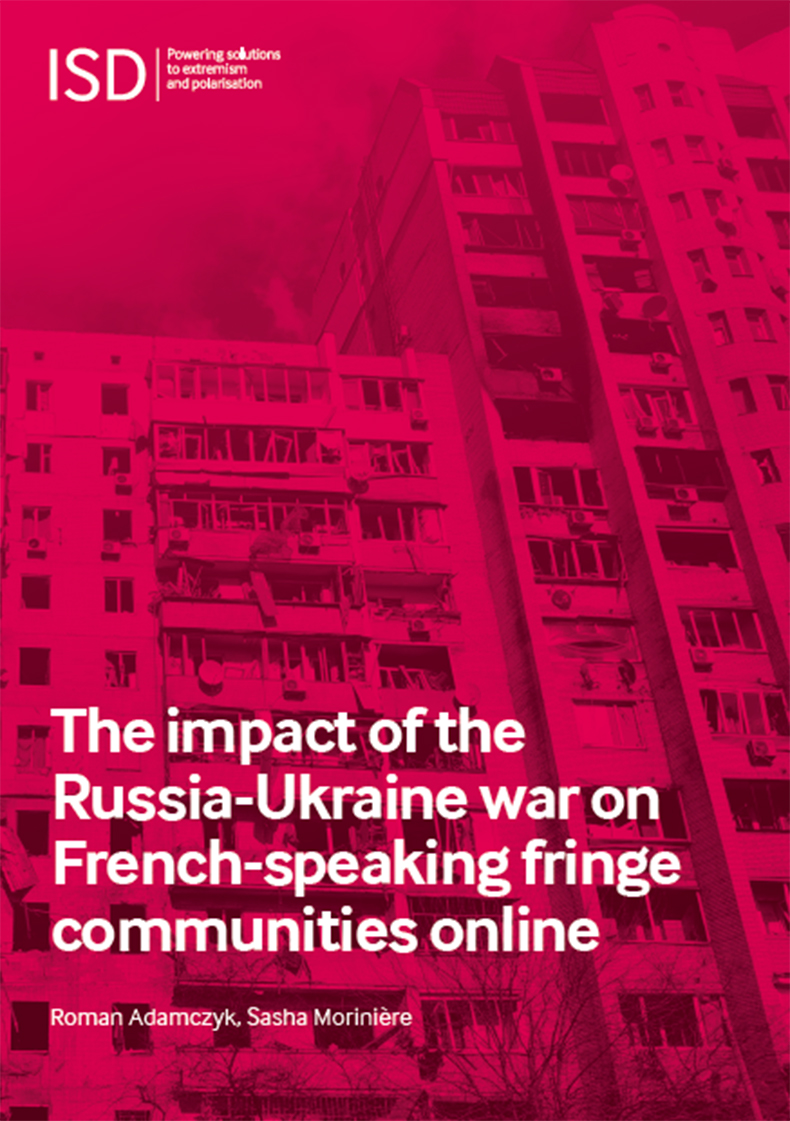 Authors: Roman Adamczyk, Sasha Morinière
Published: 28 July 2021
In the lead up to the 2022 French presidential and legislative elections, ISD France mapped some of the main online French ecosystems spreading disinformation and polarising content on Twitter and Facebook. This mapping served as a basis for ISD's latest research report "A France divided by the pandemic: The disinformation ecosystem leading up to the 2022 elections".  Conducted during a period when the COVID-19 pandemic was still at the centre of online discussions, this investigation allowed ISD analysts to identify four communities, that were later classified into clusters: Anti-restriction left-wing, Eric Zemmour's supporters, COVID-19 opposition opportunists and anti-system protesters. Building-on this methodology, this new study's objective is to understand how the analysed communities have shifted from their traditional topics of discussion, specifically the COVID-19 pandemic, to the promotion of narratives favourable to the Russian invasion of Ukraine. Additionally, it analyses how these communities reacted to the beginning of this major international crisis, highlighting the similarities and differences in the content they shared and produced about the Russian invasion of Ukraine.
The selected timeframe for this follow-up analysis covers a one-month period after the start of the Russian invasion of Ukraine, from 24 February to 25 March 2022.
Roman Adamczyk is an Analyst at ISD, focusing on the French presidential elections. He holds two Master's degrees in Geoeconomy and Strategic Intelligence from the Institute of International and Strategic Relations (IRIS) and Management from Grenoble Business School (GEM). Previously, he worked for the EU DisinfoLab as a Research Coordinator and OSINT Investigator, leading multiple investigations that uncovered disinformation operations targeting countries in the European Union and contributing to several studies about disinformation trends in Europe.
Sasha Moriniére is an Analyst at ISD. She is currently contributing to ISD's research on disinformation campaigns, particularly those aimed to influence and disrupt the 2022 elections in France. Sasha previously worked at Moonshot and most recently contributed to the report delivered to the French President Emmanuel Macron about online disinformation and its impact on our democracies. She holds a Master of International Relations from the London School of Economics and Political Science. Sasha led various research projects on far right and on French Salafi communities as well as organised important political events as part of previous work experiences, notably at the Foundation for Political Innovation. She is fluent in French, Spanish, and is learning Arabic.
DOWNLOAD THE BRIEF