The Business of Hate: Bankrolling Bigotry in Germany and the Online Funding of Hate Groups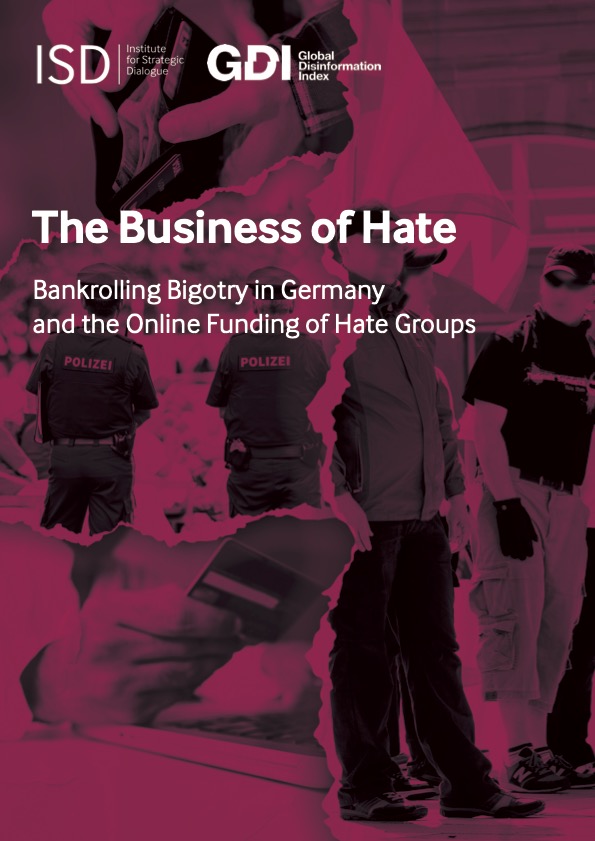 Published: 22 September 2021
The Global Disinformation Index (GDI) and Institute for Strategic Dialogue (ISD) have published a new study which shows how 17 known German far right groups and actors allegedly use 20 different online funding services to fund their activities.
These services include credit card companies (American Express, Mastercard, Visa), payment platforms (Paypal, Square, Stripe), bank transfer services (Giropay, Klarna), online shopping (WooCommerce) and donation services ( Patreon, GiveWP).
All 20 of these different services were found on the websites of these far right groups and actors. More than half of these online funding services have Terms of Service (ToS) that should prohibit their use by such sites.
In total, the study identified 79 instances where these different online funding channels were being used by these far right  groups and actors. They all are under observation by Germany's domestic intelligence body, or have material links to these groups. The groups include the NPD party, the magazine Compact, and the Identitarian movement ("Identitäre Bewegung Deutschland"), as well as influencers, like Attila Hildmann.
Key findings from the research include:
Direct bank transfers are used by 15 of the 17 groups analysed.
WooCommerce is the most frequently used service by over half of the groups and actors.
Cryptocurrencies, including Bitcoin, are reportedly used by three of the groups and actors.
Facebook shops are used by three of these  groups and actors, including the NPD party.
The study puts a spotlight on how these online funding channels allegedly provide a financial lifeline to well-known German extremist groups and actors, many of which have escalated their activities ahead of the country's federal elections on 26 September 2021. 
Download Report