La pandémie de COVID-19: terreau fertile de la haine en ligne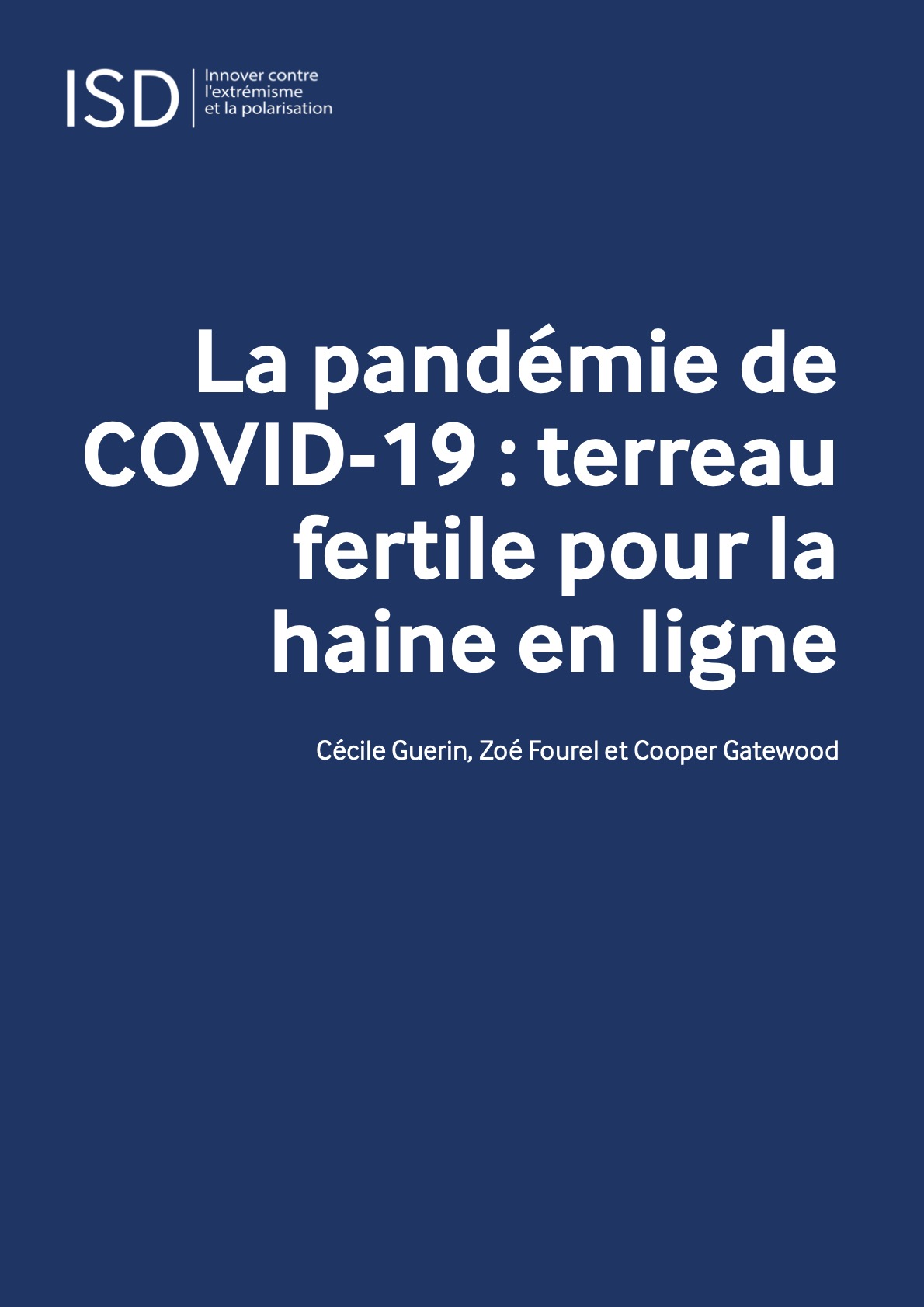 Published: 25 February 2021
Authors: Cécile Guerin, Zoé Fourel and Cooper Gatewood
Depuis son apparition, la pandémie de COVID-19 a alimenté la désinformation et autres théories du complot à travers le monde. Dès avril 2020, l'Organisation Mondiale de la Santé (OMS) a souligné l'urgence de répondre à « l'infodémie » provoquée par la crise sanitaire. En effet, non seulement la COVID-19 s'est accompagnée d'une prolifération de la désinformation en ligne mais a, parallèlement, nourri la stigmatisation des minorités.
L'étendue des discours haineux et de la mobilisation anti-minorités en ligne reste cependant difficile à évaluer. Si les entreprises technologiques opèrent une modération constante sur leurs plateformes, de nombreux contenus échappent aux efforts de modération (ou ne contreviennent tout simplement pas aux règles propres des plateformes). La Cartographie de la haine, publiée par l'ISD en 2019, a souligné l'étendue des discours haineux généralisés en France sur les réseaux sociaux et la banalisation d'insultes et de termes haineux qui ne constituent pas des exemples de discours de haine au plan légal.
La présente étude analyse la prévalence de quatre discours anti-minorités en France pendant la pandémie : anti-arabe et/ou anti-maghrébin, anti-asiatique, anti-musulman et enfin anti-migrant et/ou anti-refugié. Elle cherche à déterminer si et comment la désinformation sur la COVID-19 a servi à véhiculer des propos haineux contre ces catégories de la population.
Cécile Guerin
Titulaire d'une maîtrise en histoire internationale de la London School of Economics et d'une maîtrise en anglais de l'École normale supérieure en France, Cécile contribue à de nombreuses publications dont The Guardian, Prospect et The Independent. Elle est coordinatrice à l'ISD et soutient le travail de développement et d'analyse de l'organisation en Europe. Elle travaille sur l'OCCI, un projet financé par Facebook qui vise à intensifier les efforts de la société civile pour lutter contre les discours haineux et l'extrémisme en ligne. Elle contribue également aux travaux de recherche et d'élaboration de politiques de l'ISD, en accordant la priorité à l'analyse des réseaux sociaux et à la cartographie des réseaux liés au discours haineux, à l'extrémisme et à la désinformation en ligne.
Zoé Fourel
Titulaire du diplôme en affaires internationales (comprenant des études à la School of Oriental and African Studies à Londres et à Georgetown University à Washington, DC) décerné par Sciences Po Lyon, Zoé est Associée à l'ISD. En plus d'avoir directement contribué à ce projet de recherche, elle participe activement à à la coordination des activités de l'OCCI en France. De surcroit, elle contribue aux programmes de l'ISD axés sur les réponses de la société civile pour lutter contre la haine et l'extrémisme.
Cooper Gatewood
Titulaire d'une maîtrise en affaires internationales de l'Université de Columbia et d'une maîtrise en sécurité internationale de Sciences Po, Cooper travaille dans l'unité de recherche numérique de l'ISD. Il y est responsable de la recherche quantitative sur la diffusion de discours haineux et clivants en ligne et sur la façon dont ils sont exploités par des acteurs extrémistes. Cooper élabore par ailleurs des cadres de suivi et d'évaluation pour mesurer l'impact d'un grand nombre de projets d'intervention de l'ISD. Il contribue actuellement aux recherches de l'ISD sur les campagnes de désinformation, en particulier celles qui visent à influencer et à perturber les processus électoraux. Enfin, il est responsable de l'OCCI en France, coordonnant les activités visant à soutenir la réponse de la société civile à la haine et à l'extrémisme en ligne, et gère l'évaluation quantitative de nombre de programmes de l'ISD, notamment Be Internet Citizens et Young Digital Leaders.
TÉLÉCHARGER LE RAPPORT