Developing and Implementing Local Action Plans for P/CVE in East Africa: SCN Toolkit with lessons from Kenya.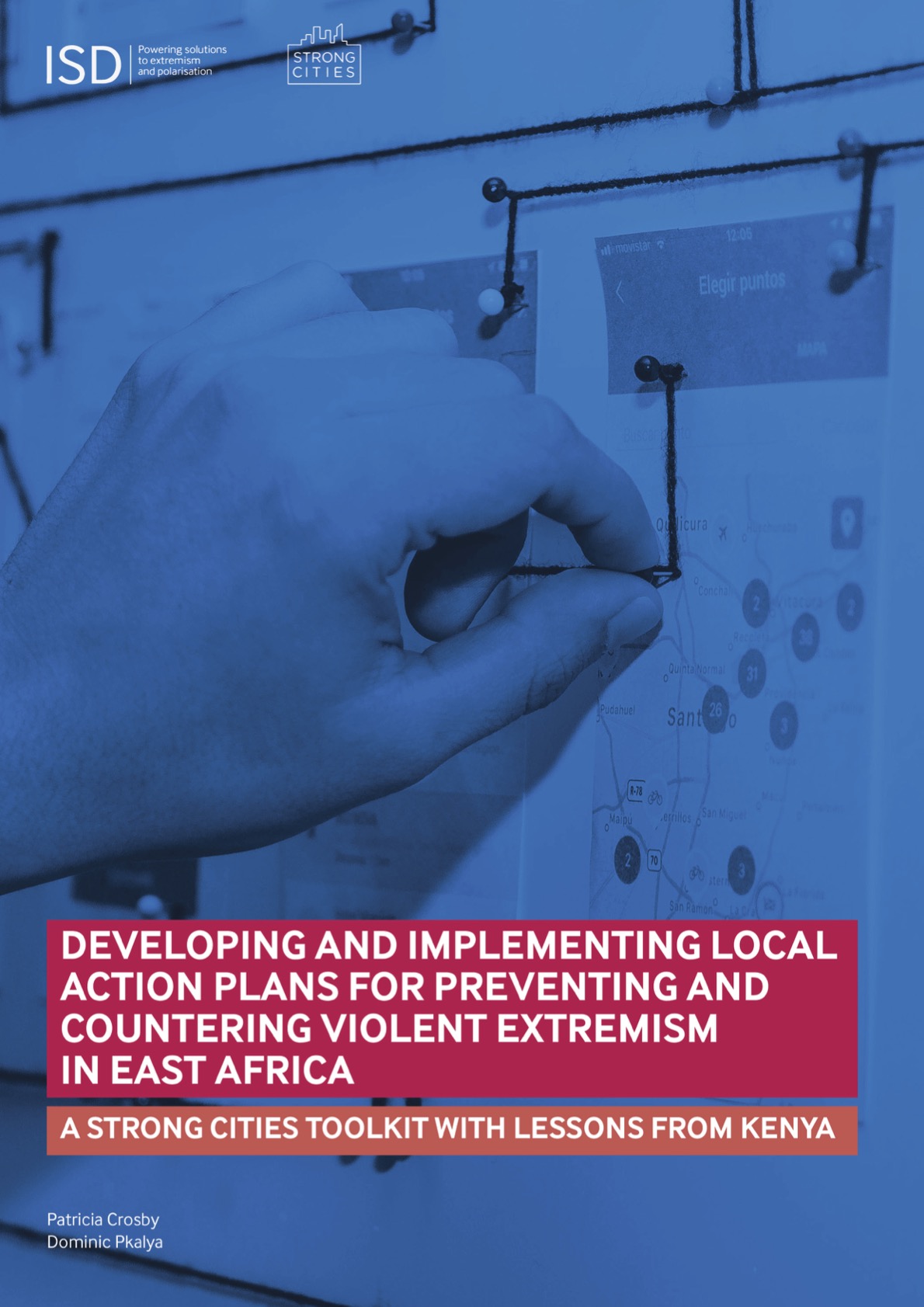 Published: May 13, 2021
Authors: Patricia Crosby and Dominic Pkalya
This toolkit has been designed by the Strong Cities Network (SCN) as a resource for governments (including local governments) and civil society organisations in East Africa who are interested in developing a Local Action Plan (LAP). LAPs seek to build a multisectoral approach to strengthening community resilience and addressing the root causes of violent extremism, polarisation and hate. 
The toolkit builds upon the SCN's experience in delivering locally-led programmes and supporting action plan development in Kenya, Jordan, Lebanon and North Macedonia, as well as international best practice from the SCN's network of over 145 cities. Case studies are primarily drawn from SCN-funded projects in Kenya and supported by additional case studies from SCN programming globally.
The toolkit is based on Kenya's experiences with localising the National Strategy to Counter Violent Extremism launched in 2016. The model, a classic example of national-local co-operation in P/CVE, is popularly referred to as County Action Plan (CAP). The CAP model serves as an emerging practice for the East Africa region and ties into wider international efforts on LAPs.
Patricia Crosby
is a Programme Manager at ISD, working across the SCN programmes in East Africa. She joined ISD to lead the SCN expansion in Sub-Saharan Africa and now supports Kenyan counties in the implementation of their respective CAPs through the multi-year PROACT community-based interventions programme. Patricia is responsible for developing training materials and tools, supporting national-local co-operation and providing direct policy and programming support to civil society and government stakeholders. Previously, Patricia worked for the Commonwealth Secretariat's Countering Violent Extremism unit, designing and implementing government capacity-building projects. Patricia has also worked for the Canadian Government, focusing on crisis response, consular emergencies and Middle East development programming. Patricia graduated from the University of Ottawa with an Honours Bachelor of Social Science in International Development and Globalization. One of her ISD/SCN article is the following:
Dominic Pkalya
is a Senior Regional Manager at ISD, working across ISD's counter-extremism initiatives in Kenya and the wider East Africa region. Dominic also supports policy development, research, education and monitoring & evaluation (M&E) methods to measure the impact of counter-extremism programmes off and online. Dominic is managing the PROACT community-based interventions programme as well as supporting the SCN and Young Cities initiatives in Kenya. Dominic was previously the Chief of Party for Strengthening Community Resilience against Extremism, a USAID-funded counter-extremism project implemented in the coastal region of Kenya. Previously, he worked with United Nations Development Program (UNDP) Kenya, seconded to the National Drought Management Authority, providing technical support in addressing Armed Violence reduction efforts amongst pastoralist communities in Kenya. He holds an MA in Media, Conflict and Peace Studies from the UN's University for Peace and a Bachelors of Arts in Government and Public Administration from Moi University, Kenya. Some of his ISD/SCN articles include the following:
Download Toolkit