Deny, Deceive, Delay: Documenting and Responding to Climate Disinformation at COP26 and Beyond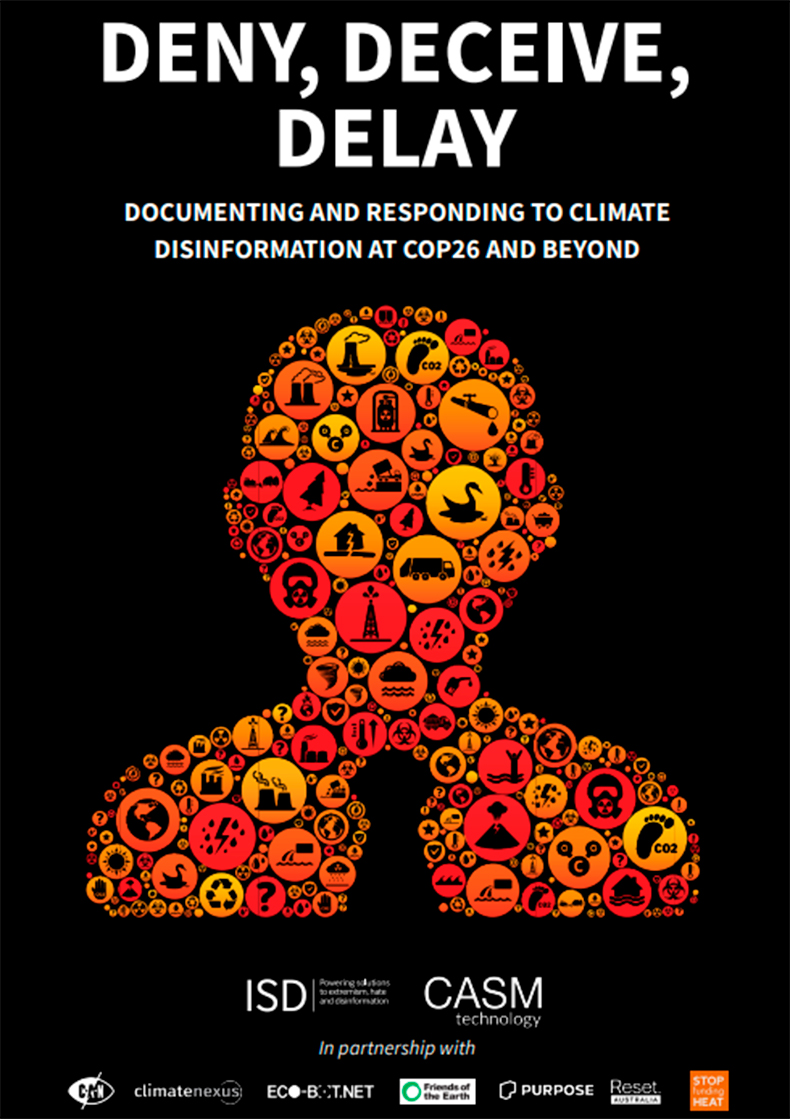 Report authors: Jennie King, Lukasz Janulewicz, Francesca Arcostanzo
Contributing partners: CASM Technology, Conscious Advertising Network, Climate Nexus, Eco.Bot-Net, Friends of the Earth, Purpose, Reset Australia and Stop Funding Heat.
Special acknowledgments to Paula Matlach, Kata Balint, Cecile Simmons, Sara Bundtzen and Melanie Smith for their efforts in ISD's climate "War Room", monitoring climate mis- and disinformation during COP26.
Published: 9 June 2022
In February 2022, the Intergovernmental Panel on Climate Change (IPCC) took an unprecedented step, citing mis- and disinformation and the "politicization of science" as key barriers to action. For the first time, a document accepted by all Member Governments stated that rhetoric from "vested economic and political interests… undermines climate science" and in turn has driven "public misperception of climate risks and polarised public support for climate actions". The diagnosis was explicit, and built on a growing body of evidence produced across the environmental and research sectors in recent years: to solve the climate crisis, we must also tackle the information crisis.
Drawing on research compiled over the past 18 months, and especially in the margins and aftermath of COP26, we have clear evidence of the challenge at hand: the failure to stem mis- and disinformation online has allowed junk science, climate delayism and attacks on climate figures to become mainstreamed. Our analysis has shown how a small but dedicated community of actors boast disproportionate reach and engagement across social media, reaching millions of people worldwide and bolstered by legacy print, broadcast and radio outlets. Far from helping to mitigate this issue, tech platform systems appear to be amplifying or exacerbating the spread of such content. Moreover, the taxonomy of harm relating to climate mis- and disinformation has been poorly defined to date, providing an inadequate basis for response.
This report – 'Deny, Deceive, Delay: Documenting and Responding to Climate Disinformation at COP26 and Beyond' – is a collective effort to quantify the problem and establish concrete responses for the months and years ahead. Produced by ISD, CASM Technology and the Climate Action Against Disinformation alliance (CAAD), it is a data-driven examination of the landscape, actors, systems and approaches that are combining to prevent action on climate.
For the executive summary, please click here.
Download Report