Amplifying Far-Right Voices: A Case Study on Inauthentic Tactics Used by the Eric Zemmour Campaign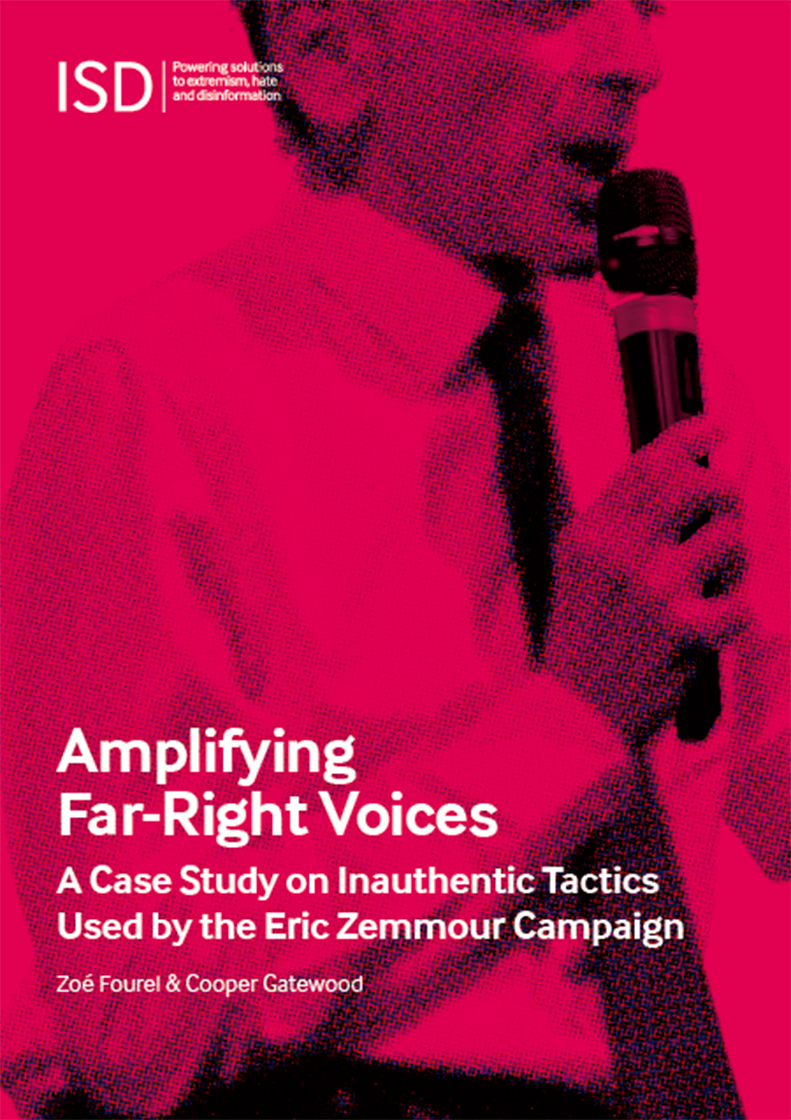 Authors: Zoé Fourel and Cooper Gatewood
Published: 28 September 2022
This report (available also in French) presents the findings of an investigation looking at a specific online and coordinated operation led by the Eric Zemmour campaign team in the French 2022 presidential and legislative elections. This campaign consisted of 12 petitions all created by the support organisation Les Amis d'Eric Zemmour. ISD identified signs of inauthentic behaviour orchestrated by the Zemmour campaign team in the sharing pattern of these petitions on Twitter in 2021 and 2022. Furthermore, despite data access restrictions, ISD has found signs this was a multi-platform effort, with signs of CIB identified on Facebook as well. Both platforms have policies in place regulating coordinated activity. Facebook prohibits in its community standards inauthentic coordinated behavior. Twitter has several policies regulating coordinated activity on its platform. The aim of this investigation is to understand the various strategies deployed before and throughout the campaign period by the Zemmour campaign team. Additionally, this study seeks to understand to what extent the sharing patterns of these petitions may violate the terms of service/ community guidelines of Twitter and Facebook.
Zoé Fourel is a Research Coordinator at ISD. She is interested in social network analysis and the mapping of online networks related to extremism, disinformation and hate speech. Zoé has been involved in ISD's work on the dissemination of disinformation and hate speech in the context of various electoral processes. She mainly focuses in ISD's French activity, contributing to research work analysing the French online ecosystem. She holds a degree in International Affairs from Sciences Po Lyon (including studies at the School of Oriental and African Studies in London and Georgetown University in Washington DC).
Cooper Gatewood is a Senior Manager within ISD's Digital Analysis Unit, focusing on quantitative research into the spread of hateful and polarising narratives online, and how they are leveraged by extremist actors. Cooper also develops monitoring and evaluation frameworks to measure the impact of many of ISD's intervention projects. Cooper is currently contributing to ISD's research on disinformation campaigns, particularly those aimed to influence and disrupt election processes. Cooper holds a Masters of International Affairs from Columbia University and a Masters of International Security from Sciences Po and is fluent in Spanish and French, as well as speaking proficient Japanese.
DOWNLOAD THE REPORT