27 Sep 2018New York City, New York
Rethinking Resilience and Youth Engagement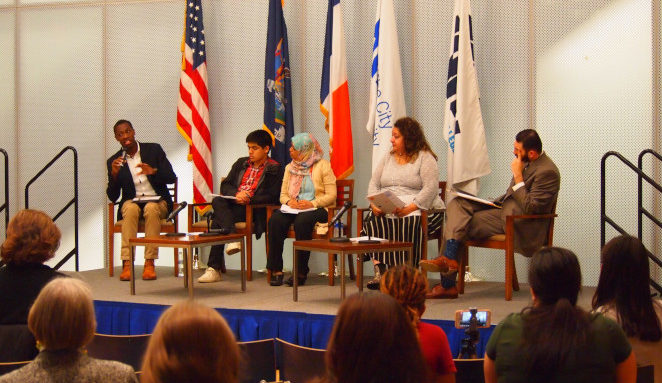 For the past three years, ISD has partnered with British Council USA and Georgia State University to run a project called Bridging Transatlantic Voices which examined the role and work of civil society institutions across the US, UK, Europe and MENA in addressing issues of violence and violent extremism.
In a two-part panel event, the project team spoke about the results of their civil society mapping and cross-cutting findings on the sectors of violent extremism, violence and conflict. Attendees received a first look at a new policy report focused on youth engagement and youth violence from the project team and hear from civil society leaders, entrepreneurs and government leaders who are working to build youth resilience and amplify youth voices.
In recent years, the subject of "youth engagement" has risen to the highest levels of the global policy agenda, appearing in conversations across the development and security spectrum. The various fields that feed into the area of youth engagement are broad and intersect in many ways, and this new report seeks to give a snapshot of these sectors in the US and Europe and summarize the main areas for cooperation, best practice and challenges between civil society and policymaking. The event was followed by a networking reception.
Opening Remarks
Farah Pandith, Former Special Representative to Muslim Communities, United States Department of State
Moderator
Dr Abbas Barzegar, Visiting Researcher, Alwaleed Center for Muslim-Christian Understanding, Georgetown University and Director of Research and Advocacy, Council of American-Islamic Relations
Panelists
Ziad Ahmed, CEO, JÜV Consulting and Founder, Redefy (New York City)
Shamsher Chohan, Director, Communities Inc (Nottingham, UK)
Steven Pacheco, Emeritus and Co-Founder, CONNECTr (New York City)
Sarah Sayeed, Senior Advisor, Community Affairs, Office of the Mayor (New York City)
Please RSVP and bring a photo ID, otherwise you will not be allowed into the event.
For accessibility information or requests, please email Ava Baksh at [email protected].
---