15 Dec 2022The Metaverse
Panel: ISD's Zahed Amanullah at Metaverse Safety Week 2022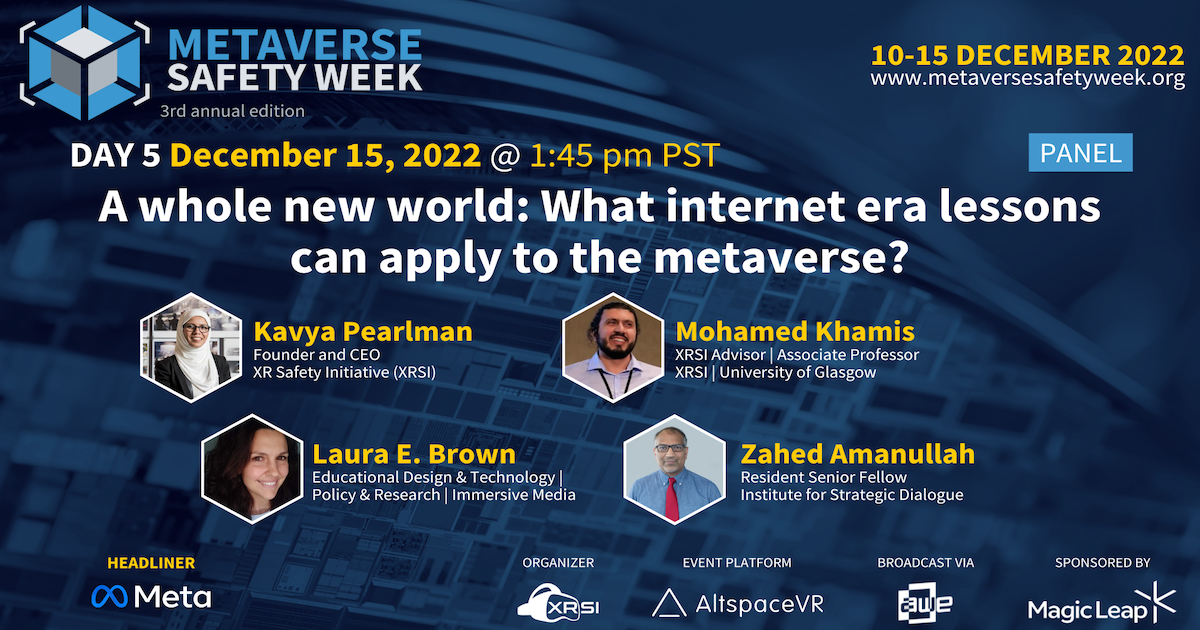 ISD Senior Fellow Zahed Amanullah took part in Metaverse Safety Week on 15 December 2022, broadcast live from the metaverse to an online audience. The event was created and promoted by the XR Safety Initiative, a global nonprofit with the mission of helping build safe and inclusive immersive realities. This five day-long event brought together high-ranking EU/US/UN public officials, government representatives, international business and technology executives, lawmakers, community leaders, civic organizations, big tech organizations, and global citizens to explore how to leverage the potential of the Metaverse while ensuring consumer protection, privacy, human rights, global citizen protections and societal resilience are upheld.
Zahed participated in the panel discussion "A Whole New World: What Internet Era Lessons Can We Apply to the Metaverse?" along with Kavya Pearlman, Founder and CEO, XR Safety Initiative (XRSI); Mohamed Khamis, XRSI Advisor and Associate Professor, XRSI at the University of Glasgow; and Laura E. Brown, Educational Design & Technology expert, Immersive Media.
You can watch the whole event on demand by clicking here.
Go to
https://youtu.be/mXeIyr6RnMs