5 Oct 2022Online
ISD's Jennie King on climate delayism, the role of the media, COP27 and more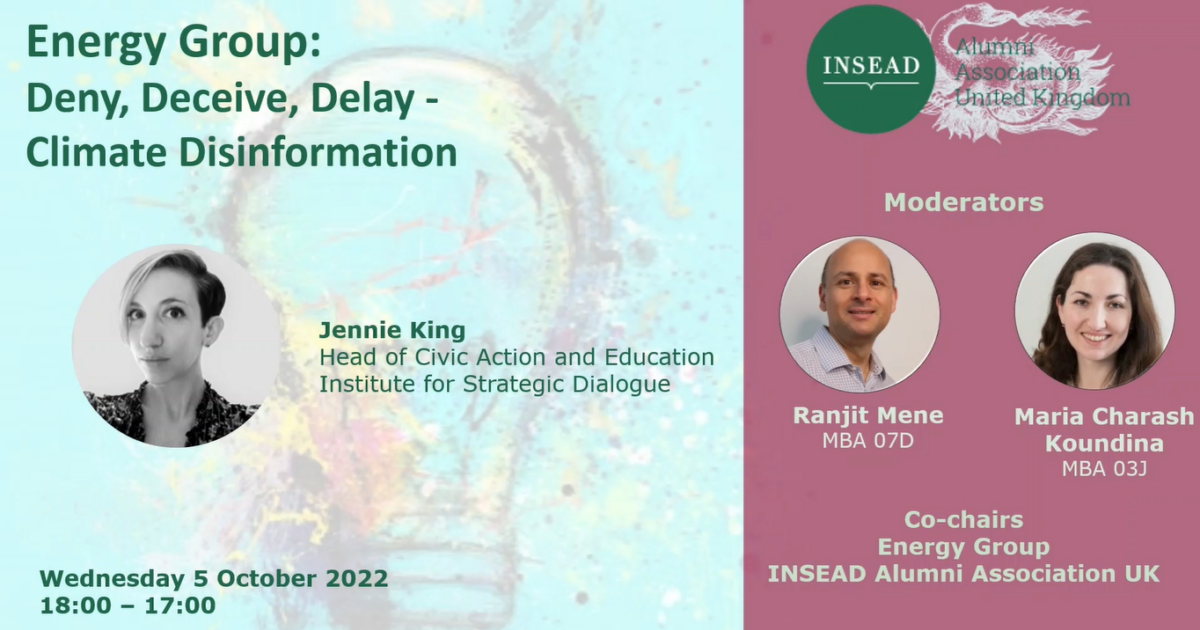 ISD's Head of Civic Action and Education, Jennie King, was the expert speaker at the event "Deny, Deceive, Delay – Climate Disinformation" organised by the INSEAD Alumni Association's Energy Group. Alongside Maria Charash-Koundina and Ranjit Mene, co-chairs of the Energy Group that moderated the presentation, Jennie discussed the urgent need to combat climate mis- and disinformation, encouraging key actors in the energy sector to mobilise against imminent attacks.
As co-author of the ISD report, Deny, Deceive, Delay: Documenting and Responding to Climate Disinformation at COP26 & Beyond,— the most comprehensive report of its kind— Jennie gave an overview of the evolution of climate change narratives from upfront denialism to delayism. Additionally, she spoke about the important role of the media in the mainstreaming of these narratives, as well as the unfairness at play when oil and gas companies invest millions every year to promote climate mis- and disinformation.
In closing, Jennie discussed the role of the media, social platforms and the private sector in proactively mobilising efforts to call out this threat— a crucial factor in creating market incentives, increasing social support and influencing political action meant to aid in the transition.
To learn more about climate mis- and disinformation, check out our report, our COP26 bulletins and subscribe to this year's COP27 Disinformation Bulletin here.