9 Oct 2018Washington, DC
Congressional Brief: Preventing terrorism in the U.S., successes, failures, and recommendations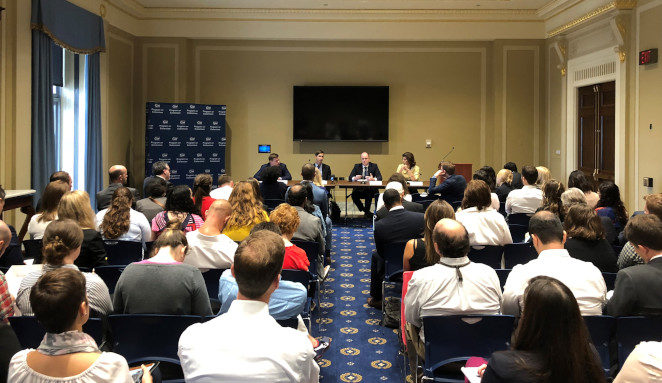 ISD, along with the Program on Extremism at the George Washington University and the Brookings Institution, hosted a Congressional briefing on "Preventing terrorism in the U.S., successes, failures, and recommendations."
A panel of experts debated different components of a comprehensive approach to preventing terrorism in the United States. They explored topics including the development of overarching policy frameworks, the nexus of technology and terrorism, and the importance of civil society in preventing and countering terrorism. The Program's senior research fellow, Haroro Ingram, moderated. The panelists included:
Seamus Hughes, Deputy Director, the Program on Extremism
Farah Pandith, Head of Strategy, Institute for Strategic Dialogue; Non-Resident Senior Fellow, Harvard University Kennedy School of Government; Adjunct Senior Fellow, Council on Foreign Relations
David Phillippi, Program Coordinator, Parents for Peace
Chris Meserole, Fellow – Foreign Policy, Brookings Institution
The Congressional Counter-Terrorism Caucus serves as a leading bipartisan voice in Congress for approaches to tackling extremism and radicalisation within the United States. It meets regularly with the goal of developing and adopting a bipartisan framework for preventing terrorism. 
Event Information
9 October, 2018
12:00 PM-1:00 PM
Gold Room
2168 Rayburn House Office Building
45 Independence Ave SW
Washington, DC 20515
---
Organised by:
ISD
Program on Extremism at the George Washington University
Brookings Institution