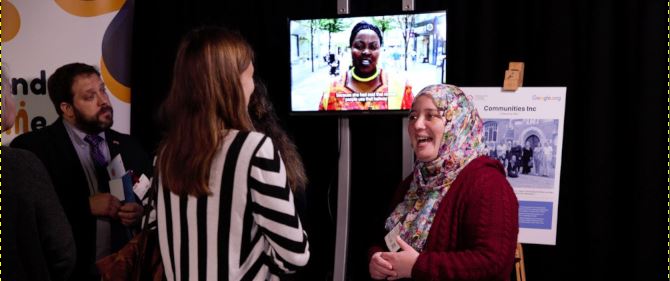 Collaborating with Google.org to empower civil society
We believe that only through creating a unique partnership model between the private sector and civil society to support communities can we effectively challenge rising hate, extremism and polarisation in society.
After a decade of engaging with grassroots initiatives, we know that civil society organisations have the power to build hyper-local solutions. Our collaboration with Google.org has allowed us to help to strengthen civil society across the UK and now in Europe.
Google.org Impact Challenge on Safety (2019-2020)
In mid-2019, we launched a €10million European fund – Google.org's Impact Challenge on Safety – to support NGOs and expert groups across Europe working on safety topics. The NGOs that applied came from a range of backgrounds and either focused on tackling hate and extremism in their communities or helping young people stay safe online. The applications for this fund are now closed.
We have partnered with Google.org and Ashoka to deliver a €10M total fund. We will support European civil society organisations, social enterprises and academic organisations that are working on challenges related to hate, extremism, and child safety. Projects the fund aims to sponsor can be new or ongoing, geared towards activities online or offline.
By funding new and existing community projects across Europe, we hope to support sustainable solutions to hate and extremism, and help communities and in particular young people to become confident digital citizens.
As part of the application process, our specialist team joined Google.org and Ashoka to hold workshops in seven major European cities.
Applications for this fund are now closed.

The Innovation Fund to Counter Hate and Extremism was launched in late 2017 to support civil society as they work to prevent the rise of hate and extremism online and in communities. Over the course of 2018, ISD managed this first-of-its-kind pilot programme, funded and supported by Google.org, and helped deliver innovative solutions to hate and extremism across the UK.
More than 230 UK-based organisations responded to our call for applications in late 2017 and early 2018, with projects valued at more than £15 million and with 22 original local and national initiatives funded across the country. Grants ranged from £8,000 to £100,000 for 6 month and 12 month project durations, all completed by 31 December 2018.
From educational programmes using virtual reality, to boxing workshops engaging youth in historically marginalised neighbourhoods, as well as campaigns for bystander responses to hate crimes, successful grantees demonstrated the breadth of expertise and innovation that has always existed within civil society. Google.org and ISD hope that this funding approach and the delivery mechanisms marks the beginning of greater civil society efforts – supported by governments, foundations, and the private sector.
Read about the grantees and their inspiring initiatives in the impact report, published 2019.