TikTok Fails to Stop the Spread of QAnon Conspiracies on its Platform
16 October, 2020
By Ciarán O'Connor
TikTok has introduced measures to combat the spread of QAnon content across its platform, including the banning of popular hashtags. These have, however, proved inadequate, and through simple techniques such as alternative hashtag spellings, users are continuing to promulgate conspiracy theories of the most extreme kind.
_________________________________________________________________________
In late July, following Twitter's action against thousands of QAnon-associated accounts, TikTok banned popular Q hashtags like #QAnon, #WWG1WGA, and #Adrenochrome. According to Digital Trends, another prominent hashtag, #Pizzagate, amassed over 80 million views on the app before it, too, was banned in July.
But analysis from ISD can reveal that, since early August, QAnon supporters have circumvented TikTok's QAnon ban with ease, migrating to hashtags only marginally different from the banned terms. TikTok's limited and narrow approach to content moderation has proved inadequate. Under these alternative hashtag spellings, different strands of the QAnon conspiracy run rampant:
Save The Children
The QAnon community's reported "hijacking" of terminology used by the 'Save The Children' movement has spread rapidly across TikTok. This is part of a wider trend on social media, where Q supporters on Facebook, Twitter, and elsewhere have taken over popular hashtags like #SaveTheChildren (which currently has 275 million views.)
Analysis shows that  Up to July the hashtag was popular and often used to raise awareness about US treatment of migrant children. Since August, however, the hashtag has featured wall-to-wall conspiracy videos centring on supposed elite-orchestrated paedophilia in the US.
A similar hashtag, #SaveTheChildren2020, (7.1 million views) tells a similar story. Here, users include the hashtag in videos claiming – among other things – that mainstream media are willing participants in a cover-up about widespread child sex trafficking in the US and UK.
One video posted in early August using both #SaveTheChildren and #SaveTheChildren2020 claims that a video posted online in 2018 shows Hillary Clinton and her longtime aide Huma Abedin assaulting and/or sacrificing a young girl. The claim, which fact-checking organisations have declared completely unsubstantiated, was one of the earlier allegations to trend in the Pizzagate conspiracy.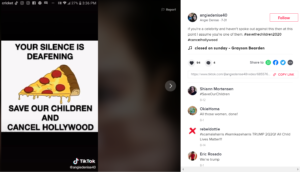 This screenshot is from a video posted by @angiedenise40, on July 31. The video is typical of others shared on the platform that combine the 'savethechildren' hashtag with a slew of seemingly unconnected right-wing conspiracy theories, including that you cannot get COVID-19 from other people or surfaces; that model Chrissy Teigen is a paedophile; and that Bill Gates is a "satanist" who wishes to depopulate the planet and plans to sell a vaccine for the coronavirus.
Like other platforms, TikTok has yet to address the hijacking of these hashtags to promote QAnon or Pizzagate conspiracies. Beyond specific hashtag limitations, TikTok has serious questions to answer regarding its efforts to stop its platform being abused and manipulated to share harmful and misleading information.
In its most recent Transparency Report, TikTok said it has launched "educational PSAs" for hashtags related to "harmful conspiracies" like QAnon. But it's not clear if these are or will have a substantive effect. Indeed, as our analysis shows Q supporters face little to no obstacles in spreading their conspiracy across the platform.
Ciarán O'Connor is an Analyst on ISD's Digital Analysis Unit with expertise on the far-right and disinformation environment online and open-source research methodologies. Before joining ISD, Ciaran worked with Storyful news agency. He has an MSc in Political Communication Science from the University of Amsterdam and is currently learning Dutch.