The Shifting Conversation around Antifa
5th November, 2020
By Jakob Guhl
ISD researchers recently conducted a long-term analysis of conversations around the  loose network of far-left organisations known as Antifa. This research analysed 14 million social media posts between January 2019 and June 2020. With a few event-driven exceptions, online discussion about Antifa was generally low (under 10k daily posts) leading up to the Black Lives Matter protests of summer 2020.
Then, on 31 May 2020, 6 days after the death of George Floyd, and amidst protests across U.S. cities, President Donald Trump tweeted that Antifa would be designated a "Terrorist Organization."
Following Trump's announcement, the volume of conversation about Antifa drastically spiked – and its nature drastically  shifted.
 _________________________________________________________________________
Who are the main voices?
A comparison of top tweeters from 2019 and 2020 clearly demonstrates conservative voices dominating discussion about Antifa on social media, with a few dissenting voices (e.g., American rapper and activist Talib Kweli).
Interestingly, a voice that featured multiple times in the dataset is Andy Ngo, a conservative-leaning reporter based in Portland. Ngo has been repeatedly mentioned in relevant discussions since 2019, and his tweet of 31 May 2020 equating BLM with Antifa and displaying images of violence allegedly committed by BLM protestors has been retweeted over 20.2k times. Ngo has been an outspoken critic of BLM, claiming that wherever it goes the group brings "rubble, death, violence and destruction."
Conversation shift
In the first half of 2019, online discussion around Antifa was mainly concerned with questions of violence and the left, and already included some mentions of "terrorist organisation." Overall, however, the volume of discussion was generally low (i.e., under 10k daily posts).
The second half of 2019 saw few thematic changes compared to the preceding months, although President Trump and protests in Portland became a more prominent narrative in the discussions. What researchers did see, however, was a marked increase in the volume of posts around Antifa, primarily caused by two significant spikes in conversation. These were:
1 July 2019, 30.8k posts: discussions centring on an Antifa protest in front of an ICE centre in Portland, authorised by mayor Ted Wheeler. Largely conservative and pro-Trump accounts highlighted far-left violence and identity politics – including one incident where two men were apparently beaten as they attempted to protect a "gay man in a sundress."
18 August 2019, 34.1k posts: discussion centred on another Antifa demonstration in Portland. Conservative and pro-Trump accounts amplified calls to label Antifa a domestic terrorist organisation.
Developments in 2020
In 2020, identity politics was more frequently discussed in conversations around Antifa, and the term "terrorist organisation" featured prominently. The overall volume of discussion around Antifa increased considerably in the first half of 2020, with three peaks far surpassing discussion over the previous year.
The three peaks
20 Jan 2020, 81.2k posts: discussion centred around a Second Amendment demonstration in Virginia. Top posts unfavourably contrasted Antifa to the Second Amendment demonstrators, who they claimed were peaceful and non-violent. Posts asserted that Antifa is violent and that the media has a pro-Antifa bias. It is interesting to note that these posts do not pertain to specific Antifa activity, yet they caused the largest spike in the dataset before Trump's Antifa tweet in late May.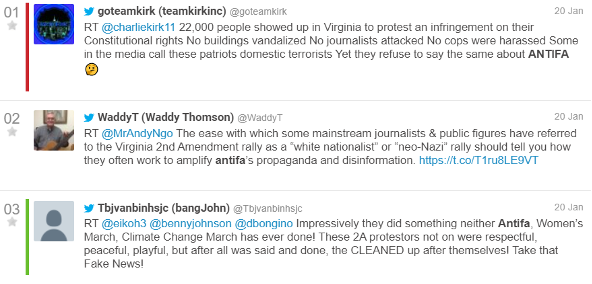 9 Feb 2020, 70.3k posts: Top posts included a tweet discussing a supposed "left-wing extremist" who drove a van into a Republican rally in Texas (linking to a local news article which states that the driver's motive was as yet unknown); criticism of Portland mayor Ted Wheeler; and accusations that Antifa abuses journalists (linking to a tweet from Andy Ngo, allegedly showing Antifa protestors pepper spraying and assaulting a journalist, though this is not actually shown in the video). While conservative, pro-Trump voices were present in these discussions, accounts were less clearly self-identified as such, when compared to previous periods. There were also examples of pushback.
31 May – 01 June 2020, 2.2m posts: This period saw a major spike triggered by the Trump administration's rhetoric around designating Antifa a domestic terror group and the resulting debate. This peak, far surpassing any other over the past year, represents much broader engagement with Antifa discussions. The top post below links to the  AP article discussing extremists allegedly taking advantage of protests.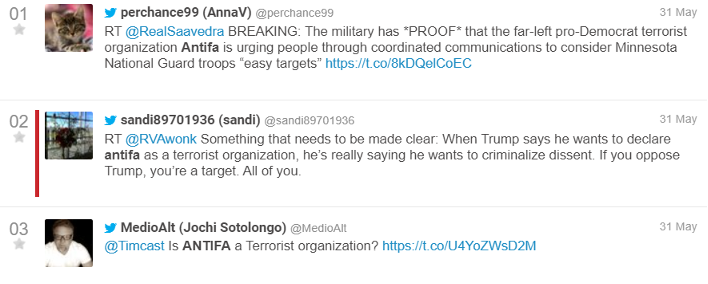 Following the immediate peak after Trump's announcement, the volume of online-conversation around Antifa slowly decreased, from 450,000 on the 3 June 2020 to over 320,000 on the 10 June 2020, all the way to 60,000 a week after that.
While the idea that Antifa should be correctly viewed as a "terrorist organisation" was present before 2020, the term "terrorist organisation" has featured far more prominently during 2020: spiking in reaction to Trump's tweets calling for the designation of Antifa as such. It is clear, once more, that narratives promulgated publicly by major political figures tend to become strong drivers of online conversation, both in terms of volume and, critically, content.
Jakob Guhl is a Coordinator at ISD, where he mostly works within the Digital Research Unit. Jakob has co-authored research reports on the alternative online-ecosystem of the far-right, reciprocal radicalisation between far-right extremists and Islamists, coordinated trolling campaigns, hate speech and disinformation campaigns targeting elections. He is a frequent commentator on German radio and broadcast, including Deutschlandfunk, Tagesthemen and Radio Eins.