Support from the Conspiracy Corner: German-Language Disinformation about the Russian Invasion of Ukraine on Telegram
This research was conducted via Method52, a tool for the collection, processing and analysis of large-scale social media data developed and maintained by CASM Technology. Access to the tool was provided pro bono to ISD for the purposes of assisting with ongoing CASM-ISD analysis of the Russia/Ukraine conflict.
__________________________________________________________________________
4 March 2022
By Julia Smirnova, Paula Matlach & Francesca Arcostanzo
The Russian invasion of Ukraine is supported by pro-Kremlin propaganda targeting domestic as well foreign audiences. Our previous analysis indicated that online German-language communities of COVID-19 sceptics, right-wing populists and extremists on Facebook provide a welcoming environment for pro-Kremlin disinformation. 
In this piece, we focus on German-language Telegram channels. Telegram has become a central platform for right-wing extremist and conspiracy movements in Germany. Unlike large platform providers such as Meta or Google, Telegram hasn't taken any steps to restrict the disinformation being pushed by the Russian state following its invasion of Ukraine, despite the fact that Ukraine-related disinformation is actively being spread in Telegram channels and groups, both in Russian and other languages. 
_________________________________________________________________________________
Method
We analysed a sample of 229 German-language Telegram channels linked to German-language right-wing extremist and conspiracy movements. 
We collected the posts published by these channels between 1 November 2021 (shortly after Russian troops started their build-up on the Ukrainian border) and 27 February 2022 (4th day since the start of the war). 
Using a list of 80 keywords to identify posts related to Russia, Ukraine, the breakaway regions in Eastern Ukraine and the Russia-Ukraine crisis in general. Finally, we conducted a link analysis to identify the most frequently shared links and domains in this dataset.
Results: popular domains
The channels of analysis posted a total of 269,489 messages during the period of analysis, of which 13,760 (over 5%) contained keywords related to Russia, Ukraine or the Russia-Ukraine crisis. 157 of the 229 channels (69%) had published at least one post on this topic. There was a significant increase in the number of Russia/Ukraine-related messages in the days prior to the start of the full-scale war, with a peak of 1112 posts on 24 February.
In posts which contained keywords related to Russia and Ukraine, the website of the German-language Russian state media outlet RT DE (de.rt.com) was the most frequently shared news website and the second most frequently shared domain, with 1410 links shared during the period of analysis. Posts containing these links received a total of 19,518,102 views. Links to de.rt.com were shared by 56 of the 229 channels.
| | | | |
| --- | --- | --- | --- |
|   | Domain | Total number of shared links | Total number of views |
| 1 | t.me | 4949 | 52,391,483 |
| 2 | de.rt.com | 1410 | 19,518,102 |
| 3 | zaronews.world | 903 | 21,362 |
| 4 | epochtimes.de | 844 | 8,973,171 |
| 5 | youtube.com | 790 | 7,004,253 |
| 6 | compact-shop.de | 329 | 3,871,048 |
| 7 | bild.de | 305 | 4,712,647 |
| 8 | jungefreiheit.de | 293 | 1,302,720 |
| 9 | reitschuster.de | 282 | 3,597,573 |
| 10 | anti-spiegel.ru | 269 | 4,928,953 |
Dissemination of content by RT DE: Posts with links to RT DE were shared by German conspiracy influencers 
The most viewed Ukraine-related RT DE link in our dataset had been viewed more than 138,000 times. The article was shared on the first day of the Russian invasion in Ukraine (February 24, 2022), and claimed that the Russian government was "not planning to occupy Ukrainian territory" but rather "protect those who have been subject to genocide from the Ukrainian government for the past eight years". These statements are part of the Kremlin disinformation campaign to justify the invasion.
The Telegram channel which shared this post,(212,667 subscribers) belongs to a former German journalist who is popular amongst AfD (Alternative for Germany), conspiracist and right-wing extremist circles.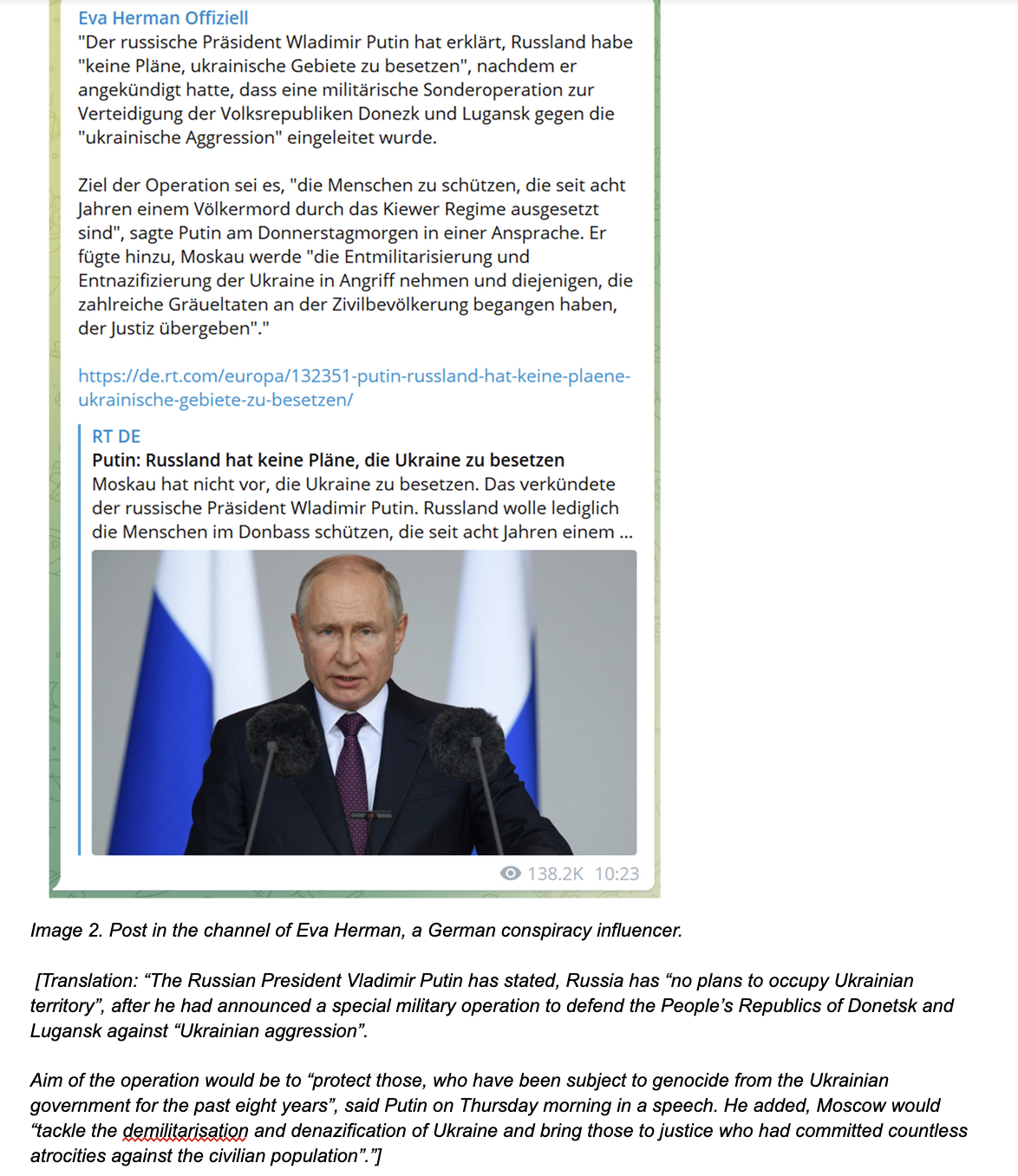 Another German conspiracy influencer, Oliver Janich (160,486 subscribers), re-shared a post from RT DE with a link to a live blog about the war in Ukraine on the morning of the invasion. The post repeated a statement made by the Russian Ministry of Defense, which included a claim that Ukrainian border guards are not resisting Russian troops. The post has received 33,700 views.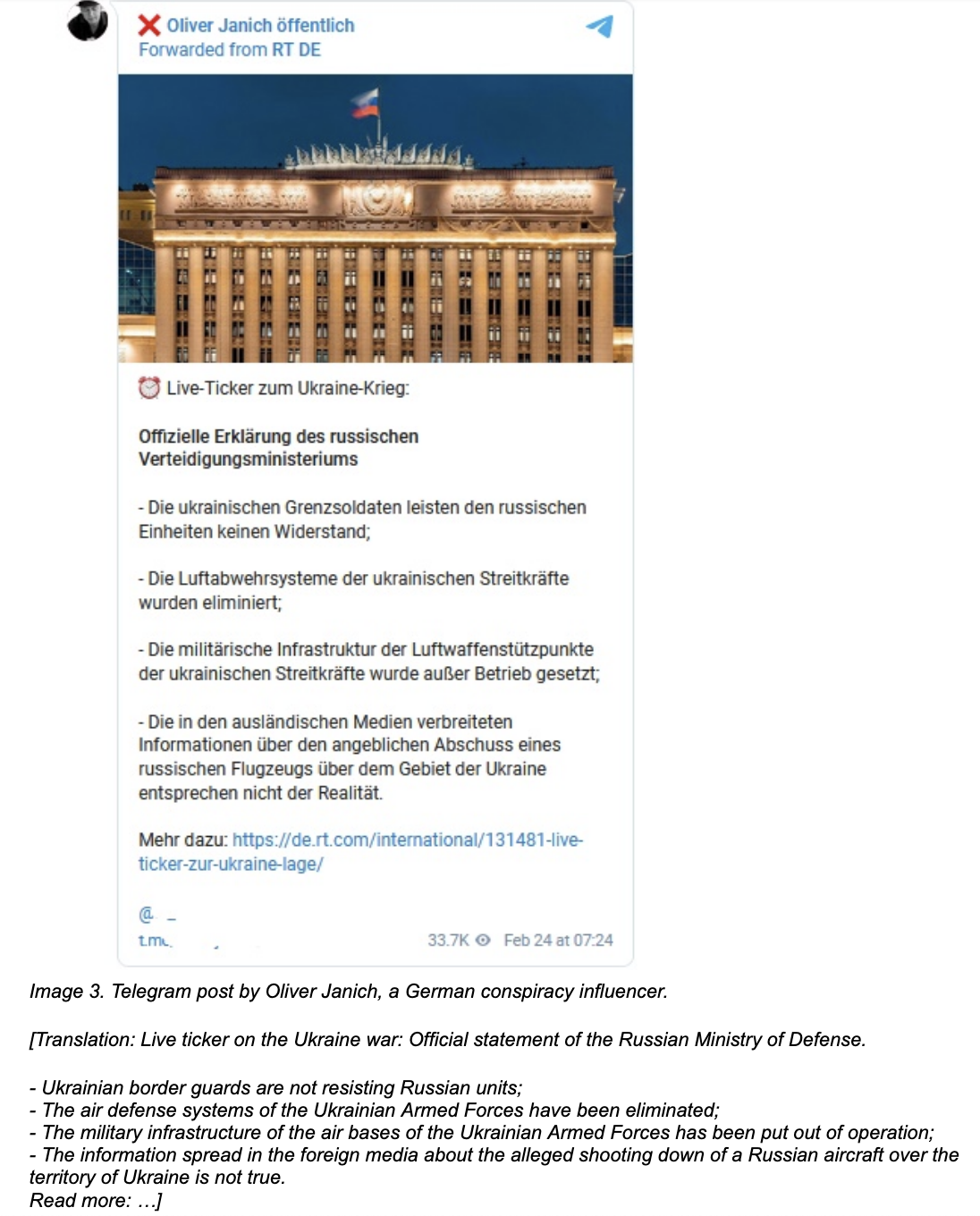 On the same day, another RT DE article received significant attention in a German-language anti-lockdown Telegram channel (167,804 subscribers). The lengthy post links to an article titled "Putin begins special military operation to protect Donbass and denazify Ukraine". The post cites claims that the Ukrainian government was committing "genocide" and human rights violations, and that the Russian government was aiming to not only denazify and demilitarise Ukraine, but also protect the population against NATO and others who had "taken Ukraine hostage". The post had been viewed more than 57,800 times and received a total of 860 reactions, including thumbs up, heart, fire and smiling emojis.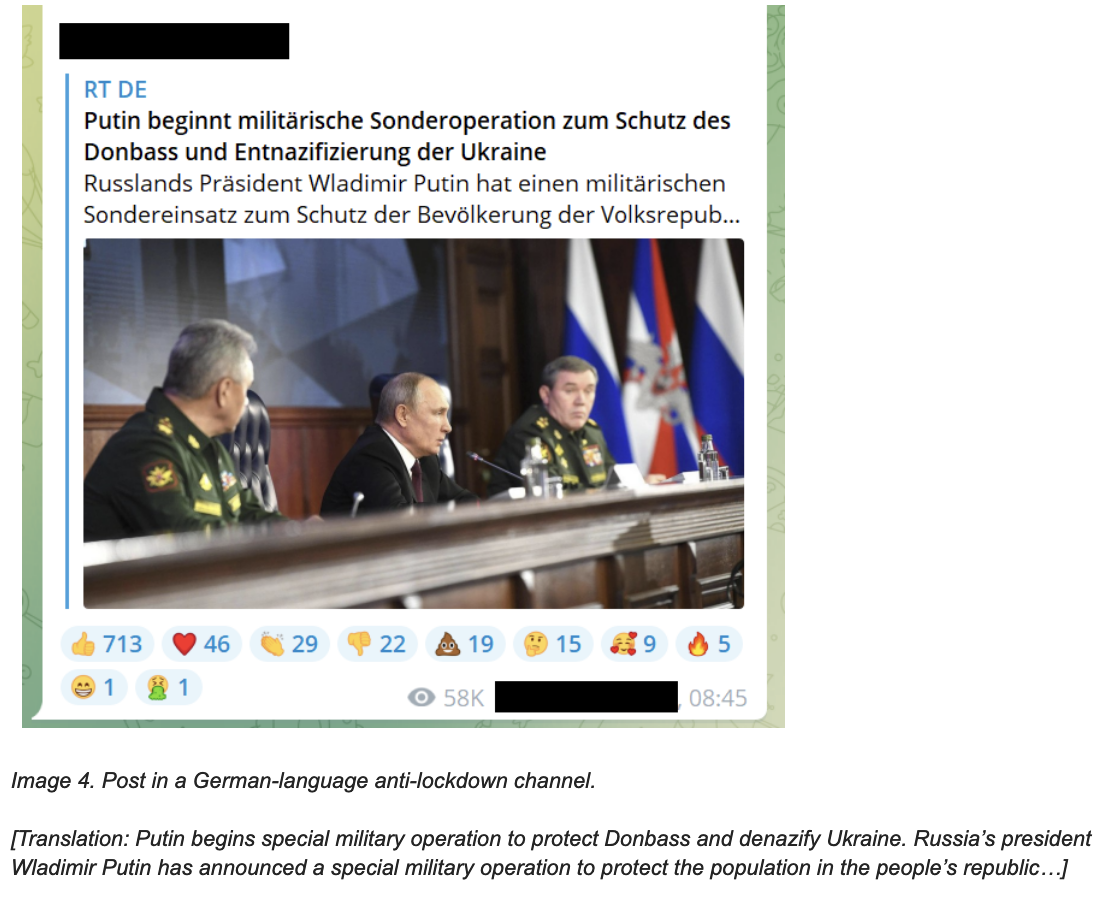 Content from a Russian state media outlet was repurposed as independent content
ZAROnews is a media outlet which was part of our initial list of accounts, as it had previously been observed to post far-right content such as Holocaust denial. Most of the links to zaronews.world in our dataset were posted by ZAROnews' Telegram channel. While the posts containing links to zaronews.world received a low number of views (the Telegram channel of ZAROnews has only 212 subscribers), their tactics make ZAROnews a salient case.
The website zaronews.world poses as an independent media outlet, stating: "We publish, share and distribute news that is often withheld from you, we do not belong to any corporation, no media agency, we are FREE". According to the website it is based in Switzerland and, apart from publishing news content, offers online PR services.
However, all of the most recent articles published by ZARONews were verbatim copies of articles by SNA (formerly Sputnik), a state-controlled Russian media outlet, and referred to original articles on snanews.de.
For example, an article titled "Crazy propaganda campaign against Russia – the "Empire of Evil" has been ruined for decades", published on the 2 March by ZAROnews is an exact copy of the same article published by SNA on 1 March (see images below).
Another article citing the spokesperson of the Russian Foreign Ministry Maria Zakharova, "Nato is behind misinformation about Russia's military operation in Ukraine – Zakharova", published by ZAROnews on the 2 March, is a copy of an article published by SNA a day earlier with the same title.
Pro-Kremlin disinformation was posted in these channels even without links to Russian state media outlets
On the day of the Russian invasion, an online media outlet belonging to the German "sovereign citizen" (Reichsbürger) movement, published an article reiterating false claims of an ongoing genocide in Ukraine and shared it in their Telegram channel (16,590 subscribers). The article was titled, "Did chancellor Scholz rightly deny the genocide in Ukraine with a smirk? Or is this deeply reprehensible for someone who acts as a moralizer against Russia? Donbass – this was also a genocide under German law".  The post was viewed 5,162 times.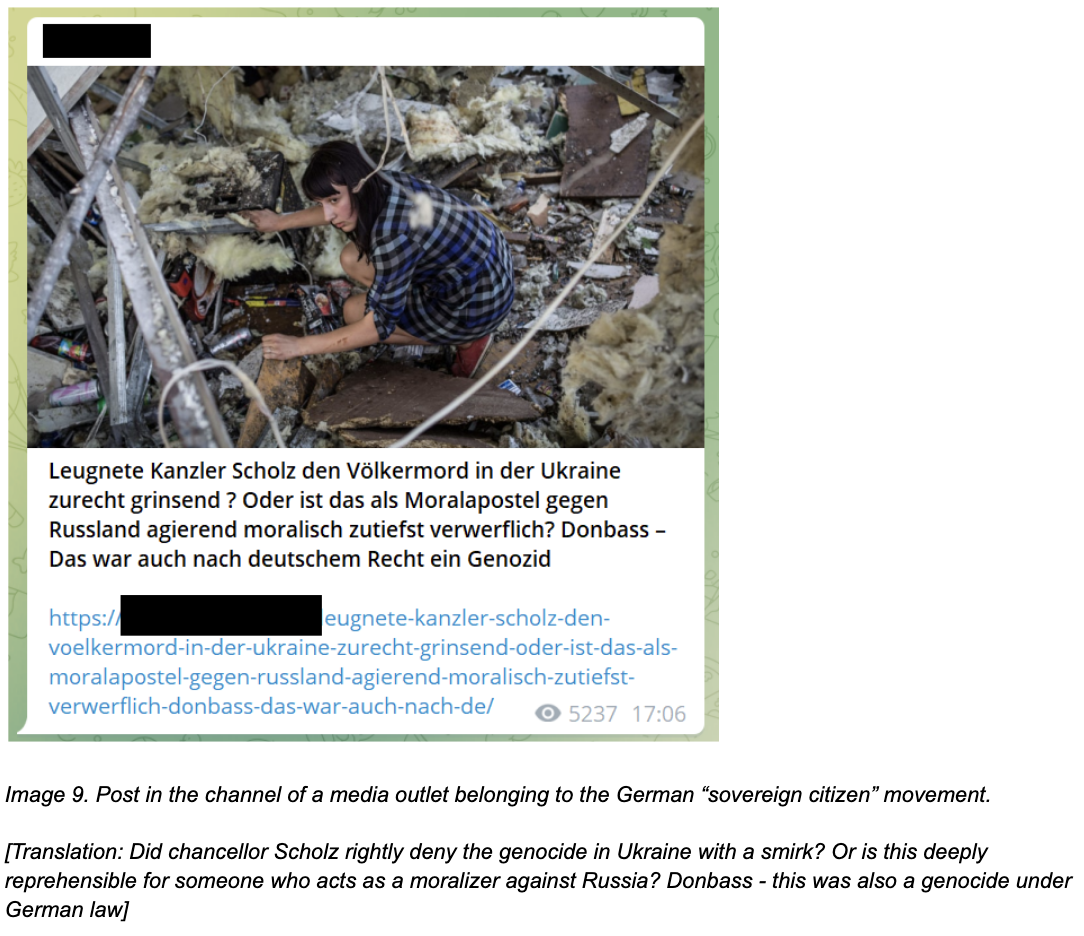 Pro-Kremlin narratives were also shared in other conspiracist Telegram channels, without sources or links to other media. For example, one conspiracist channel with 33,387 subscribers posted "Putin is squashing NAZI's… It's going well".
RT DE is growing it audience on Telegram
After Russian state media RT and Sputnik were banned in the EU, RT DE is calling to switch to its Telegram channels, with banners at the top of its homepage reading, "Last chance to get direct information. Subscribe to @RT_DE".
After the announcement of the EU ban, the Telegram channel of RT DE has shown a significant growth in new subscribers. According to the tool tgstat.com, the number of subscribers of RT DE on Telegram has grown between 28 February and 3 March by 23 per cent, with 20,897 new subscribers joining.
Outlook
Pro-Kremlin disinformation has been actively spread in German-language Telegram channels from conspiracy and right-wing extremist channels prior to and in the first days of the war. 
As revealed in this article, ISD analysts have also detected attempts to disguise state Russian content as independent opinion, and pro-Kremlin propaganda lines repeated by German conspiracy influencers. After the ban in the EU, the channel of RT DE is still available on Telegram and the number of its subscribers is growing. Expelled from mainstream social media platforms, Russian state propaganda outlets are likely to intensify their activity on alternative platforms, where they can tap into existing networks of misinformation spreaders and conspiracy believers. 
Julia Smirnova is an Analyst at ISD and ISD Germany.
Paula Matlach is an Analyst at ISD Germany.
Francesca Arcostanzo is a Senior Research Manager – Digital Methods Lead within ISD's Digital Research Unit.