How Distorted Research Found Legitimacy Thanks to Superspreaders, Chinese Officials and State Media
15th July 2021
Japan recently approved a plan to begin releasing contaminated wastewater from the Fukushima nuclear plant in the next two years. Following the announcement, a distorted version of a 2012 research study by a German institute was disseminated by various sources, including Chinese officials, with the seeming intention being to lambast Japan.
While a previous fact-checking article by Polygraph revealed that this distorted research had been shared by a Chinese diplomat, ISD analysts identified a larger, seemingly coordinated, network that helped amplify its reach by sharing the research thousands of times as replies to the official Twitter accounts of Western media.
_______________________________________________________________________
In April 2021, while monitoring  a network of accounts around a German influencer on Twitter who shares pro-Chinese Communist Party (CCP) content, ISD analysts identified a number of accounts spreading pro-CCP narratives. The accounts were found to share thousands of links to pro-CCP articles and videos in reply to tweets from Western media outlets, in order to amplify certain narratives and attack criticism.
The narratives promoted by these accounts largely concerned a range of topics associated with pro-CCP channels denying the existence of Uyghur detention camps in the northwestern territory of Xinjiang; attacking and casting the Hong Kong protests in a negative light; or claiming that the COVID-19 pandemic originated in the US rather than China. However, the accounts were also found to be spreading content lambasting one of China's oldest rivals: Japan.
Fukushima's Waters 
On 13 April 2021, Japan announced that it will begin work to release more than 1 million tonnes of treated contaminated water from Fukushima's power plant into the sea in 2023. The decision was heavily criticised by Japan's neighbouring countries, including China, and prompted negative discussion on Twitter.
While analysing the network of pro-CCP accounts via the social media analytics tool Brandwatch, ISD analysts discovered that the most widely shared URL in the network (appearing 2,146 times) came from a single account in the six days between 12 and 17 April 2021 – the immediate aftermath of Japan's announcement.
Each of the 2,146 tweets containing the URL were posted by the user as a reply to different articles from Western media accounts, generating a total of 52,360 impressions on Twitter. The most targeted accounts were: Reuters (254 replies), CNBC (91), NBCNews (74), and MSNBC (68). Almost all of the tweets (2,132 out of 2,146) were accompanied with identical text stating, "Save the ocean!Save the marine life!Save the future of mankind!Western media cannot pretend to be blind, nor can Western governments implement double standards!This is not ordinary sewage! This is nuclear sewage!".
The link itself was to a separate tweet posted on 11 April 2021 by Shen Shiwei, a journalist at China Global Television Network (CGTN) – see Fig 1 below. The tweet read: "In 57 days, Japan's Fukushima contaminated nuclear waste water dumped will pollute half of the Pacific Ocean. The German institute Geomar adds that Three years later, #Canada and the #US will affected by nuclear radiation pollution." 
Shen Shiwei's tweet featured a video of model simulations, which supposedly revealed the findings of a research study conducted in 2012 by GEOMAR, a research institute in Kiel, Germany. GEOMAR's study was conducted in the aftermath of the 2011 Fukushima Daiichi nuclear disaster, and examined the dispersal of radioactive material released into the Pacific Ocean. Based on their findings, GEOMAR researchers created model simulations on the long-term dispersal of such material.
However, Shiwei's tweet did not provide the full details of GEOMAR's study, instead suggesting the video was a projection of Fukushima's dispersal of nuclear radiation pollution after the discharge in two years' time. In other words, the video does not only refer to a different time frame (2011 vs 2023) but also to wastewater with a different level of radiation, given that radiation levels of the water discharged in two years should be within those set for drinking water.
The video featured in Shiwei's tweet is a cropped version of the original – the title and a list of researchers involved can no longer be seen by viewers. The voiceover explaining the research in the original video has also been muted and substituted with dramatic music. However, on the top right of the image, a part of the text is still visible and corresponds with the text featured in the original video (see Figs 2 and 3).
The Superspreaders
The substantially-edited GEOMAR video in Shiwei's tweet was not the only altered version being spread on Twitter – nor was the account sharing Shiwei's tweet the first to do so. In analysing this pattern, ISD identified 5 distinct Twitter accounts which appear to be part of a coordinated network of accounts seeking to share pro-CCP content and discredit Japan's decision to release the water. These 'superspreader' accounts had out-sized reach given their number of followers and size, and so the ISD team dug further into their spread of this GEOMAR video.
➜ The first account  ("@MiclamH") found to have shared the video tweeted it three times on 9 April 2021, four days prior to Japan's announcement, with the following comment shared twice in English and once in French: "SOS World health damage. Ask the United Nations to immediately stop Japan from dumping Fukushima nuclear waste water into the sea, otherwise many people around the world will suffer from cancer." (see Fig. 4).
➜ The video shared by this account ("@MiclamH") was not cropped, like the one in Shiwei's post, but the voiceover was removed and substituted with the same dramatic music found in the other version. Despite the users' scarce followership (54 followers), their initial tweet received a high level of engagement with 802 retweets, 767,727 impressions and 2.4K likes.
➜ A link to this initial edited version of the video was then shared by another account ("@TedfromtheMars") 42 times between the 9 ad 13 April 2021 as a reply to official accounts of media outlets and American politicians. Seventeen of the tweets contained the text: "In 57 days,  Japan's Fukushima contaminated nuclear waste water dumped will pollute half of the Pacific Ocean. The German institute Geomar adds that Three years later, #Canada and the #US will affected by nuclear radiation pollution."
➜ ISD analysts identified two additional accounts ("@JJkoh11")  and ("@VictorJobs666") that had posted the link to Shen Shiwei's tweet hundreds of times in the same date range, with almost identical text, as a reply to accounts of major western publications. One of the accounts had only 3 followers and the other had 11.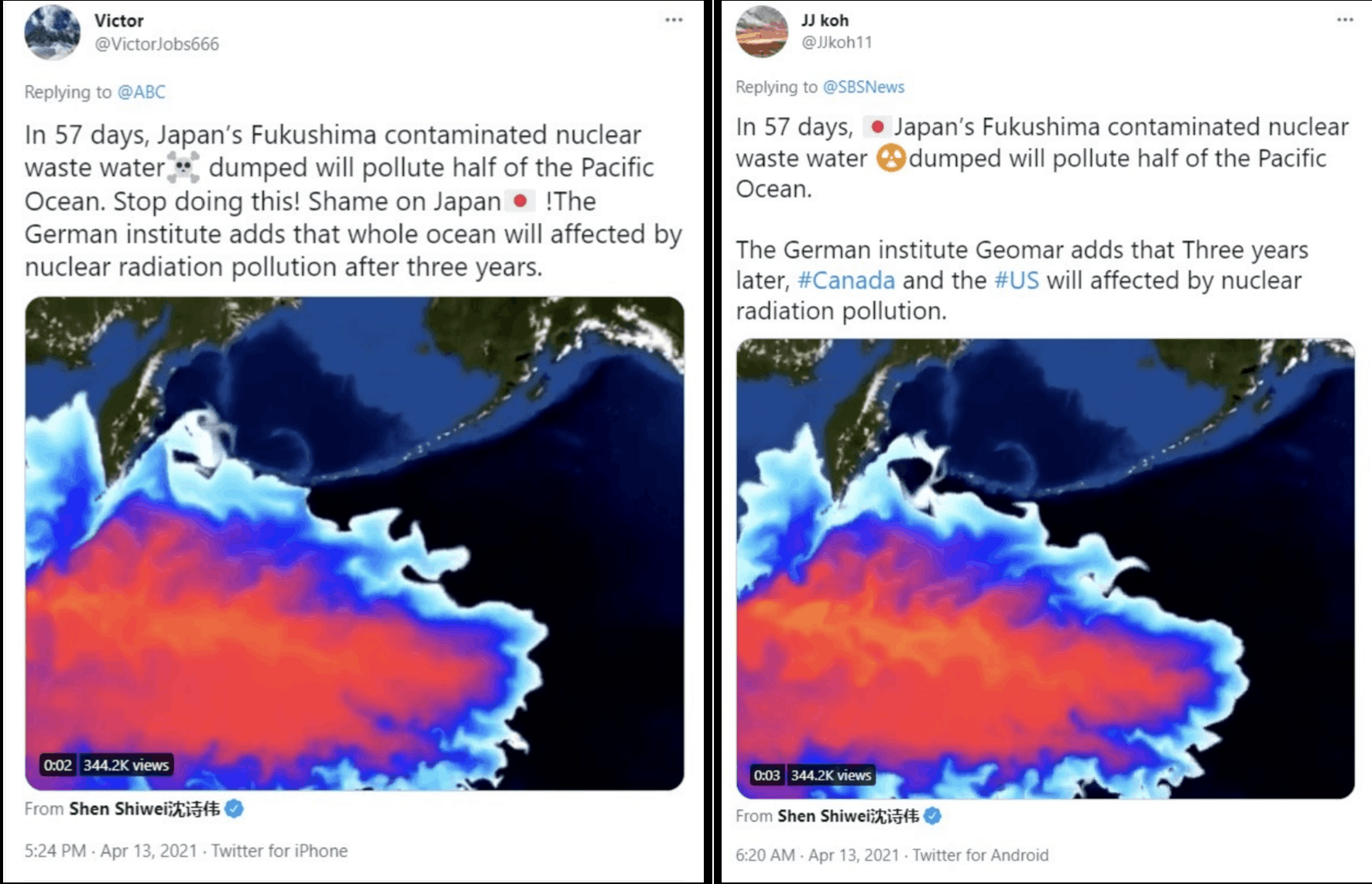 ➜ Of the five accounts who shared the research multiple times with identical  text, only two have a profile picture featuring a person rather than a generic landscape image. However, a reverse image search suggests one of these two 'human' avatars is making use of a stock image.
➜ Three of the accounts were created only in the past six months, on 30 December 2020, 9 January 2021, and 23 March 2021, but have been prolific in their sharing. Since the accounts were created, they have each posted a total of 4,101, 2,883, and 1,821 tweets respectively, at the time of writing.
➜ Besides this seemingly coordinated spread of the distorted version of the GEOMAR research, these accounts have also been tweeting other content aligned with traditionally pro-CCP narratives. For example, videos of alleged violence erupting in Hong Kong have been shared as a reply to prominent US politicians and Western media accounts, as well as videos discrediting the existence of Uyghur detention camps and portraying a positive image of living conditions in Xinjiang.
➜ In addition to sharing content which defends China's interests, these accounts have also shared content which could be considered to exacerbate internal issues and divisions in the West. One account shared two videos from the Russian state media (RT) Twitter featuring different episodes of police violence in the US. Again, each of the videos was shared multiple times with identical accompanying text and were posted as a reply to Western media accounts.
This is not the first time that pro-CCP narratives have been spread by targeting Western media outlets on Twitter. A previous report by ISD published in 2020 also identified a network of pro-CCP accounts that engaged in replies at high frequency, mostly aimed at defending the CCP's interests and rebutting foreign criticism. This network also directed their replies to diplomatic accounts and Western media.
High-profile Spreaders
Besides the previously mentioned accounts, high profile figures on Twitter also contributed to spreading the doctored GEOMAR research, in a seeming attempt to undermine Japan's decision to release the Fukushima water.
An article by Polygraph in April found that China's Ambassador to the Association of Southeast Asian Nations (ASEAN), Deng Xijun, also shared the video. Xijun suggested that the GEOMAR findings referred to the consequences of Japan's dump of wastewater in the future. Besides Xijun, analysts identified additional Chinese governmental officials and state media accounts sharing the altered video, often with comments suggesting it shows the future consequences of Japan's discharge of wastewater (see Figs 5 and 6 below).
In order to establish whether the video was shared by governmental officials or state media in the same period, ISD analysed their activities using the Hamilton 2.0 dashboard, an open-source tool created by the Alliance for Securing Democracy at the German Marshall Fund of the United States. The dashboard enables disinformation researchers to monitor narratives and topics promoted by Russian, Chinese and Iranian government officials and state-funded media.
Analysts found that the video was retweeted by Deputy Director of the Chinese Ministry of Foreign Affairs Information Department, Lijian Zhao; China's Cultural Counsellor at the Chinese Embassy in Pakistan, Zhang Heqing; and Consul at the Chinese Embassy in Lebanon, Cao Yi. The retweets of the video by such highly visible profiles dramatically amplified its reach. While Shen Shiwei's tweet has obtained more than 344K views and over 670 retweets to date, Lijian Zhao's tweet boasts over 44K views and over 600 retweets to date.
"57 Days"
Although the original 2012 GEOMAR research does not specifically mention "57 days", this figure was picked up and spread with the video by numerous Chinese state media sources, both on social media platforms and in their reporting.
The first mention of the "57 days" time frame in English came from an article published by a Beijing-based research institute called EqualOcean on 11 April 2021. The article stated that "57 days from the date of discharge, Japan's nuclear sewage will pollute half of the Pacific Ocean".
Shen Shiwei posted her very similarly-worded tweet just a few hours later. Two days after that, as Japan announced its plan to release wastewater into the sea, the GEOMAR research was cited on the website for the Office of the Commissioner of the Ministry of Foreign Affairs in the Hong Kong Special Administrative Region. This post also mentioned the "57 days" time frame.
The misleading use of GEOMAR's research was then picked up by a range of different media and online platforms such as Quora, The Diplomat, Anonymous Media, This Is Local London and even an online petition on Change.org
Other outlets included misleading tweets by governmental officials in their reporting without fact-checking the accuracy of their content, such as the Greek publication Protothema, the Argentinian publication La Nacion from Argentina, and the French publication vl-media.
This case study shows how legitimate, pre-existing research can be manipulated and repackaged in furtherance of geopolitical goals. It also demonstrates how – whether intentionally or inadvertently – high-profile officials and outlets can help legitimise distorted narratives, to the extent it penetrates a broader mainstream.
By spreading distorted videos and deceptive claims as replies to the Twitter accounts of official media outlets, the narrative was able to obtain higher visibility and circumvent Twitter's regulations on platform manipulation and spam. These findings highlight the need for social media companies to consider how fact-checking and regulation of disinformation needs to evolve to match the increasingly sophisticated tactics used to spread disinformation.