The Dominion Voting Systems Election Narrative: Going Viral
19th October, 2020
By Christopher Stewart 
In Part I, we examined the emergence of the narrative. Here, we look at how it went viral and ended up being amplified by President Trump.
Prior to 6 November 2020, ISD had identified only a small number of posts on Twitter, Reddit, 4Chan and a range of other blogs that linked Dominion to potential election fraud conspiracies. By 7 November, however, ISD had identified over 41,000 posts that mentioned the keywords "George Soros", "the Clintons" or "voter fraud" on Twitter, Reddit, 4Chan and a range of blogs – up from 239 posts the previous day. This was also the peak day in volume frequency of related post mentions between 3 November and 11 November.
 _________________________________________________________________________
Prominent accounts linking Dominion to voter fraud
One of the most influential public accounts linking Dominion to voter fraud was Dr Paul Gosar, a member of the US House of Representatives who has a history of promoting conspiracy theories and support for far-right figures. In addition, pro-Trump Twitter account @RubyRockstar333 reached over 230,000 people with a Twitter thread claiming Dominion was connected to Nancy Pelosi and a wider voter fraud campaign run by the other Democrats. Within the 41,000 mentions were also posts from well-known QAnon Twitter accounts such as  @anonpatriotq.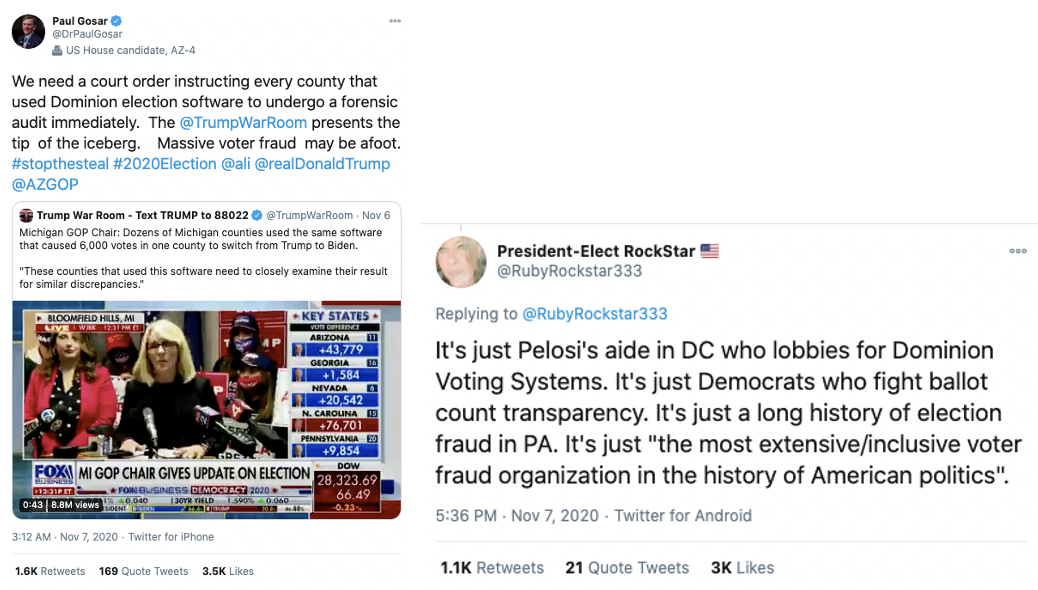 Over subsequent days, ISD identified over 45,000 more posts linking Dominion with George Soros, the Clintons and a wider voter fraud conspiracy. The highest reaching post was from Lara Logan, a journalist for Fox Nation, which reached over 320,000 users on Twitter. The post was a link to the Clinton Foundation website and detailed how, in 2014, Dominion provided automated voting machines to elections in Latin America, the Caribbean and Africa.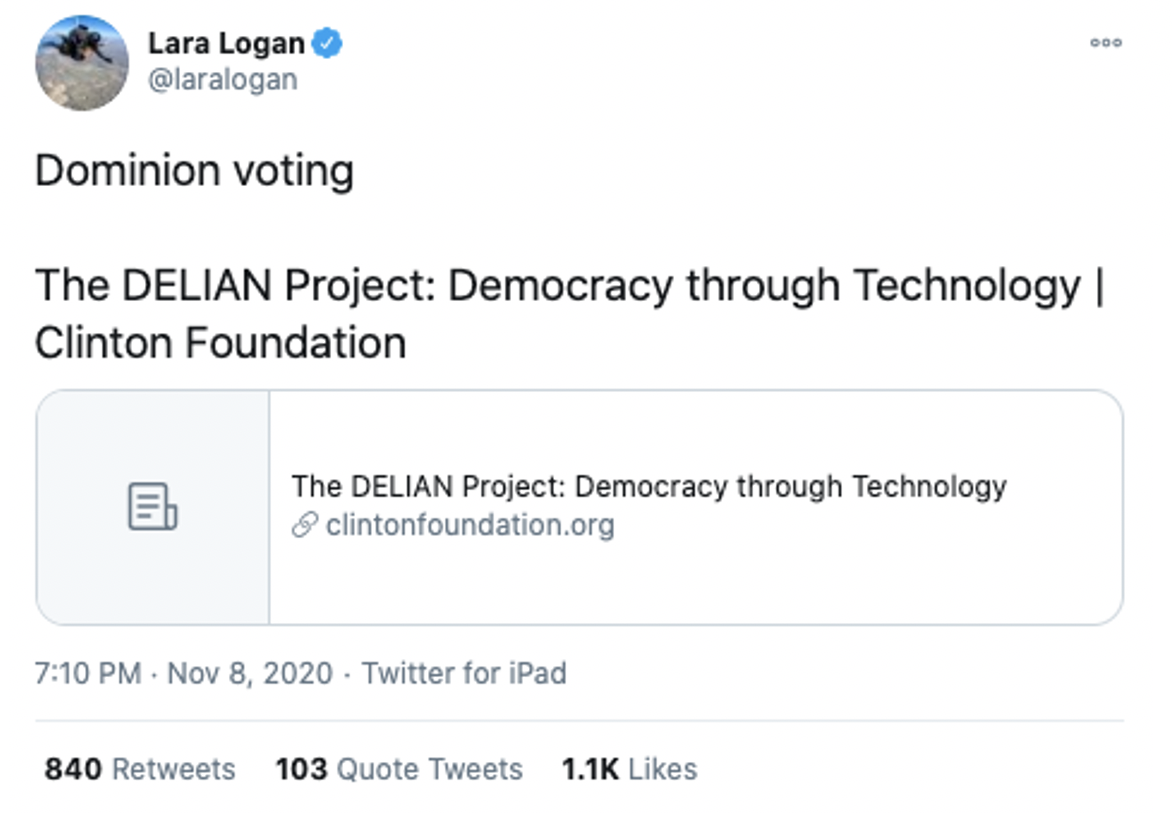 The Twitter account of Sidney Powell, a conservative and vocal supporter of Donald Trump, has been particularly influential in driving the Dominion voter fraud theory. She also posted tweets that linked Dominion to the Hammer and Scorecard conspiracy (this claims that a package of CIA computer programs has hacked the 2020 election). The Twitter account  @Rothbard1776, a conservative and pro-Trump account that posts about Democratic party conspiracies, posted one tweet that managed to reach over 1 million people (see image below). In it, they connected Dominion with Nancy Pelosi, Senator Dianne Feinstein and George Soros in a voter fraud conspiracy. After Donald Trump's 9 November retweet, the number of posts using the keywords increased from 19,000+ mentions on 9 November, to 22,000+ mentions on 10 November.

On 11 November, Ron Watkins, whose father is the owner of 8kun, began posting his own investigation into Dominion on his Twitter account  @CodeMonkeyZ. Ron Watkins resigned as the admin of 8kun on the night of the election. His posts essentially suggest that the Dominion machines should not be trusted, adding to the growing mistrust of the company from pro-Trump #StoptheSteal supporters online (see images below).
Conclusions
On the day of the general election, only a few Democratic and Republican supporters online appeared to voice concerns over the vulnerability of Dominion to political opponents seeking to fraudulently switch people's votes. However, once votes for Joe Biden began to increase in Michigan and other states, conspiracy theorists reached out for answers and the Dominion conspiracy theory was there to provide them.
It is important to understand how the theory was potentially of use to both pro and anti-Trump accounts online. If Trump had won, the financial ties between Dominion and the Republican Party could have become a red flag to any Democrats looking for evidence of voter fraud. This was evident in the small number of Democratic party-supporting posts ISD identified.
Christopher Stewart is an Analyst at ISD. He has expertise in research focussed on the effectiveness of counter-speech and civil society efforts to challenge hate speech and extremism.