Extremism, Hate and Disinformation: Exploiting the Afghanistan Crisis Ahead of the German Federal Elections
*This article has been published in English and German. For the German language version, please see below.
21st October 2021
By Nora Mathelemuse, Francesca Visser and Anneli Ahonen
Following the withdrawal of NATO and Western troops from Afghanistan in mid-August, there has been a visible spike in German-language anti-migration discourse on social media platforms.
Monitoring discussion on Facebook, Instagram, Telegram and TikTok, our analysis shows that  disinformation and stories removed from context are being used to promote hate towards refugees, asylum seekers and immigrants in Germany. We also observed the re-emergence of a concerted anti-immigrant campaign by the 'Alternative für Deutschland' (AfD) and far-right movements in Germany. This has concerning implications for the security of refugees and immigrants already living in Germany, as well as refugees arriving from Afghanistan.
_________________________________________________________________________
In the run-up to the federal election, Kabul evacuation flights were used by the AfD to promote themselves as the protectors of Germany, as they asked the German government to put a moratorium on asylum applications and attacked other political parties supporting the provision of aid to Afghan asylum seekers. This included the Social Democrat Party (SPD) and Bündnis90/Die Grünen parties. We observed a visible effort by those on the far-right and within the AfD to reignite immigration as an electoral issue, intending to stoke public fear and anxiety about the potential impact of policies that support refugees' needs and rights.
Allowing political debate to be used to  demonise refugees and immigrants undermines the safety and security of Germany: the more that immigrant and refugee communities are targeted by xenophobic hate, the easier it becomes for individuals in those communities to become subject to radicalisation efforts.
Prominent anti-migration narratives  
    'The threat of 2015'
The word "2015" has been used by various politicians and influencers in reference to the year 2015, when Germany had 476,649 asylum seeker registrations, following Chancellor Merkel opening German borders in response to the Syrian conflict.
We found the word "2015" was used in connection with the word "Deutschland" 10,000 times on Twitter and in 3,571 public Facebook posts between 22 August – 20 September. A combination of the terms "2015 Deutschland" and "#afghanistan" was mentioned 1,213 times in the same timeframe on Twitter, with a clear peak in mentions between 7-11 September 2021.
This spike in activity was due to official AfD content comparing the current refugee situation to the 2015 refugee influx, with a message that the party did not want to see a "repeat of 2015". A speech by Alice Weidel used this argument, as did another post by AfD politician Beatrix von Storch. There, she used the AfD election slogan 'Deutschland Aber Normal' ('Germany but normal') to indicate that welcoming refugees would be "un-German" or abnormal.
2015 again: Foreign state-backed media tactics
We analysed mentions of "Afghanistan" by Turkish, Iranian, Russian and Chinese state-backed media sources in the German language on the publicly accessible German election dashboard. We found that Russian media accounts focused on the topic between August and September. This aligns with the strategy we have observed from Russian state-backed media accounts,  producing substantial amounts of content on controversial domestic issues. For example, Russia Today in Germany (RT DE) created a special section for its Afghanistan coverage and had more than 260 publications on the topic between 15 August 2021 and 21 September 2021. In turn, between 1 August 2021 and 17 September 2021, the word "Flüchtling" ("Refugee") appeared 37 times on the German election dashboard. 20 of these mentions came from Russian state-backed media and 17 from German media.
We found that mentions  of the word "Flüchtling" ("Refugee") in Russian state media concerned the allegedly  imminent threat of a new wave of refugees in Europe, and the impending division that this will cause both within Germany and in the EU. This narrative was given weight by various pieces of content. For example, on 2 September 2021, a video published by RT stated that EU leaders are currently divided over how to deal with Afghan refugees. Two days later, on 4 September 2021, an article by Sputnik in German (SNA) announced that Germans are divided over the acceptance of Afghan refugees. An analysis published on RT on the 24 August 2021 and citing data from the Center for Strategic and International Studies stated that the upcoming refugee crisis caused by the situation in Afghanistan would make the 2015 refugee crisis look like a 'piece of cake'. Ultimately, our analysis shows that Russian state-backed media was amplifying the narrative that "2015" is returning to Germany.
The 'violent migrant'
In a return to well-known tactics, AfD and far-right communities on Facebook and Twitter have been pushing anti-immigration narratives through the use of statistics which claim to prove that criminality amongst foreigners is higher than that of Germans. Often these statistics are taken out of context, either in terms of the date they were published or the geography or nature of crimes reported. Nonetheless, they are used to make sweeping generalisations about the likely criminality of all immigrants entering Germany.
This is especially true for sexual violence crimes. For example, a post by AfD-Fraktion NRW claimed that 46% of gang rapists do not possess German citizenship. This is not untrue, but uses the statistics provided by the Ministry of the Interior of the State of North Rhine-Westphalia, (which found that 53.9% of group rape suspects are German) in a way intended to stoke division.
The search word 'Afghanistan' had 22 million mentions on Twitter and 43,000 posts on Facebook. On Facebook, the top content creators on the topic were Alice Weidel, AfD's main account and 'AfD in EU-Parlament'. The post which received the most engagement from online users was by Alice Weidel (26,900 interactions). It claimed that crime will be directly imported to Germany by rescuing Afghans. Another post that gained attention online (with over 15,000 interactions) was by "AfD in the EU-Parlament". It claimed that Afghan people want to implement Sharia law within Germany, positioning them as opponents to the existing rule of law.
Linked to the narrative of alleged migrant 'crime', far-right communities online portray Afghan asylum seekers as threats to German women and children. We found a total of 1,214 posts on Twitter and 48,001 posts on Facebook between the 22 August and 20 September 2021 when searching for 'Afghanistan, Frauen und Kinder' ("Afghanistan, women and children").
An AfD election poster stated that 'Kinderschänder' ("child molesters") are being flown into Germany by the current government, implying that crimes against children are perpetrated by Afghan people. The post received 11.5K interactions on Facebook. However, statistics from the BKA (the Federal Criminal Police Office) reveal that 5.4% of all offences related to child pornography in 2020 were committed by non-German suspects.
Posts such as these take statistics out of complex contexts on domestic crime and sexual violence, and misleadingly presenting them as immigration problems. To display a sexual violence statistic in such a light has a distortion effect, seeking to create prejudice and a sense of fear towards one group.
Conclusion
The Afghanistan crisis is being exploited by the far-right and political parties in Germany to promote anti-immigration agendas. The combination of the AfD's campaign to instil fear that 2015 could 'return', and Russian state-backed media sources continuing to exploit controversial and divisive issues like immigration, shows the concerted effort being made by domestic and foreign actors to spread fear and prejudice in Germany immediately before the election, and continuing in its aftermath.
There is a need for actors across sectors to stand up against this kind of hate, racism and xenophobia. Politicians and civil society must provide a strong counter-narrative to the divisive and hateful narratives of the far right, speaking up for those facing inhumane conditions and peril in Afghanistan.
Technology platforms like Facebook and Twitter must better enforce their policies on hate speech in order to protect against racist mobilisation, including taking action when the source of such hatred and disinformation is someone in a position of power, such as a politician. It is imperative that companies stop profiting from hate speech and transparently and accurately enforce their terms of service.
Methods
For this research investigation, analysts used Crowdtangle and Brandwatch. ISD generated a keyword list through a qualitative scoping of topics relating to Afghanistan and refugees on Facebook, Instagram, Telegram and TikTok. This keyword list was used to generate datasets of content on Facebook and Twitter, as well as to qualitatively analyse content monitored manually on platforms like TikTok and Telegram.
To analyse if and how Russian state-backed media were involved in promoting these narratives in the German media ecosystem, ISD used its joint German election dashboard, built with the Alliance for Securing Democracy at the German Marshall Fund, to analyse the messaging about Afghanistan in German language media from Russia, China, Iran and Turkey since the fall of Kabul mid-August. All statistics are correct as of 20th September 2021.
---
Extremismus, Hass und Desinformation: Instrumentalisierung der Afghanistan-Krise im Vorfeld der deutschen Bundestagswahl
21. Oktober 2021
Autoren: Nora Mathelemuse, Francesca Visser und Anneli Ahonen
Seit Beginn des Abzugs der internationalen Truppen aus Afghanistan Mitte August 2021 ist ein deutlicher Anstieg migrationsfeindlicher Äußerungen auf deutschsprachigen Social-Media-Plattformen zu verzeichnen.
Das Wiederaufleben einer konzertierten Anti-Migranten-Kampagne der Alternative für Deutschland (AfD) und rechtsextremer Bewegungen in der Bundesrepublik könnte sich besorgniserregend auf die Sicherheit der bereits in Deutschland lebenden Flüchtlinge und Migrant:innen sowie der Neuankömmlinge aus Afghanistan auswirken. Die aktuelle Analyse des ISD Germany belegt, wie bestimmte Narrative durch Desinformationen und aus dem Zusammenhang gerissenen Geschichten über Flüchtlinge, Asylsuchende und Migrant:innen in Deutschland Hass schüren.
_________________________________________________________________________
Bereits im Vorfeld der Bundestagswahl hat die AfD das Thema der Evakuierungsflüge aus Kabul genutzt, um sich als 'Beschützer Deutschlands' zu profilieren und gleichzeitig andere politische Parteien anzugreifen, die sich für die Unterstützung afghanischer Asylsuchenden einsetzen, darunter SPD und Bündnis 90/Die Grünen. Es gab vor der Wahl sichtbare Bemühungen der Rechtsextremen und der AfD, die Einwanderung erneut zum Wahlkampfthema zu machen und in der Öffentlichkeit Ängste und Befürchtungen über die möglichen Auswirkungen einer Politik anzuheizen, die die Bedürfnisse und Rechte von Flüchtlingen unterstützt.
Wenn die Dämonisierung von Migrat:innen und Zuwanderer:innen, die Agenda der politischen Debatte bestimmt, dient dies langfristig dazu, die Sicherheit in Deutschland zu untergraben. Je mehr Migrant:innen und Asylbewerbende zur Zielscheibe für xenophobischem Hass werden, desto leichter wird die Arbeit von Extremisten, die versuchen, gesellschaftliche Polarisierung voranzutreiben und desillusionierte Gemeinschaften zu radikalisieren.
Der folgende Abschnitt enthält eine Analyse einiger prominenter Narrative, die im Rahmen der ISD-Forschung ermittelt wurden:
1. "Die Gefahr eines neuen 2015"
Das Codewort "2015" wurde von mehreren Politiker:innen und Influencer:innen verwendet und bezieht sich auf das Jahr 2015, als insgesamt 476.649 Personen nach der Öffnung der Grenzen durch Bundeskanzlerin Merkel infolge des Syrienkonflikts in Deutschland Asyl beantragten.
Zwischen dem 22. August 2021 und dem 20. September 2021 wurde das Codewort "2015" in Verbindung mit dem Begriff "Deutschland" 10.000 Mal auf Twitter und in 3.571 öffentlichen Facebook-Posts verwendet. Eine Kombination aus den Begriffen "2015 Deutschland" und "#afghanistan" wurde im gleichen Zeitraum 1.213 Mal auf Twitter erwähnt, mit einer deutlichen Spitze der Erwähnungen zwischen dem 7. und 11. September 2021.
In offiziellen AfD-Inhalten wurde die aktuelle Flüchtlingssituation mit dem Flüchtlingsstrom 2015 verglichen, zusammen mit der Botschaft, man wolle "keine Wiederholung von 2015". Dieses Argument fand sich z. B. in einer Rede der AfD-Vorsitzenden Alice Weidel ebenso wie in einem Beitrag der AfD-Politikerin Beatrix von Storch wieder. Von Storch verwendete ebenfalls den AfD-Wahlslogan "Deutschland. Aber normal", um anzudeuten, dass die Aufnahme von Flüchtlingen 'undeutsch' bzw. 'abnormal' wäre (7.200+ Interaktionen auf Facebook).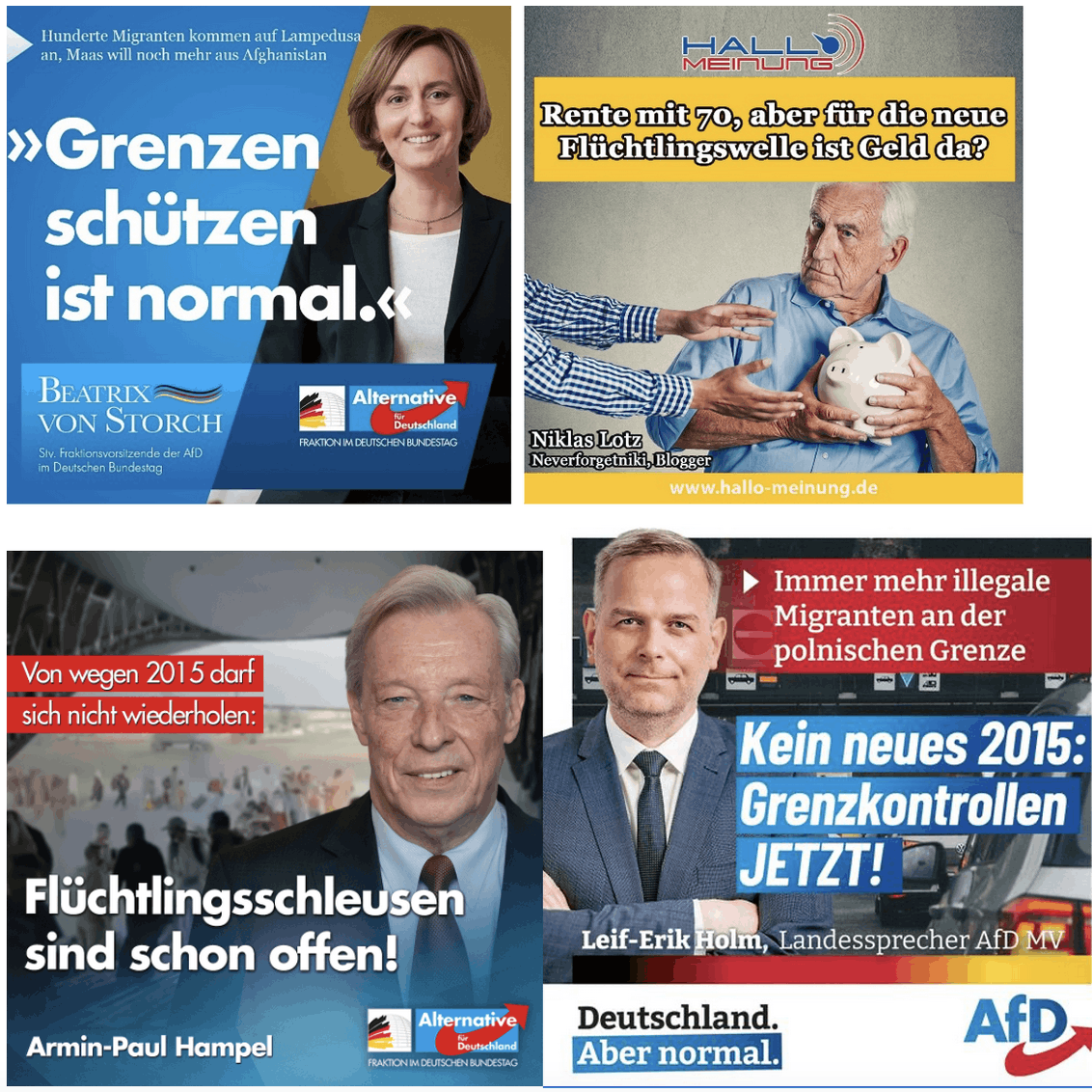 2. Taktiken von staatlich unterstützten ausländischen Medien und das Thema "2015"
Eine Analyse der Erwähnungen von "Afghanistan" in türkischen, iranischen, russischen und chinesischen staatlich unterstützten Quellen in deutscher Sprache auf dem Dashboard zur Bundestagswahl zeigt, dass russische Quellen im August und September einen großen Teil ihrer Berichterstattung auf dieses Thema konzentrierten. Dies steht im Einklang mit ihrer Gesamtstrategie, sich mit kontroversen innenpolitischen Themen zu befassen und im Vergleich zu den deutschen Medien große Mengen an Inhalten zu Konfliktthemen zu verbreiten. Russia Today in Deutschland (RT DE) richtete eine eigene Rubrik für seine Afghanistan-Berichterstattung ein und veröffentlichte zwischen dem 15. August 2021 und dem 21. September 2021 mehr als 260 Beiträge zu diesem Thema.
Der Begriff "Flüchtling*"[1] tauchte im Zeitraum zwischen dem 1. August 2021 und dem 17. September 2021 37 Mal im Dashboard zur Bundestagwahl auf, mit 20 Erwähnungen in staatlich kontrollierten russischen Medien und 17 in deutschen Medien.
Die Analyse zeigt, dass russische Medien verstärkt das Narrativ einer Wiederholung von 2015 verbreiten. Erwähnungen des Wortes "Flüchtling" in den russischen Staatsmedien beziehen sich auf die angeblich unmittelbar bevorstehende Bedrohung einer neuen Flüchtlingswelle in Europa und die Spaltung, die dies sowohl in Deutschland als auch in der EU verursachen würde. Am 2. September 2021 erklärte ein von RT veröffentlichtes Video, dass "EU-Führer uneins über afghanische Flüchtlinge" seien. Zwei Tage später, am 4. September 2021, verkündete ein Artikel von Sputnik auf Deutsch (SNA) zur Aufnahme afghanischer Flüchtlinge: "Deutsche sind gespalten". Und in einer am 24. August 2021 auf RT veröffentlichten Analyse, die sich auf Daten des "Center for Strategic and International Studies" beruft, hieß es, dass im Vergleich zur aktuell anstehenden Flüchtlingskrise aus Afghanistan jene des Jahres 2015 wie ein " geopolitisches Kinderspiel" aussehen würde.
3. Der "gewalttätige Migrant"
Auf Facebook und Twitter greifen die AfD und rechtsextreme Gruppierungen auf altbekannte Taktiken zurück und verbreiten einwanderungsfeindliche Narrative mit Hilfe von Statistiken, die angeblich die Kriminalitätsrate von Ausländer:innen im Vergleich zu Deutschen belegen. Oft werden diese Statistiken aus dem Zusammenhang gerissen, entweder in Bezug auf das Datum, an dem sie veröffentlicht wurden, oder in Bezug auf die Geografie oder die Art der gemeldeten Straftaten. Spezifische Statistiken werden verwendet, um pauschale Verallgemeinerungen über die wahrscheinliche Kriminalität aller nach Deutschland kommenden Einwander:innen zu treffen.
Das Stichwort "Afghanistan" wurde auf Twitter 22 Millionen Mal erwähnt und auf Facebook 43.000 Mal gepostet. Auf Facebook waren Alice Weidel, der Haupt-Account der AfD und das Konto "AfD im EU-Parlament" die Top-Inhaltsersteller zum Thema. Zu den Top-Posts gehörten Inhalte von Alice Weidels Facebook-Seite mit 26.900 Interaktionen, in denen behauptet wurde, dass die Rettung von Afghanen einem Import von Kriminalität nach Deutschland gleichkäme. Ein Beitrag mit über 15.000 Interaktionen auf der Seite "AfD im EU-Parlament" behauptete, dass die Afghanen die Scharia in Deutschland einführen wollen.
In Verbindung mit dem Narrativ der angeblichen "Kriminalität" von Migranten:innen stellen rechtsextreme Online-Communities afghanische Asylbewerbende als Bedrohung für deutsche Frauen und Kinder dar. Zwischen dem 22. August und dem 20. September 2021 gab es bei der Suche nach "Afghanistan, Frauen und Kinder" insgesamt 1.214 Beiträge auf Twitter und 48.001 Beiträge auf Facebook.  Dies gilt insbesondere für Straftaten im Zusammenhang mit sexueller Gewalt. So wurde in einem Beitrag der AfD-Fraktion NRW behauptet, dass 46 % der Tatverdächtigen bei Gruppenvergewaltigungen keine deutsche Staatsbürgerschaft hätten. Statistiken, veröffentlicht vom Innenministerium Nord Rhein Westfalen, belegen, dass 131 von 243 Gruppenvergewaltigungsverdächtigen eine deutsche Staatsbürgerschaft besitzen und mit 53.90% die Mehrheit der Tatverdächtigen darstellen.
Ein Wahlplakat der AfD, auf dem zu lesen war, dass "Kinderschänder" von der Regierung eingeflogen werden, erhielt 11.5000 Interaktionen auf Facebook. Das Plakat lässt den Leser vermuten, dass Verbrechen gegen Kinder nicht in das Bild von Deutschland passen und meist von Afghanen begangen werden. Statistiken des Bundeskriminalamtes (BKA) zeigen, dass im Jahr 2020 bei Straftaten im Bereich der Verbreitung, des Erwerbs, des Besitzes und der Herstellung von kinderpornografischem Material von insgesamt 17.377 Tatverdächtigen 938 Tatverdächtige nichtdeutscher Herkunft waren. Das macht einen Anteil von 5,4 % der Tatverdächtigen mit Migrationshintergrund in Deutschland aus.
Beiträge wie diese reißen Statistiken aus komplexen Zusammenhängen über sexuelle Gewalt heraus und stellen sie irreführend als Einwanderungsprobleme dar. Zusätzlich hat die Darstellung von Statistiken über sexuelle Gewalt in einem solchen Licht eine verzerrende Wirkung, die folglich nicht auf das eigentliche Problem eingeht, sondern vielmehr Vorurteile und ein falsches Gefühl der Sicherheit oder Angst einer Gruppe gegenüber einer anderen erzeugt.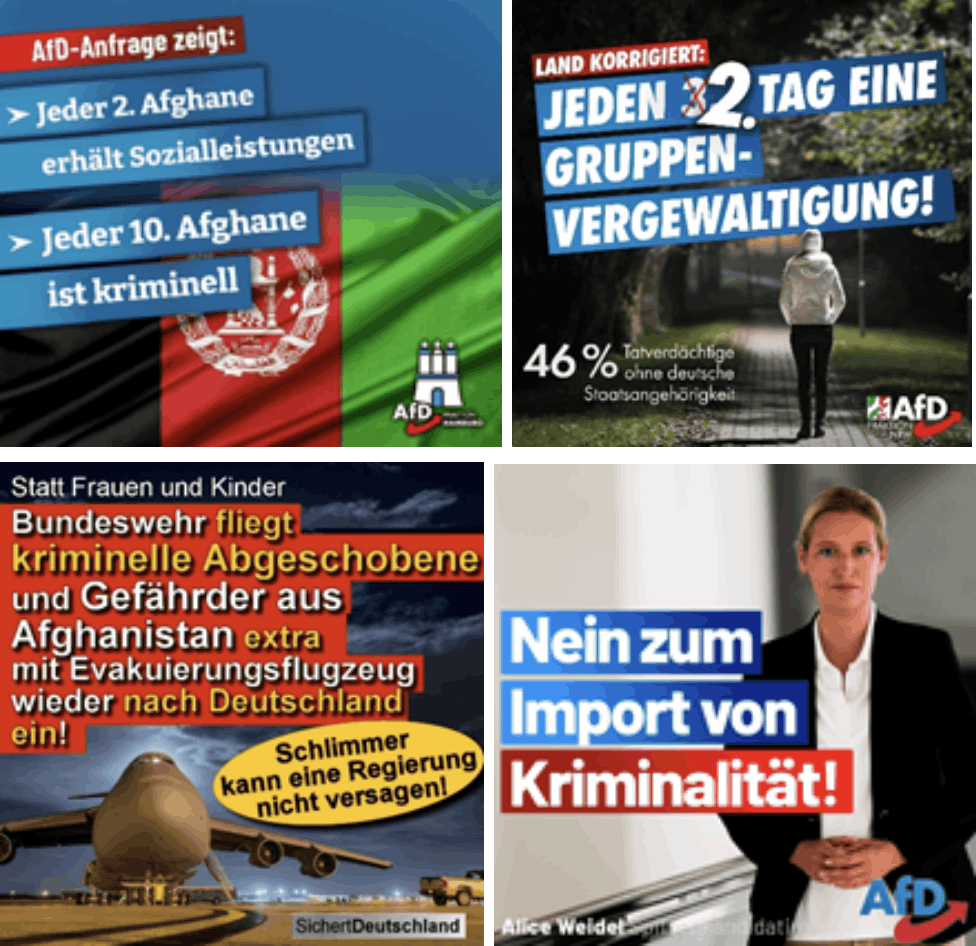 Fazit
Die Analyse des ISD zeigt, dass die Afghanistan-Krise von rechtsextremen Influencer:innen und einschlägigen politischen Parteien instrumentalisiert wird. Die Kombination aus der Kampagne der AfD, Angst vor einer "Wiederholung des Jahres 2015" zu schüren, und den vom russischen Staat unterstützten Medien, die weiterhin kontroverse und spaltende Themen wie die Einwanderung ausschlachten, verdeutlicht die konzertierten Bemühungen in- und ausländischer Akteure, unmittelbar vor der Bundestagswahl Angst und Vorurteile in Deutschland zu verbreiten.
Es ist unbedingt notwendig, dass sich Akteure aus allen Bereichen gegen diese Art von Hass und Fremdenfeindlichkeit einsetzen. Politik und die Zivilgesellschaft müssen den polarisierenden und hasserfüllten Narrativen der extremen Rechten starke Gegennarrative bieten und sich für diejenigen einsetzen, die in Afghanistan unmenschlichen Bedingungen und Gefahren ausgesetzt sind. Technologieplattformen wie Facebook und Twitter müssen ihre Richtlinien zu Hassreden konsequenter durchsetzen, um die Gesellschaft vor rassistischer Mobilisierung zu schützen. Dazu gehört auch, dass sie Maßnahmen ergreifen, wenn es sich bei der Quelle solchen Hasses und solcher Desinformationen um eine Person in einer Machtposition handelt, z. B. eine Person aus der Politik. Es ist zwingend erforderlich, dass Unternehmen aufhören, von Hassreden zu profitieren, und ihre Nutzungsbedingungen transparent und genau durchsetzen.
[1] Das Sternchen (*) liefert als Ergebnis alle Treffer, die mit "Flüchtling" beginnen.
Methoden
Die Analyse wurde mit Hilfe von CrowdTangle und Brandwatch durchgeführt. Das ISD erstellte eine Keyword-Liste durch ein qualitatives "Scoping" auf Facebook, Instagram, Telegram und TikTok von Themen zu Afghanistan und Flüchtlingen. Diese Keyword-Liste wurde verwendet, um Datensätze von Inhalten auf Facebook und Twitter zu generieren und manuell beobachtete Inhalte auf Plattformen wie TikTok und Telegram qualitativ zu analysieren.
Um darüber hinaus zu ermitteln, ob und wie staatlich unterstützte russische Medien in diese Narrative im deutschen Medienökosystem involviert waren, hat das ISD sein gemeinsam mit der "Alliance for Securing Democracy at the German Marshall Fund" erstelltes Dashboard genutzt. Ziel war es die Mitteilungen über Afghanistan in den deutschsprachigen Medien aus Russland, China, Iran und der Türkei seit dem Fall von Kabul Mitte August zu analysieren. Alle Statistiken haben den Stand vom 20. September 2021.