Ahead of the French Election, Anti-Establishment Sentiment Overshadows Republican Efforts against the Far-Right Online 
22 April 2022
By Sasha Morinière, Jiore Craig & Iris Boyer

The outcome of the first round of the French presidential elections on 10 April confirmed France's polarisation between a pro- and anti-establishment axis, and the installation of a right-wing extremist ideology into the mainstream.  
In the lead up to and period after the first-round vote results (16 January – 20 April 2022), ISD analysts monitored French-language social media conversations across mainstream and alternative platforms. Their observations offer insight into the online conversation forming the backdrop of this political moment in France.   
This Dispatch is also available in French. 
_________________________________________________________________________________
Despite mainstream media and polling all but confirming a victory for incumbent Emmanuel Macron, ISD analysts observed the active deployment of both anti-establishment and right-wing extremist narratives against Macron's government and the 'system' it is perceived to embody. These narratives moved swiftly across both mainstream (Twitter, Facebook and Instagram) and alternative platforms (Telegram and Odyssey) in the lead up to the vote, and as the first round of voting commenced. Analysts observed anti-Macron sentiment shared across the French ideological and political spectrum, from far-left to far-right. The online space gives the impression that this political convergence has overshadowed the historical 'Republican front' against the far-right in France. 
France has a long standing 'Republican front': a collective mobilisation aiming to block the far-right from accessing to power. Its most significant deployment was in 2002, when Marine Le Pen's father, Jean-Marie Le Pen, reached the second round of the French Presidential elections against right-wing politician Jacques Chirac. French voters mobilised and elected Chirac, who won over 82% of the vote.  
Today, though, this front appears to be breaking down. ISD has observed an extremely loud online anti-Macron front across a wide spectrum of communities. This benefits the far-right National Rally party's presidential candidate, Marine Le Pen. 
While French voters may have very legitimate concerns about Macron's track record, this analysis highlights how opposition campaigns have tapped into legitimate concerns through social media strategies. ISD's research shows that social media engagement metrics may have rewarded their approach, fuelling anti-institutional and anti-establishment discourses across the French political spectrum.  
Online mobilisation of an anti-Macron front across political differences  
With the second round of voting looming on Sunday 24 April, online mobilisation against Macron is occurring at both ends of the political spectrum, crystallising around certain communities actively opposed to Macron's policies. While calls to vote against Macron had circulated in some anti-system communities on Twitter and Facebook prior to the election, following the first round of the election they strengthened, becoming significantly more prevalent (Graph 1).  
In a Facebook live stream on 14 March 2022 (30 days before the election), the prolific anti-establishment French influencer and activist Olivier Rohaut (also known as Oliv Oliv) organised a social media poll to promote strategies to ensure Macron's defeat. Rohaut's underlying message to his audience was to put political sensibilities aside in favour of a greater priority – bringing down the "system", embodied by Emmanuel Macron.
Calls like these, coming from anti-establishment actors and not necessarily favouring a specific candidate, accelerated as the first round approached. In turn, they evolved into calls to votes for Marine Le Pen who is, according to these actors, "anything but Macron". On social media, ISD analysts observed platforms features such as polls and live streams used to push an anti-Macron narrative. 
Figures 1 and 2: Two Facebook screenshots from anti-establishment actors calling to vote for Marine Le Pen against Macron at all costs 
Analysts found anti-Macron sentiment where they might be expected, such as conspiratorial and right-wing communities on Telegram, both before and after the first round of voting. Posts from influential far-right figures, such as sovereigntist candidate Nicolas Dupont-Aignan (Figure 4) and ex-National Rally spokesperson Florian Philippot (also the most prominent political voice of the anti-sanitary restrictions movement) (Figure 3) promoted anti-Macron sentiment and called for demonstrations against the president on Saturday 16 April. The controversial anti-vaccine and conspiracy figure Silvano Trotta (Figure 5) echoed this call in his Telegram channel, which has more than 150,000 subscribers. The post in question has been seen more than 70,000 times.  
Additionally, while our research cannot determine candidates' motives for pushing extreme and anti-system arguments online, it does show they are rewarded with far greater engagement when they pursue this rhetoric in contrast to more nuanced, realistic commentary on the election. Posts on far-right presidential candidate Eric Zemmour's Facebook page between 16 January – 20 April 2022, for example, gained a total of 6.29 million interactions during this period, whilst posts on the Facebook pages of candidates Emmanuel Macron and ecologist Yannick Jadot gained 1.76 million and 238.5k interactions, respectively. Zemmour's online communication, which is more extreme and more sensational than both Macron and Jadot's rhetoric, therefore appears to be at least six times more engaging [1].

Figures 3, 4, 5, and 6: Examples of Telegram posts promoting the idea that an anti-Macron front should emerge for the second round of the presidential election
Following the first round of voting, anti-Macron content became increasingly virulent and visible on mainstream platforms from both sides of the political spectrum. For example, after the first round of voting several politically disparate communities on Facebook shared posts promoting the phrase "Tout Sauf Macron" ("Anything but Macron"). The day before the first round, posts using the phrase had generated just over 30,000 interactions. Two days after the first round (12 April), the number of interactions on posts containing the phrase had increased threefold, with over 100,000 interactions. 
Among the overperforming posts [2], two ISD researchers found posts promoting the idea of a "no matter what" blockade to Macron. These had been posted by Gilets jaunes groups, individual profiles associated with the social movement (Figures 9 and 10), anti-sanitary measure groups, conspiracy communities and individuals who did not appear to be backing any candidate but were actively promoting the elimination of Macron.  
Some communities backing the left-wing Popular Union party candidate Jean-Luc Mélenchon were actively mobilising against Macron. They criticised Mélenchon for urging his supporters to vote in the second round and not to "give any votes to the far-right". On Twitter, analysts observed some of Mélenchon's supporters arguing in favour of a vote for Marine Le Pen, simply to disqualify and block Macron. To put these observations in context, according to a study, about 23% of Mélenchon voters say they are ready to vote for Le Pen. This statistic highlights the porosity between the Le Pen and Mélenchon electorates. Constituting a large pool of votes for either Emmanuel Macron or Marine Le Pen, the far-left voters' choice on Sunday will be critical.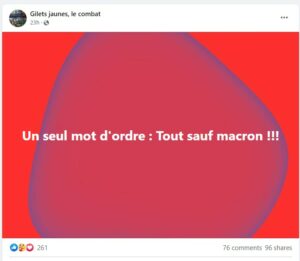 Figure 7: Facebook post promoting the idea of replacing the republican barrage with an anti-Macron barrage. Translation: Yellow Vests, the fight A single watchword: Anything But Macron !!!

Figures 8 and 9: Facebook posts criticising Jean-Luc Melenchon's call for a barrage against the far right. 
Figures 10 and 11: Tweets from the dashboard that are not historically for Marine Le Pen but will vote for her to block Macron.
Conclusion
This analysis demonstrates the prevalence of anti-Macron stances on social media. The algorithmic logics that prevail on social media platforms can make disinformation visible to thousands of online users, which relegates nuance to the background and risks encouraging extreme positions. 
There is growing awareness of the perverse effects and potential impacts of the commercial model of social networks on democratic processes. This electoral race is marked by strong political and media mobilisation around anti-system rhetoric, coupled with a lack of enthusiasm amongst the French electorate for engagement in political debate, which historically aroused passion in France.  
In the first round of the election, we saw the Zemmour campaign use astroturfing techniques and abuse social media amplification features to bolster its representation online; however, these manipulations were widely exposed and Zemmour's results in the actual vote were not impressive. In a similar way, diversion campaigns to fixate the frustrated electorate on an anti-Macron front with a view to overshadow the Republican front and benefit Marine Le Pen might not succeed. The longer-term implications of this new ideological landscape, rising political apathy and abstention levels, though, are worrisome.  
1 – Data gathered with the social listening tool CrowdTangle. 
2 – On CrowdTangle, overperforming is calculated by benchmarking how many interactions that account's posts usually get after a certain period of time. Benchmarks are calculated from the last 100 posts of each post type (photo, video, link, etc.) from the account.